The CH Group
International Project Management to Deliver Signage

The Challenge
The CH Group operates as a parent company to real estate, energy, agricultural and telecom brands in Ghana, Africa. They wanted to brand their new offices in Accra to create a professional environment for their staff and boost the visibility of their brand.
The Solution
The exterior signage took precedence on this project, the CH Group wanted an exterior building sign but required a design. FASTSIGNS worked with them to create a new logo utilising their brand name which they then turned into physical signage. The first stage of this process was to establish a working relationship that traversed continents, FASTSIGNS liaised extensively with the customer via phone, video conferencing and email to understand exactly how they wanted their new logo to look. Once the design was confirmed, FASTSIGNS produced two large sets of internally lit built up letters and shipped them to Accra.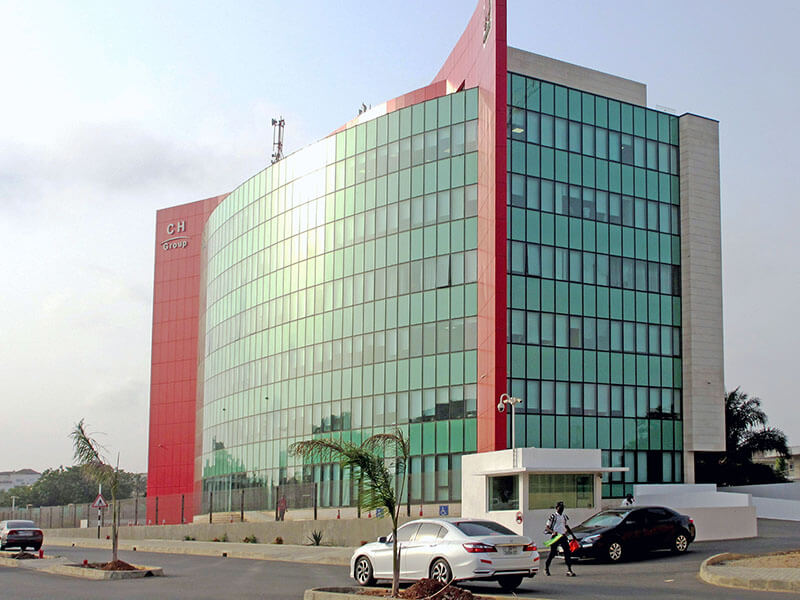 Once the external signage was in place, the focus switched to branding the interior. In the reception lobby, an acrylic sign depicting their newly designed logo was positioned to welcome visitors into the building. A replica of this sign was also stationed on the fifth floor of the building.
To help with wayfinding within the building, FASTSIGNS devised a directory which was installed on each level of the building. Corresponding directional signs were positioned to help visitors and staff find their way.
Throughout the entire building 5mm, acrylic signs were hung to showcase the brand's motivational quotes and share their company values, promoting their culture to their staff members. Frosted vinyl was also installed on glass partitions to add decorative detail to the offices but also provide some privacy features.
For the installation of the interior signs, the FASTSIGNS team travelled to the CH Groups offices in Ghana to ensure the finished signs were installed to the highest of standards.

The Result
FASTSIGNS worked with the CH Group to develop a structured plan from the creation of their logo to the installation of their signage. The CH Group felt that the project was an overall success and their employees enjoy their new working environment.