When Karen Liebreich reached out to us about a local community event, we were ready to listen.
Having worked with Karen in the past, we value the work she does with her community events company celebrating what the local area has to offer.

Her latest project is the Chiswick Flower Market. They were in need of promotional banners, urgently and on a limited budget. We were more than happy to help with this project. We created a few long banners, which were hung on prominent and busy Chiswick High Street. PVC banners are wonderful tools for cost-effective promotions. Easy to transport and install.
Following the success of the banners, we also produced 'street signs' to be installed around the market area. The "Old Market Place" Signs remind residents that the location of the market has a historical link to the first markets held there early last century. The market will be held in the same spot where Chiswick's first open-air market was set up in 1919, it will be the first new flower market in London for 150 years.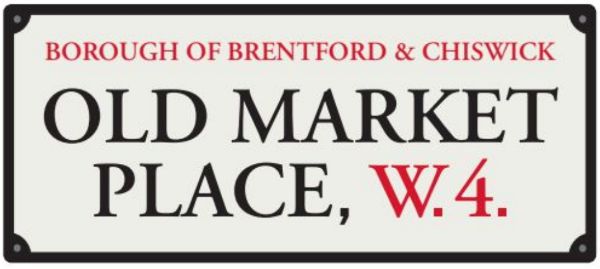 These signs are made from dibond, it's a hard-wearing material that will survive the wear-and-tear from the road and also withstand the weather.
The first market will be on Saturday 6th September. The market is being set up by a team of local residents, all working pro-bono, who have set up a CIC (Community Interest Company). Any eventual profit will go back into the High Road. Their hope is that the market kick-starts a revival of Chiswick High Road. New businesses and start-ups will be able to test their offering in an 'innovation area'.
Save the date and join the local community at this exciting venture. We hope to see you at the market on the 6th!