Where am I? Where am I going? How do I get there?
Wayfinding signage are a fundamental way of effectively guiding you from one place to another. Whether you need to navigate around your office area, airport, hospital, shopping centre, train station or car park wayfinding signage provides the information you need to locate your destination.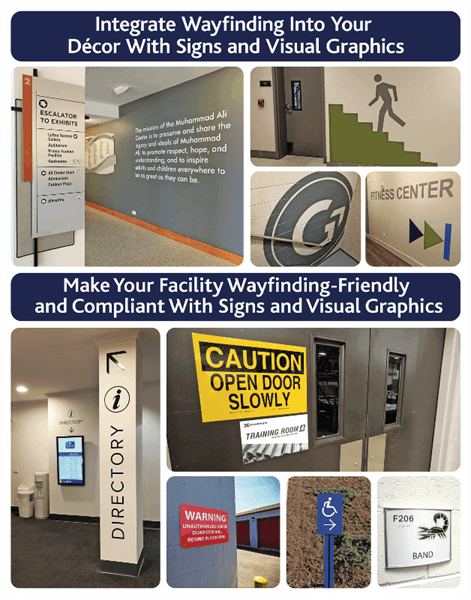 Wayfinding signage can be both informational and directional, and work together to help your visitors find their way easily, whilst in your facility. Informational directional signs, tell people where things can be found, directional signs help point the way to that destination. Directional signs are at strategic points to guide people in the right direction, confirming they remain on the right path.
Traditional wayfinding signage is static and can be developed into a suit of signage that embodies your brand using shape and colour to really make an impact. As technology has evolved, we are seeing more and more wayfinding signage becoming  digital. Digital signage can be updated easily, which is great for large venues, when locations of events and meetings may change. Information can be updated, so your messaging remains on brand, whilst your customers, staff and visitors are kept informed.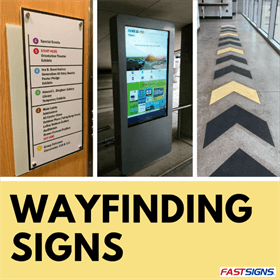 Wayfinding signage can provide more than directional information, it can also help:
Build brand awareness - business owners and marketers can strategically promote brand recognition, leading customers directly to their business or sales product.

Create a sense of space by allowing customers to enjoy finding their way to their desired product

Lead to a positive return on investment- signage works as a form of advertising, 24/7.

Help the flow of people and enhance the experience of customers. With badly implemented signage, you could end up significantly disrupting the flow, resulting in unnecessary queues and crowds.
Whilst making sure the sign does not make people overthink, creating a clear comprehensive visual communication system with concise messaging that is informative will help inform and direct your customer.