The life of the office has not been particularly successful over the last couple of years with a massive change in working practises due to the pandemic.
Whilst working from home was a very successful solution to keep businesses thriving during lockdown periods, staff have missed the comoradary and face to face communication with not only their co-workers but also their customers.
Whatever industry your business operates in, the way your workplace looks can have a huge impact on how your customers perceive your brand and how staff interact in the space. Many offices are now spaces that need to have a provision for hybrid staff and provide plenty of space for meetings and breakout areas. Providing additional relaxation zones within the office will encourage a positive mental health pathway in the workplace. Employers need to consider if the office environment is a vibrant and engaging place to work that will appeal to not only the existing team but new employees.
We at FASTSIGNS® Crawley want to help you breathe new life into your office environment for 2022 and start with a spring in your step.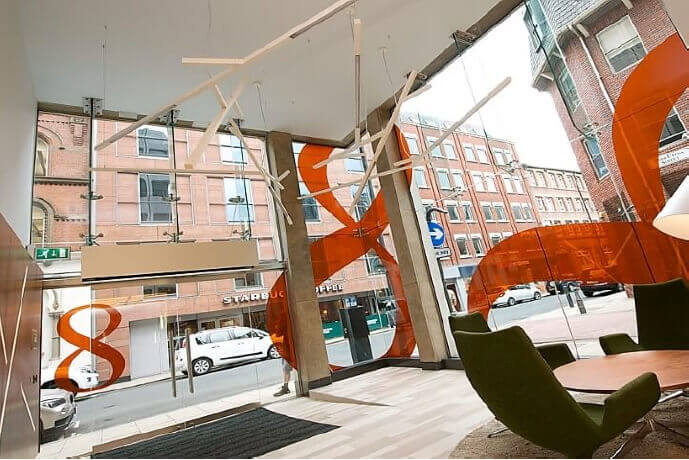 The meeting room is usually not just used to meet in, it may also double as a place to hold lunch, training sessions, client meetings, and strategy sessions. Most of us have experienced bland meeting rooms and those surroundings do not deliver stimulating, productive and engaging creative thinking platforms. Use wall graphics and colour to introduce a more vibrant theme and inject a bit of enthusiasm into the area. We provide interior décor displays, graphics and decals that strike a balance between branding and function, enhancing your building or workplace interiors.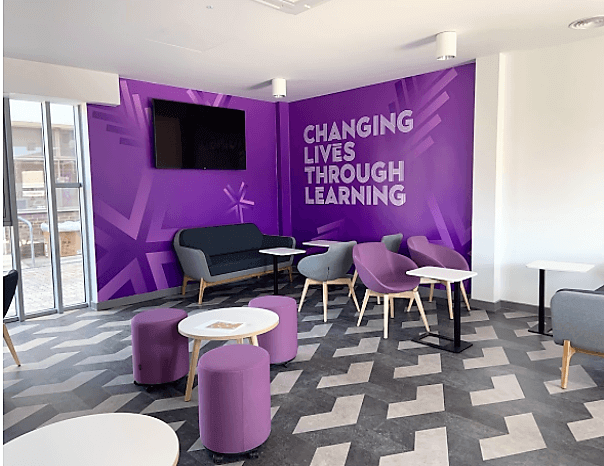 In a virtual world where many workers are located remotely, keeping communication lines open within your business has never been more important. Working from home has helped and hindered our working patterns with communication in person suffering in many ways. FASTSIGNS® Crawley has helped many local businesses update their office spaces and it has taught us a thing or two about effective office design. We have noticed a shift into digitally displaying information and communicating with both staff and clients which is moving us closer to the market leaders in the US. Introducing communal screens within the office space and meeting areas helps facilitate a connection within the organisation.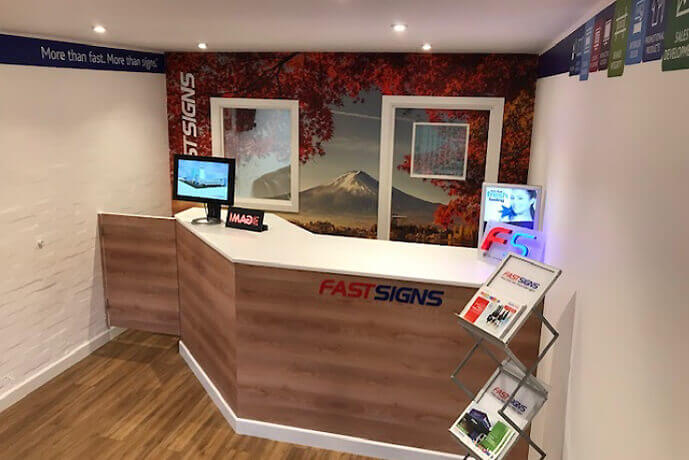 All humans have a built in love of nature, Biophilic design is a concept used by architects and designers to increase the connection to nature within an environment or building. Used at both building and city-scale, biophilic design has health, environmental, and economic benefits for occupants and urban environments. Living walls literally bring a wall to life, filling it with plants and natural material. With the right irrigation and care, living walls provide a natural and calming backdrop. Plants have air purifying properties, helping air feel fresher and less stuffy. Living walls are useful for absorbing sound, dehumidifying rooms, and setting a relaxed and welcoming atmosphere.
FASTSIGNS can project manage the integration and installation of the area and ensure all aspects of the biophilic design are covered to provide you with a breathtaking finish that will be a focal point in the office.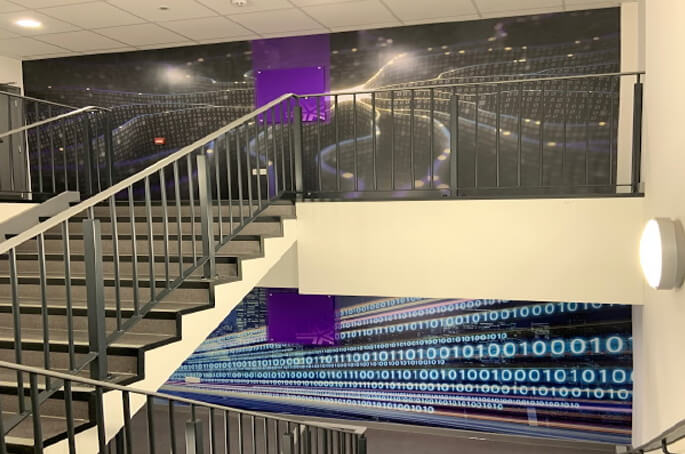 FASTSIGNS can help make a lasting impression by creating vibrant work spaces, office environments, showrooms with excellently designed interior décor. Promote your brand and show off its personality with built up letters or full sized wall graphics.
Get in touch to today to let us help with your next amazing project: Call us on: (012) 932-2189 x5.