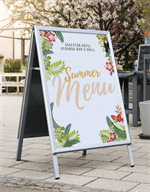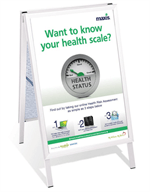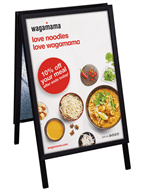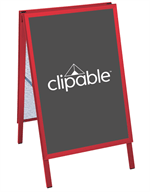 A-Frames are aluminium structures that are easy to move around yet stay in one place. All of our A-Frames can hold two posters (one for each side) which are protected from the UK weather by a PVC sheet. Ensuring your message is not compromised. All our A-Frames have a double-sided display increasing their effectiveness.
Many businesses have successfully used A-Frames to advertise to footfall walking or driving past their brick and mortar stores. They are the perfect marketing tool for companies to communicate with customers before they enter the store.
Inform potential customers of any new products you are selling, discounts you are offering or to simply outline any social distancing rules in place.
Update your message throughout the year! Just pay for the posters!
Choosing the right A-board
We have loads of options when it comes to A-Frames, after all, we're all about having unique signs.
To choose the best A-Frame for you, it's all about considering your business and its goals.
If your company is a modern hairdresser then a stylish aluminium frame will work great! However, if you own a farm shop, then a rustic wooden A-Board with a built-in chalkboard would match great with your business identity.
You will also need to consider your immediate environment. If you're aiming to display your A-Board on a high street then a standard A-frame would do the job.
However, if you are aiming to display your A-Frame near a busy road or a car park, then a water-based pavement sign will prove the more effective choice. The extra weight will prevent it from being knocked over from the wind generated by passing cars.
Unsure which A-Frame will work for your business? Give us a call on (020) 383-5506 x7 and let us think for you!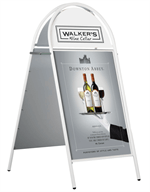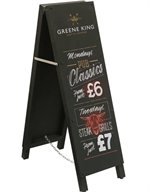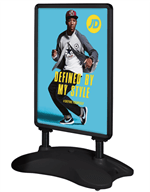 Buying your A-Board
Whether you are interested in standard A-Boards to promote sales, wooden chalk A-Boards or a heavy water carrier, FASTSIGNS® Enfield has them.