Pirtek
Case Study: Pirtek
The Challenge
UK retailer Pirtek®, a hydraulic hose replacement store with franchise locations worldwide, sponsored the winning racing car in the 2013 British Touring Car Championship. The company wanted to create an in-store experience that would engage customers waiting for repairs, promote their racing car team and advertise their products and services.
The Solution
FASTSIGNS suggested digital displays to help Pirtek get their messages noticed in-store. "Pirtek is an innovative brand and was keen to try digital signage," FASTSIGNS' John Harvey explained. "With an average wait time of 20 minutes, the digital displays keep customers amused with racing films and relay advertising messages at the same time." FASTSIGNS provided a digital signage solution that included 22-32 inch screens on a cloud platform for uploading, scheduling and changing content on different screens. FASTSIGNS ensured networking and connections to get Pirtek's programming up and running in 10 initial locations in the UK and Ireland. The team at FASTSIGNS created content for the digital screens to run alongside the motor racing videos using existing visual graphics. FASTSIGNS integrated split-screen features to allow Pirtek to feature several media sources including the racing films, revolving ads and a news ticker in separate zones.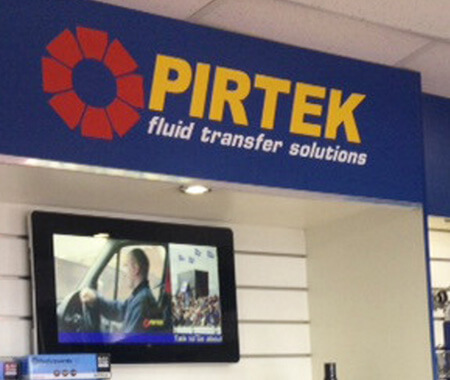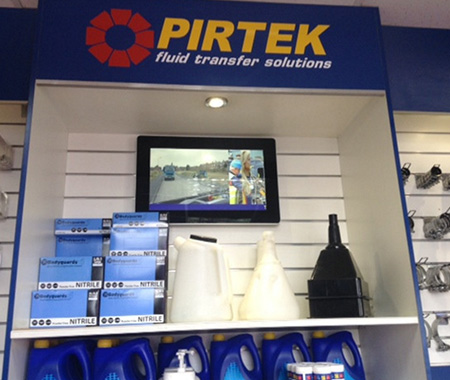 The Result
FASTSIGNS has provided digital screens with information received instantaneously through the Internet for Pirtek's franchise locations as far away as Ireland. Harvey said, "We hope to expand from the UK to Europe."
*FASTSIGNS® Guildford is owned by John Harvey and operated with his sons Tom and Max.