Hull is set to be the latest city to welcome the arrival of global signage and graphics specialist, FASTSIGNS.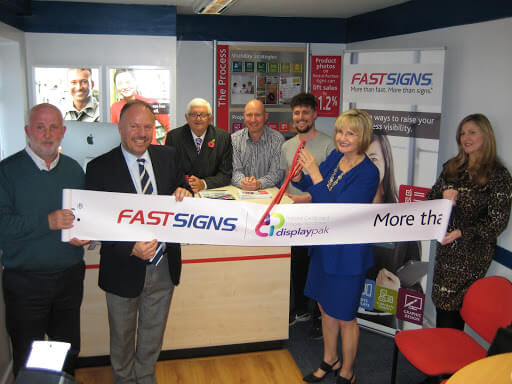 On schedule to launch in October, the FASTSIGNS® Hull centre will be operating out of display and creative promotion solutions company, Displaypak on Harpings Road, after the completion of a Co-Brand partnership with FASTSIGNS.
The Co-Brand franchise opportunity allows businesses that have a complementary product offering to the  FASTSIGNS' product range, to retain their initial business, brand and customer base, whilst launching a parallel FASTSIGNS centre, that allows them to diversify their product ranges and recognise new revenue opportunities.
At the spearhead of the Hull Co-Brand is Andrew Dearman, the new deal will mean the Hull centre will benefit from the brand recognition of the internationally well-known name, FASTSIGNS, whilst also retaining Displaypak's original identity and service offering.
Commenting on the launch, Andrew said:
"We've been proud to call Hull home for fifteen years and it's been great to be a part of city that has undergone so many positive changes, in recent years. As we move into this new phase of the business, we're really looking forward to being able to diversify our product range and delivering our customers with an even higher quality of service."
John Davies, Managing Director of FASTSIGNS UK, said:
"Hull is a fantastic city with a thriving business community, making it the perfect location for our newest centre. Andrew shares in the FASTSIGNS vision for ensuring quality solutions and exceptional customer service are at the forefront of everything we do, I have no doubt that he will flourish in his business' new transition.

Over the coming months we look forward to welcoming even more centres to the FASTSIGNS network; alongside the Hull centre, we will soon be launching another new centre in the South of England. The addition of this centre and Hull will help to steer the FASTSIGNS UK business to further success."
For more information on FASTSIGNS and to find out how to become a franchisee, visit www.fastsigns.co.uk.