​
Morplan
Morplan Has in Excess of 8.000 Products Ranging From Retail Furniture, Clothes Rails, Clothes Hangers and Branded Bags.
Background
Morplan is a leading retailer with over a 170 year history in the retail sector. It is literally, a one-stop-shop for multi-national, and local, retailers alike.
Although 2021 has been a tough year, Morplan continue to go from strength to strength and have moved to a new location in Avonmouth, Bristol.
With the imminent opening of the new site, Morplan approached FASTSIGNS® Peterborough to come up with the external signage, to complement and promote the new modern premises.
The Solution
FASTSIGNS® Peterborough are much more than a sign company, we are specialists in visual communications. After an initial site survey, we submitted our designs for approval. Once granted, we set about producing (and planning for the installation of), a sleek and modern image for Morplan. The signs (built-up, 3D detail) were manufactured from descaled stainless steel and powder coated to the corporate colour scheme. The 'M' logo was 1.2 meters high and the letters , 400 mm high, with an overall length of over 4 meters per sign. We used internal LED illumination to give a 'halo' effect bouncing back to the building, to give a nice wash of glowing pink light behind the logo and a white light behind the lettering.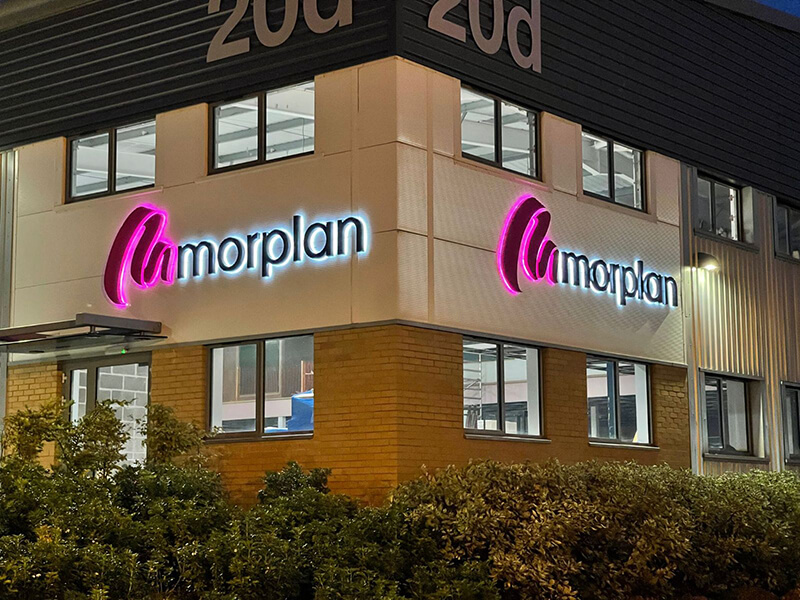 The Result
We are sure that you will agree, the finished signage looks both eyecatching and visually stunning both in the daytime, and after dark. All was completed in time for the 'grand opening' in early October. The external signage (including an information panel on the building front), has definitely created a bold statement and is currently doing it's work by guiding clients to the new Bristol store.