Wondering how digital signs and graphics can benefit your organisation? Have you considered a rod display for your window?
Digital signage rod displays are the perfect way to grab the attention of passers-by. In a world where we are bombarded by between 4,000 to 10,000 advertisements each day, there has never been a greater need for your message to stand out in all the marketing noise.
What is more, we all know we find the allure of a digital screen irresistible – who can now avoid turning towards the 'fifth screen', with movies, TV, personal computers and mobile devices being the first to fourth? With our new 15" digital signage rod displays, bring the fifth screen to your business and take control.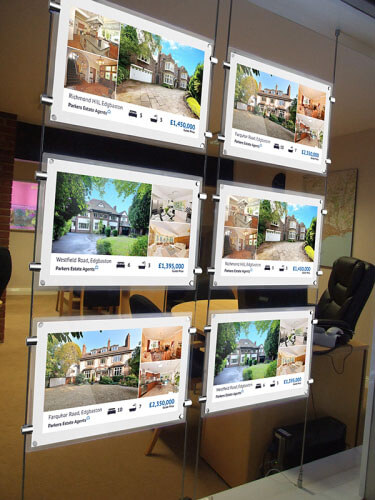 The Advantages of Digital Signage
Show Multiple Messages
A key advantage of going digital with your signs is the ability to display multiple messages. This minimises costly mistakes and means that if something changes in your business (perhaps a new limited-time offer or important business message), so can your signage – instantly, within minimal cost.
Rod Powered Displays
No mains cable is required to provide power as these innovative screens are powered via the rods on which they are mounted. Achieve a clean and seamless installation with no cables whatsoever for a modern and sleek feel.
Sunlight Readable LCD Light Pockets
Brightness is paramount when using outward facing screens and these displays use commercial grade high brightness panels (1,000cd/m²) – that's almost four times brighter than a standard TV screen to allow easy readability. Ideal for combining with static light pockets in window displays to provide eye-catching motion alongside printed signage.
Rear Graphics Pocket
On the rear of the digital rod displays there is a pocket that a printed graphic can be inserted into to really maximise on the space used. This can be removed if necessary but comes as standard at no extra cost.
LED Frame
These displays have an attractive LED illuminated bevelled edge to complement traditional static light pockets seamlessly – see below.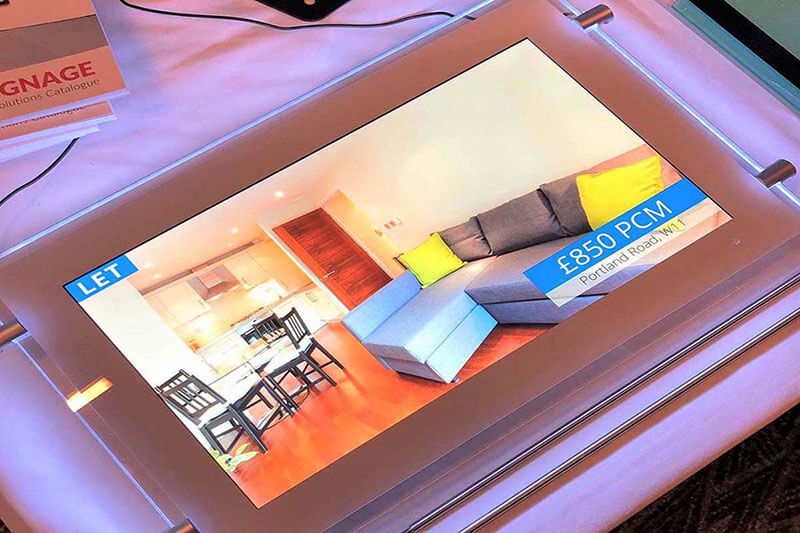 Synchronise Multiple Displays
Synchronise your content across multiple screens in the same window display. You can achieve the effect of one large image or video across multiple screens or have content playing and transitioning in perfect unison.
Use Case: Estate Agencies
Sell More. Save Time
With a digital property carousel set up on our rod display system, you won't ever have to manually change your window displays again. You'll save hours every week as property listings are easy to update as information changes and properties sell – leaving you with more time to focus on serving prospects. Plus, your digital window display is hard at work even after you close, catching the eye of passers-by outside of your opening hours!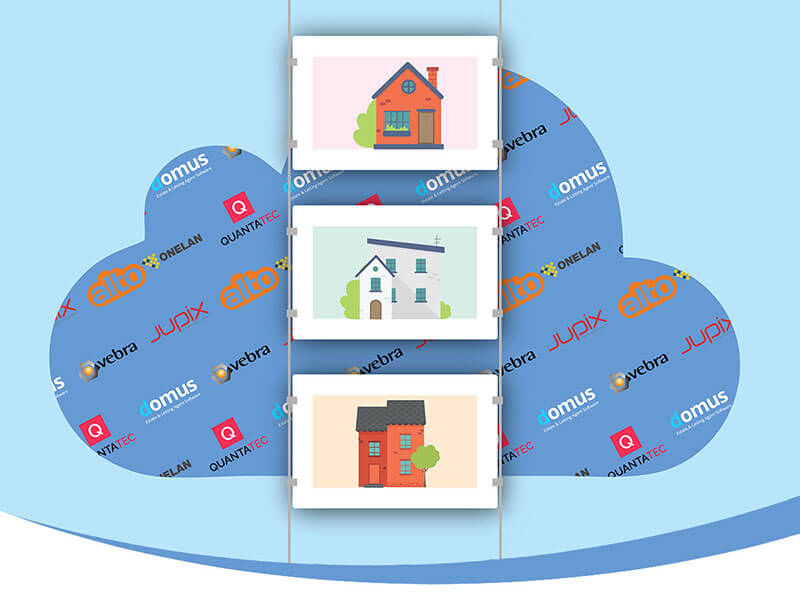 Supporting a Wide Range of Estate Agent Software
Our new 15" digital signage rod displays have been extensively tested to ensure maximum compatibility with a host of third-party estate agent property management software, including among others:

Interested?
FASTSIGNS® York can provide a wealth of ideas that fit your specific requirements. We'll work alongside you to implement a solution that is in harmony with your brand, while making an effective and powerful impact.
To partner with the trusted choice for digital signs in York, please get in touch today to bring your communications into the digital age – (019) 049-3594 x6.