In uncertain times, the temptation is to hold on to what you have - but those who have been consistently investing in image updates and brand development have been taking market share. This is your opportunity to stand out from the competition.
Enhance your brand by refreshing your signage and interior décor – this will raise your profile, increase footfall and customer quality, and elevate staff morale. Many customers across the region have trusted us with their brand refresh and the results have been amazing!
Whatever your budget, we have a signage or branding solution for you and your business. Just take a look at the range of examples we have from businesses we have worked with across the North:
Window Graphics
Relatively low-cost and simple to create, window graphics are a great way to refresh your premises and can be utilised to both decorate the interior and brand the exterior of your business. They can also be used to create privacy for staff and customers, with window graphics that allow light in but block vision from the outside. Plus, if you have restrictions on the type of signage you can use on the exterior of your building, vinyl window graphics, applied to the inside of your windows, can help to identify your business to passing customers.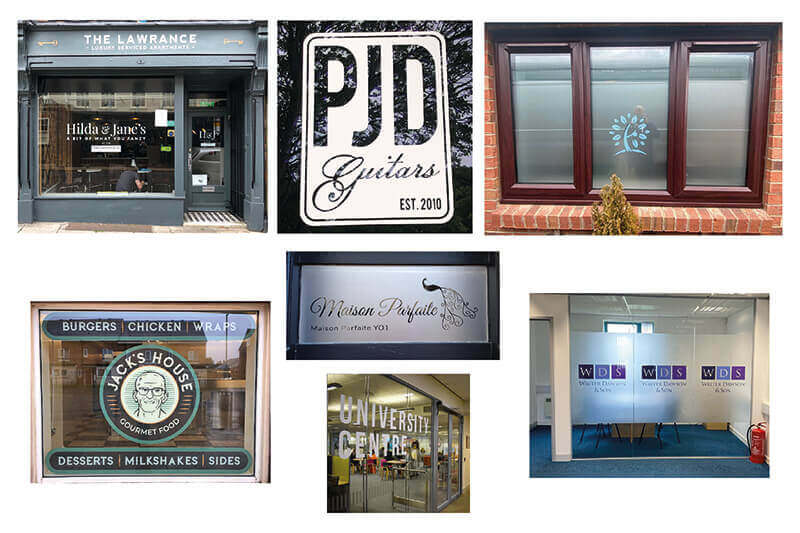 Business Signage
Using a combination of a brand guidelines, logo, colour palette and high-tech materials and signage production processes, we can create exterior signs that have a great impact and can enhance the visibility of your business. Whether you require dimensional letters, illuminated signage, a temporary banner, a monolith or totem sign or hoarding panels, we have a solution to suit your needs and budget.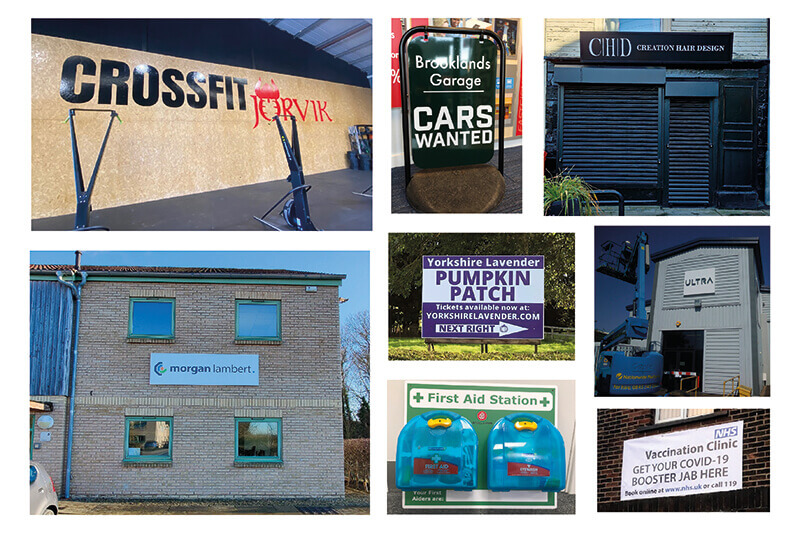 Vehicle Graphics
Let your vehicle advertise for you! Whether you have one small car, a number of vans or a fleet of lorries, having your information emblazoned on your vehicles means they can promote your brand into all of the areas they travel to, delivering high-impact advertising with very little message wastage!
There are a variety of options to consider when selecting the best vehicle graphics for your business and here at FASTSIGNS® York we give you expert advice by considering the longevity of message required and budget you have to achieve results. Full vehicle wraps, for instance, deliver high visibility and impact on the road but they are expensive. Partial vehicle wraps and vehicle graphics, however, allow you to cover a small proportion of the vehicle on areas such as the rear windows or side of the van with a logo, images and contact information. This method is often very cost effective. And, if a vehicle isn't always used for business, temporary magnetic car graphics can be a great solution for occasional branding or to raise awareness of an event.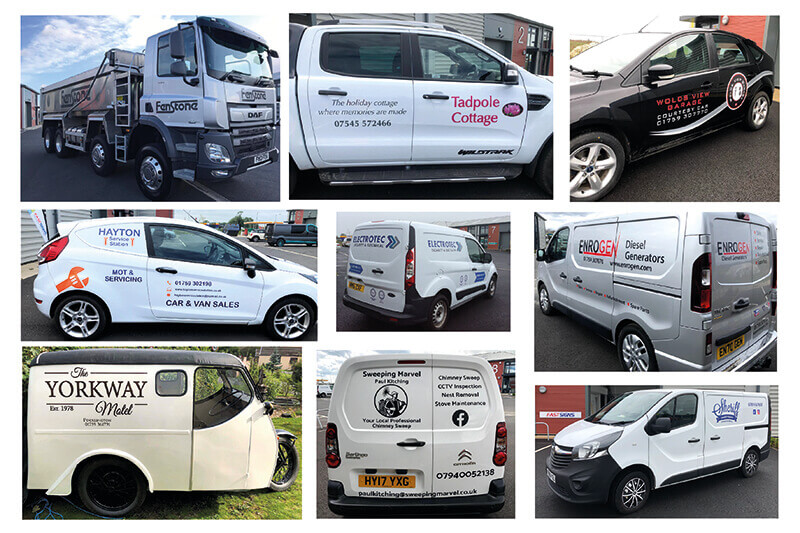 Events Signage
Holding an event or attending a conference? Use signs and graphics to build awareness, provide information and attract delegates to your stand. Banner stands and displays can be created in varied sizes and are mobile for easy placement around your premises or an event venue.
Making a presentation? Add visual interest to your presentation with a large banner serving as a backdrop or use posters for charts, maps, pictures or other props to help get you message across.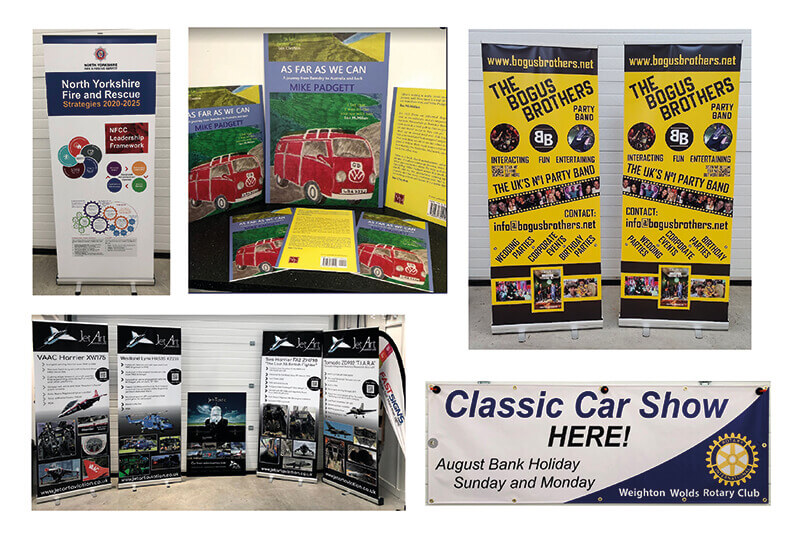 Interior Décor
Whatever industry your business operates in, the way you decorate the inside of your premises can have a huge impact on how customers interact with your space and the motivation of your staff. We offer brand enhancing décor creating visual experiences which reinforce your brand values and brand colour schemes - immersing customers, staff and visitors in your brand.
To achieve this, we work with you to understand your business's interior design vision – we will live and breathe your brand and then use our knowledge and expertise to create the right mix of signs and graphics to create stimulating interior spaces which showcase your brand, capture imagination and communicate exactly what you are and who you aim to target.
From wall, window and floor graphics, to wrapped furniture and plush finishings, we have you covered!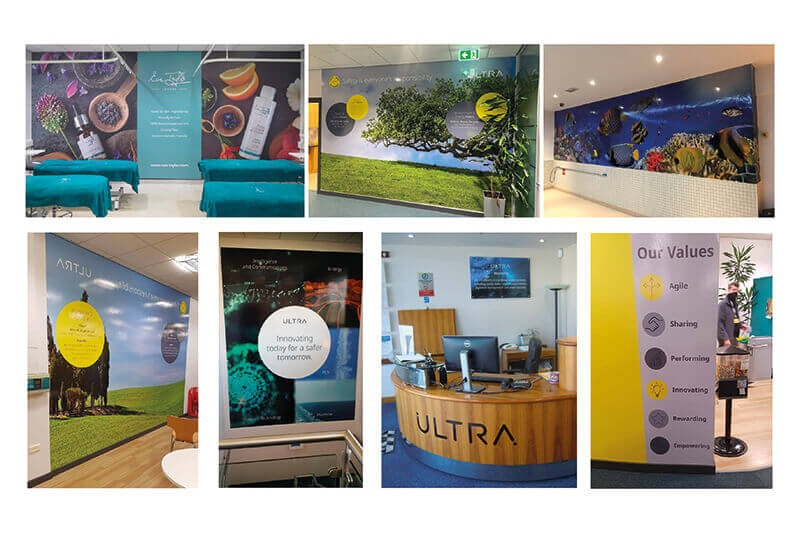 Make it Happen
We create and develop signage concepts appropriate to your market, the type of people you serve and how you want to be seen. Our whole goal is to impress the people who buy from you!
So, if you fancy a bit of a change, or even a total brand refresh, call us today on 01904 935946 – we'd love to discuss what you're looking to achieve and then work with you to make it happen.