A Banging Bike Billboard for Brown's
Much-loved deli, Brown's of Heslington, set FASTSIGNS® York an interesting challenge.
When Barry and Danny Brown arrived at the FASTSIGNS® York Design Centre, the Team were not expecting them to emerge from the back of their van with something resembling part of a penguin enclosure from the local zoo!
Standing at almost two metres high and over one metre wide, the Brown's bike advertising billboard was just crying out for the FASTSIGNS® York treatment.
"The bike billboard had been gathering dust in the garage for years, so we decided it was time for it to start earning its keep. We gave the FASTSIGNS® York Team an idea of what we were after and they did us proud. Customers think our bike billboard is 'banging'!" said Barry.
A Hidden Gem
Brown's of Heslington is a legendary deli and sandwich shop in the picturesque village of Heslington, a stone's throw from the University of York campus. Students and Residents alike wax lyrical about the wide range and quality of the homemade sandwiches available. Favourite fillings include Lamb and Mint, Chilli Chicken and Mexicana Cheese and Nachos.
While every day is a sell-out, Barry and Danny wanted to expand the deli's appeal even further and that's where the bike advertising board was set to work its magic.
Now branded with a highly eye-catching design extolling the virtues of Brown's 'banging sandwiches', the bike billboard can be seen outside the village of Heslington, on the busy road leading to York Science Park - the business district at heart of the University of York.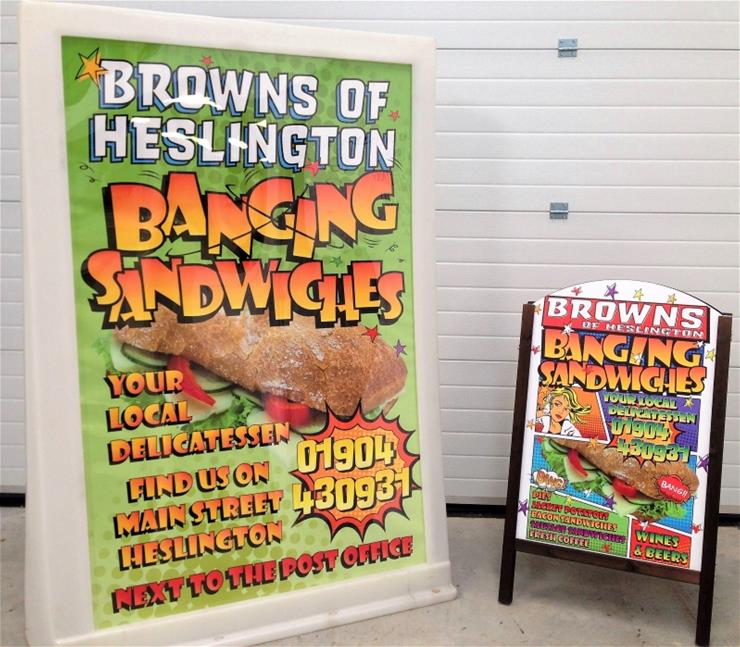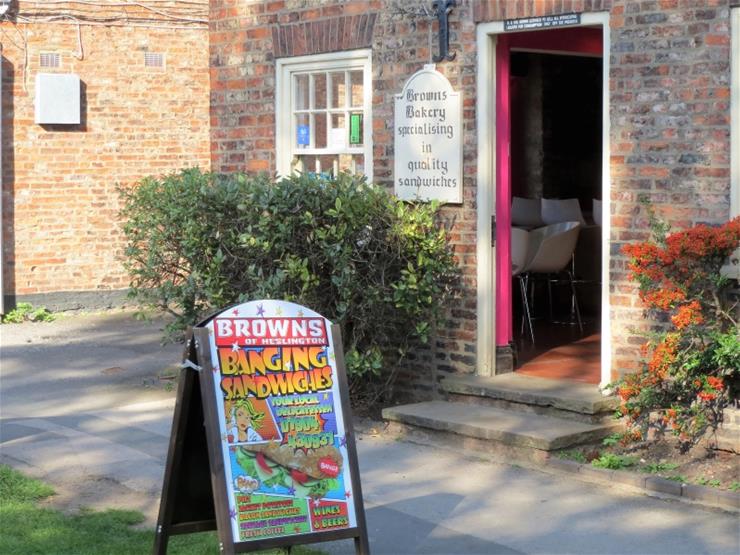 Little & Large
With the 'big' board making such an impact and with so much love being felt for its design, the Browns have since asked FASTSIGNS® York to update their pavement A-Board in the same 'banging' style. Next on the agenda … vehicle graphics!
Stand Out from the Crowd
With out-of-home (OOH) advertising estimated to catch the eye of 87% of adults every week, it's not surprising that the Browns wanted to unlock its enormous potential – and in such a novel way too!
By getting the right signs and visual communications, you can add to the value and success of your business, every hour of every day - contact FASTSIGNS® York today to discuss some of the exciting signage options we have available.