​
Sign Your Name...
When FASTSIGNS® York was asked to assist Ancestral Name in York City Centre with their brand refresh, it jumped at the chance.
Ancestral Name is a long-established business providing high quality, custom-made heraldic items, linked to family surnames. With a number of outlets across Northern England and Scotland, Ancestral Name has gained a worldwide reputation for the quality of its products.
The shop on Church Street in the centre of the ancient city of York presents a vibrant and colourful display of embroidered Coats of Arms, Banners, hand paintings and calligraphy histories – each delighting customers from near and far who are looking for that extra special gift, souvenir or personal family keepsake.
​Refreshing the Brand
When owner Colin Hope approached FASTSIGNS® York he was looking for a comprehensive refresh of the exterior of his prime York City Centre outlet, within a reasonably tight timescale:
"The look and feel of the whole shop was being updated inside and out and we needed the exterior branding to reflect this – but we only had just over a fortnight to achieve it" said Colin.
Indeed, with the York Summer tourist season just about to kick-off, the team at FASTSIGNS® York knew time was of the essence and worked hard to move the project quickly and efficiently from concept and design, through to production and installation.
Heralding a New Age
Working closely with Colin, the team at FASTSIGNS® York provided the physical solutions to bring the sophisticated brand refresh to life, attracting increased attention to the business on one of York's busiest thoroughfares while clearly informing customers of all they can expect from a visit to Ancestral Name.
Signs and graphics provided in this project included everything from the hanging sign and shop fascia, to window graphics and even the shop number above the front door! All delivered on time ready for the busy summer season.
"It was so refreshing to receive such a positive and speedy response! The Team at FASTSIGNS® York translated our ideas into an amazing new fascia and all the work was completed efficiently to a very high standard. I would recommend without reservation" concluded Colin.
The once tired shop is now as resplendent as many of the heraldic items for sale inside. The black and gold shines brightly on Church Street yet blends perfectly with the tone of the area. The store traffic has increased exponentially since the Grand Reopening, attracting tourists and York residents alike.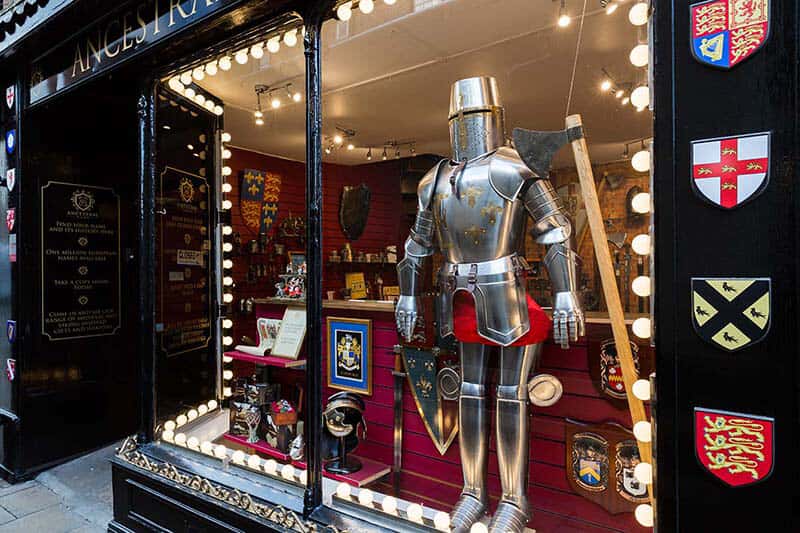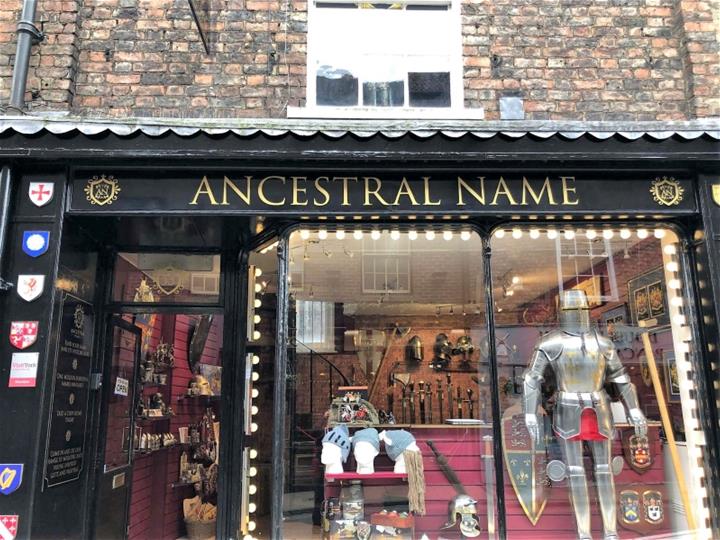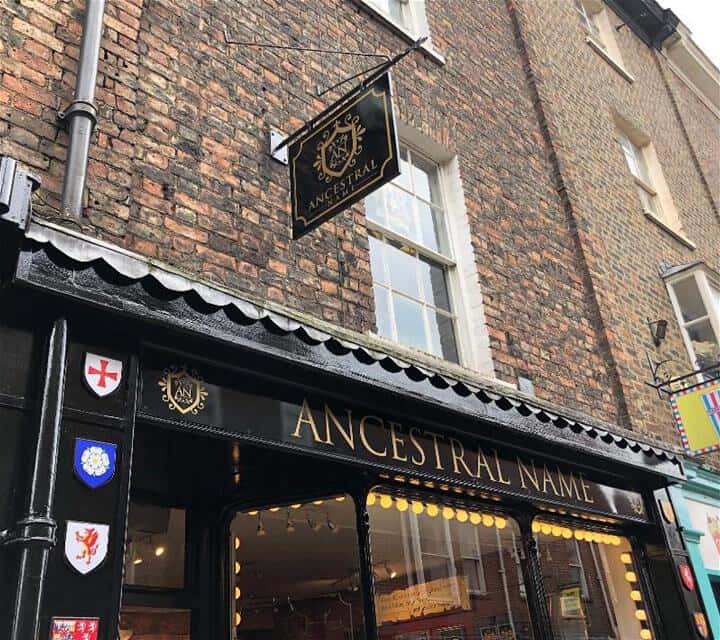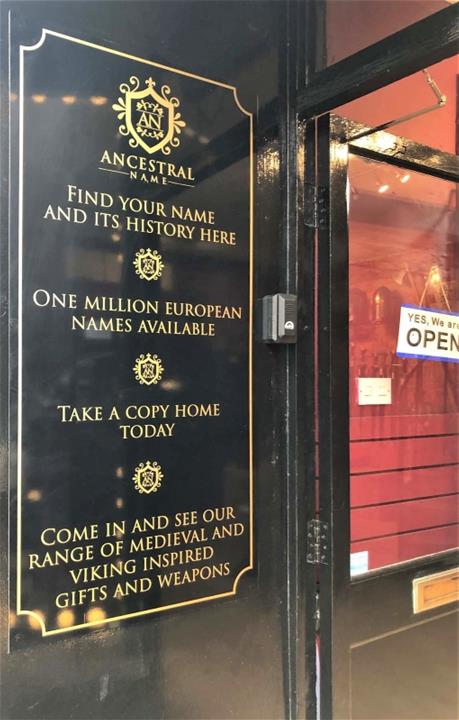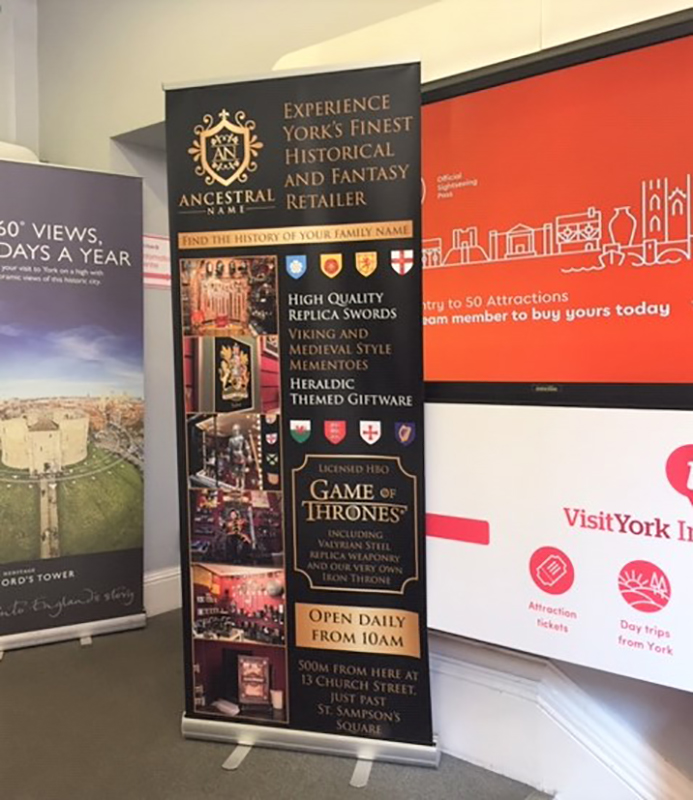 An Ongoing Relationship
Since this initial project, FASTSIGNS® York has developed an ongoing relationship with Colin Hope and his team. Indeed, they have become Colin's trusted supplier for all things 'visual communications-based' - a safe pair of skilled hands that he can rely on to interpret his wishes on-brand and on-time.
Subsequently, FASTSIGNS® York has done all the promotional signage for the launch of Ancestral Name's new 'Game of Thrones' licensed memorabilia and Throne Room – including an additional exterior information board and interior wayfinding signage to promote this new feature. They also carried out a significant amount of social media around the launch to help drive attendees to register for the exclusive launch event.
FASTSIGNS® York also created display material including a roller banner promoting Ancestral Name which now occupies pride of place at Visit York, the main Tourist Information Centre in York. Such a prestigious opportunity is only offered to businesses seen to present a brand which reinforces York as a vibrant and modern heritage destination. FASTSIGNS® York is proud to be part of building that brand and the roller banner designed by them is a stunning and fitting addition to the Tourist Information Centre, ensuring as many tourists as possible visit Ancestral Name – what a result!
The Value of Signage
Ancestral Name is clearly realizing the value of enhancing its powerful brand with visual communications which inform and excite its customers.
Signage is a massive part of a brand and should never, therefore, be an afterthought. By getting the right signs and visual communications, you can add to the value and success of your business, every hour of every day - contact FASTSIGNS® York today to discuss some of the exciting signage options we have available.