Many of us will read a newspaper over breakfast, or perhaps check the news headlines on the way to work. It's important to keep up with current affairs, especially if what's happening in the world affects your business – locally, nationally and globally, it's essential to see what's coming ahead.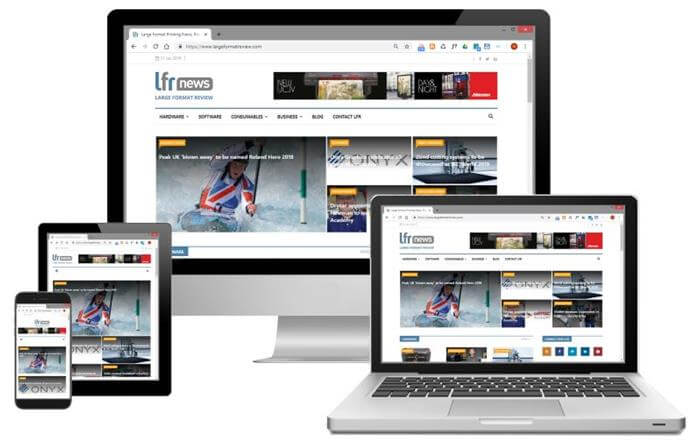 The same goes for sign and display print industry news. The sign and display print market has seen massive changes in the last couple of decades, owing to the explosion of developments in digital technology. From the way your customers contact you to how you source materials, from your printer systems to your finishing equipment, digital technology has made sign-making processes faster, more flexible, and more creative. The digital revolution isn't going anywhere and to maintain a profitable business it's imperative to stay knowledgeable on all fronts.
Luckily, digitisation has also made it easy to keep on top of industry news. Many printed trade magazines are still going strong, but to keep your finger truly on the pulse of the market, explore industry news websites like Large Format Review (LFR).
Just like mainstream news outlets online, sites like LFR are updated regularly with the latest information from major players in the industry, including hardware brands, consumables manufacturers, events organisers, big franchise names like FASTSIGNS and more – plus the new kids on the block you should be keeping an eye on. Thinking of investing in a brand new wide-format printer? The information is there, almost as soon as the manufacturer has announced it. Considering a visit to a trade show this year? There are regular updates on events schedules, exhibitors and incentives for visitors. Looking out for new sign-making materials to make your job easier? Get all the details ASAP. By keeping abreast of what's happening across the industry you'll naturally spot trends – giving you the business intelligence you need to grow and evolve. It's all in an easily digestible format, swiftly delivered, in a way that's impossible with offline magazines.
News platforms also provide ideas and inspiration, an essential part of helping your business stay fresh and to show you how to get the most from your investments. Sites such as LFR feature a wealth of case studies, detailing how sign-makers like you are using their kit to create incredible work. These stories may reveal niche markets you had never considered, or demonstrate how a standard machine or material can be utilised for an application you had thought impossible. Case studies also show you what your competitors are doing – a crucial part of staying ahead in business.
The beauty of online news sources is their connectivity. Magazines like LFR reach beyond their own pages to provide information via social media channels including LinkedIn, Facebook and Twitter, where you can also join their community of readers and get involved in the conversation. Discuss, debate and exchange ideas, forge new business relationships, even hear a bit of industry gossip – it's all part of maintaining a healthy business. Online news pages also make it incredibly easy to share articles, either via social media or email, meaning you can keep your employees and colleagues in the loop too. There are often links to YouTube videos, while you can easily store pictures that spark your entrepreneurial interest on sites like Pinterest. Together these resources can be the start of a fresh business plan.
They say knowledge is power. But for a modern business owner, that knowledge has to be easily accessible, quickly delivered and simple to share. Luckily with specialist industry news websites such as Large Format Review, and other sites like it, this information is all now available at the swipe of a screen.