We at FASTSIGNS® Crawley are excited about how technology is reacting to the current pandemic, helping keep the general public safe in high traffic shops, stores, work places and facilities.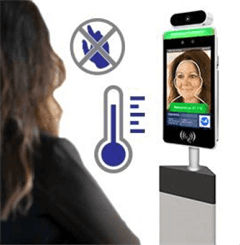 Both commercial and corporate businesses are now open as safely and securely as possible, during the pandemic. Here at FASTSIGNS® Crawley, we are talking to many of our customers about the digital signage possibilities available that can help them adapt to new working environments. We love these 8" facial recognition thermometer display units that give instant temperature results for users. These really are at the forefront of digital safety measures for your workplace. This solution accurately ensures safety of both customers and employees in these unprecedented times.
What we really love about these units is not only the range of features that they include but the longevity of use.
At this current time, attention to safety measures are of paramount importance. The Recognition Thermal Display unit uses contactless technology to measure the ambient temperature as well as the users body temperature for maximum accuracy. They can also check if the user is wearing a face mask, which has become even more important after the UK Government's recent mandate, that masks must be worn at all times when in shops, from the 24th July.
With 99.7% identification accuracy, this solution can also be used as a check in/out system for offices, warehouses and other secure locations. You can even create lists to control and restrict access, as well as recording all building entries. If you want to incorporate an ID card reader for building access you can do so. This feature can also be controlled and managed by the software that is included.
On top of all of the fantastic features listed above, we can even brand the device so it features your logo and promotes your brand and culture, within your facility. If you would like more information on this product that is serving the needs of your business, the current environment, call us on (012) 932-2189 x5 to speak to a signage expert.