​
Bentall Centre - The Summer Garden Event
Signage to Increase the Findability of Events
The Challenge
The Bentall Centre wanted to create a 'Summer Garden' event that would be located on the lower ground floor level of the shopping centre. They required signage that would effectively raise awareness of the event by notifying the shopping centre visitors, assist in guiding them to the event area and help in generating the desired atmospheric feel of the Bentall Centre wanted to achieve from the event.
The Solution
Following an initial meeting with the Bentall Shopping Centre and FASTSIGNS® Kingston to develop an in depth understanding of the purpose of the event and the desired aesthetic, FASTSIGNS® Kingston used a variety of signage materials including the use of vinyl, used in a number of different ways, to create a comprehensive suite of signage.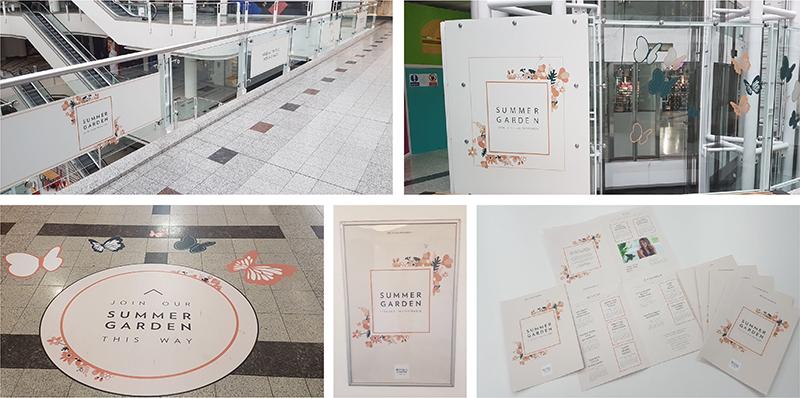 Inside the shopping centre, temporary vinyl graphics were applied to doors, glass panel surrounds, fascias and the floor, which expertly notified shoppers that the event was taking place, the strategic placement of floor graphics worked well in guiding footfall to the event on the lower ground floor. In areas such as the car park, which was associated with the shopping centre, but not within it, large format posters were hung to help with awareness. FASTSIGNS also arranged for 100,000 small format flyers to be developed and delivered to addresses in the local area.
At the actual event site, foam boards were created to be used on a wooden easel to notify the visitors attending the 'Summer Garden' event of the specific activity that would be taking place at any given time. Entertainment packs including children's activity sheets were also produced in the event's aesthetic to maintain continuity.
The Result
The directional signage that was placed within the Bentall Centre resulted in driving footfall to the event, helping to deliver a high attendance at the Summer Garden for the entirety of the event. All imagery and graphics were well received and effectively helped to create a relaxed, summery feeling that the organisers aimed to achieve.