​
SW Car Supermarket
In a Town Saturated With Car Dealerships, SW Car Supermarket Wanted Their Signage to Stand Out From the Crowd.
Background
Having relocated to new and extremely large premises in Peterborough, they required signage to attract attention and create a cohesive brand inside the building as well as out.
The Challenge
Using the blank canvas of the new location, FASTSIGNS® Peterborough set about utilising the SW Car Supermarkets brand's logo and key messaging as a starting point for the project.
After a visit to see the expansive site to get a feel of what FASTSIGNS® Peterborough needed to deliver, we recommended utilising a range of high quality LED illuminated signage to draw the eye of passers-by on the exterior of the building. Within the interior walls, we decorated the glass with window graphics that incorporated both wayfinding information and other key information, such as "0% interest free finance" using polymeric long life vinyl.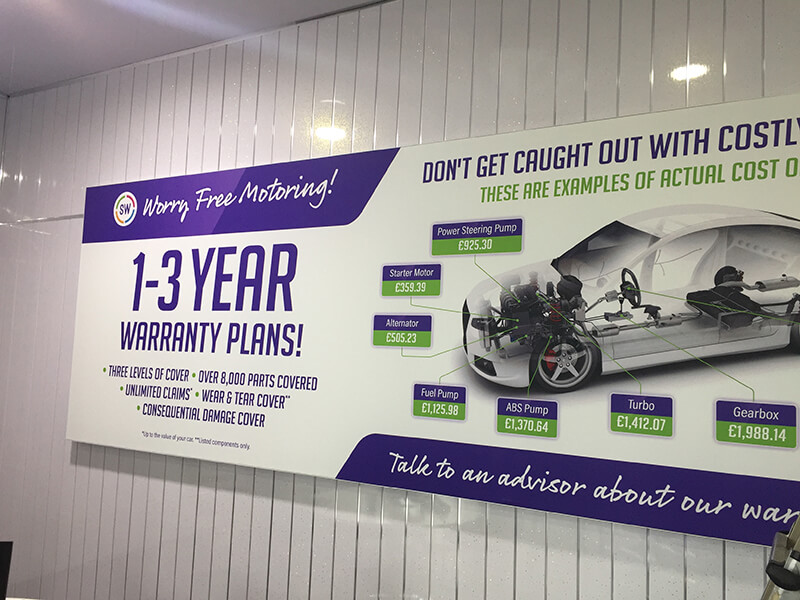 FASTSIGNS® Peterborough designed, manufactured and installed aluminium composite signs that were positioned on the vehicle bay canopies. Inside, we provided aluminium composite, digitally printed signs that highlighted key messages to customers, these signs also included pink halo lighting around each panel. We produced double sided suspended heavy duty PVC banners.
And the final interior sign was an SW logo, which was installed directly to the cladding, flanked cut vinyl lettering for SW's various slogans.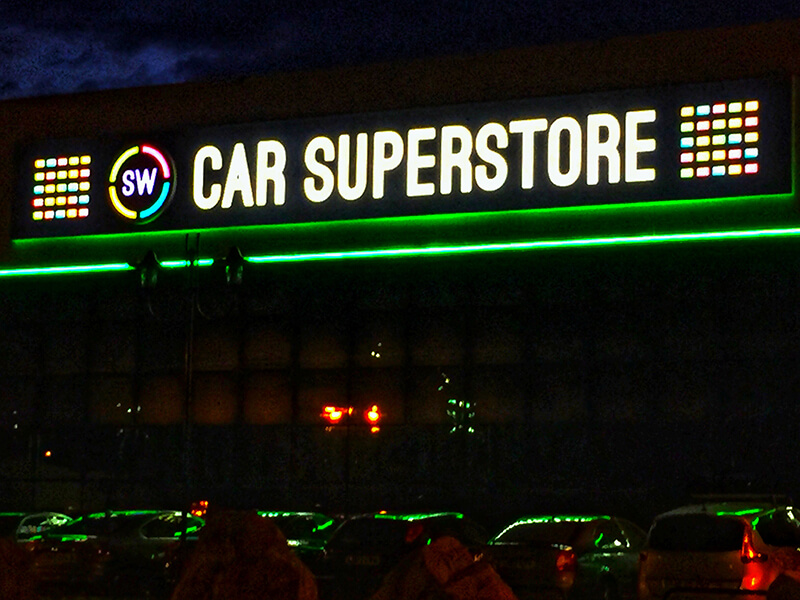 The Result
As part of the project FASTSIGNS® Peterborough produced all of the innovative graphics, marketing slogans and taglines for the business to carry forward.
FASTSIGNS® Peterborough delivered a highly visible and eye-catching range of signs to ensure that SW Car Supermarket are attracting passers and captivating customers when they are inside the premises. SW now have a sleek, professional appearance that is sure to gain maximum footfall across their site.