Mid-November saw FASTSIGNS® York hold a 'get together' to mark the official opening of their new Design Centre – and raise more than £500 for BBC Children in Need!
Business people from across York, North and East Yorkshire joined the FASTSIGNS® York team in mid-November to mark the official opening of their new Design Centre – and raised more than £500 for BBC Children in Need in the process!
With the official opening taking place at the heart of the BBC Children in Need 2019 Appeal Week, FASTSIGNS® York owners, Sarah Bradshaw and Ian Ellis felt it highly appropriate to include an element of fundraising for Pudsey in their proceedings.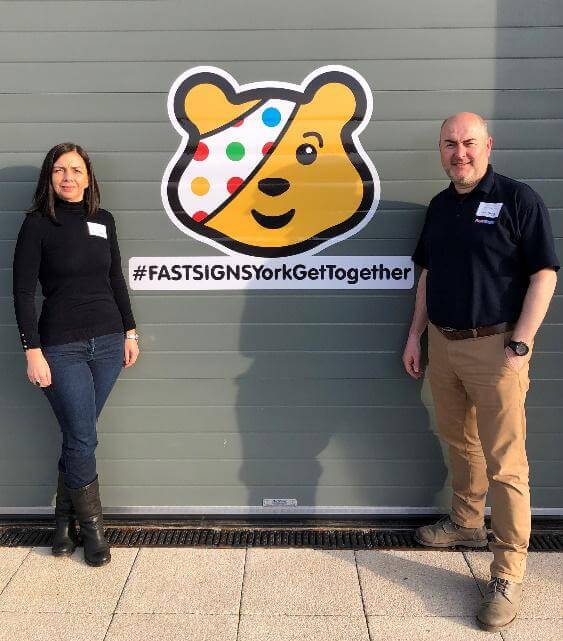 Ian Ellis, Director of FASTSIGNS® York, commenting on the fundraising aspect of their event, said: "Organisations such as Snappy in York, Ryedale Special Families based in Malton, the Hinge Centre in Bridlington and York Mind are all projects which will benefit from our fundraising efforts. Together we can help support and change lives."
The event also included an official ribbon cutting ceremony jointly presided over by Sir Greg Knight, Conservative Candidate for East Yorkshire, and Catherine Monson, FASTSIGNS International CEO who flew in from Dallas, Texas.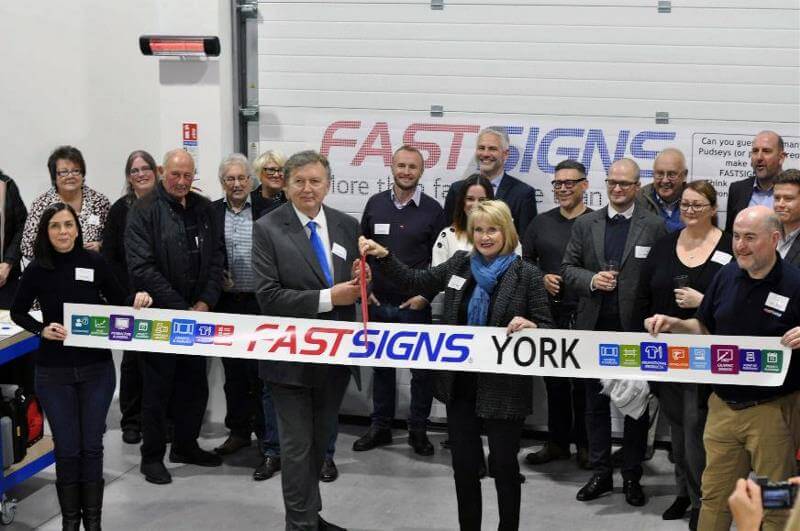 Pictured left to right: Sarah Bradshaw, Sir Greg Knight, Catherine Monson and Ian Ellis
Sarah Bradshaw, Director of FASTSIGNS® York, concluded: "We were delighted that so many customers, suppliers and colleagues were able to attend our event – we are so grateful to them for giving up their time and money too to help raise funds for such an amazing cause."
As well as fundraising activities on the day, FASTSIGNS® York also received a number of donations from colleagues across the FASTSIGNS UK network.
The new FASTSIGNS® York Design Centre is located at Unit 1 Helmsley Court, Broadhelm Business Park, Pocklington, York YO42 1AE – next to Howdens!
Contact Our Award-Winning Team Today
Do you need signs and graphics for your business? Or perhaps you have a project you'd like to discuss with our team? Get in touch today and we'll listen to your ideas and provide an outline budget for you.
Call FASTSIGNS® York on (019) 049-3594 x6.