​
Goldie's Bridal
A luxury bridal boutique looks to FASTSIGNS® York to deliver on its 'more than fast, more than signs' brand promise.
Goldie's Bridal is a luxury wedding dress boutique situated in exquisite premises at the heart of the vibrant market town of Pocklington. Official and exclusive retailers of stunning bridal collections by Savannah White, Blue by Enzoani, Selestia Paris, Lillian West and Venus Bridal, Goldie's Bridal caters for the fashion-forward modern bride, as well as those looking for a timeless classic.
Going for Gold
Following a disappointing experience with another signage provider, Goldie's Bridal came to FASTSIGNS® York in need of specialist assistance, on a tight timescale in order to achieve their opening schedule.
Owner Jodie Golding, and husband Dean, wanted the exterior signage at their new premises to totally reflect their luxurious branding and complement their sumptuous interior.
The first challenge was to create the 3D fascia signage: the delicate font chosen for their brand was a concern but the team at FASTSIGNS® York were able to work with it and produce a stunning flat-cut golden acrylic sign (see below).
Next came the projecting hanging sign (see above) which came to FASTSIGNS® York in a bit of a 'state'. After a bit of TLC in the FASTSIGNS® York workshop, however, we and the Golding's were extremely pleased with what we were able to achieve in giving the existing sign a 'golden' makeover.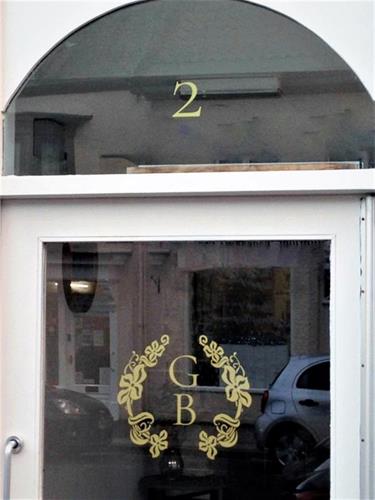 Then came the fascia cut lettering and window graphics (see above and below) – again, subtlety was of the essence here and, once again, Jodie and Dean were delighted.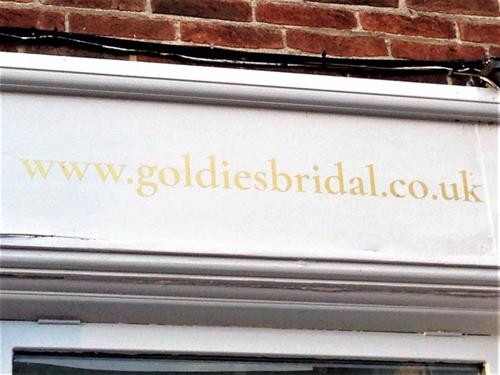 Dean concluded: "Fast, precise and fantastic to work with – we will be using FASTSIGNS® York for all future signage and graphics. The five-day turnaround for our main fascia sign was superb and I have recommended FASTSIGNS® York to all my business owner friends. They really are more than fast, more than signs!"
More than Fast. More than Signs.
There's nothing we don't know about visual communications using signs, graphics and digital signage. But it's not just our extensive knowledge and range of products and services that ensures so many of our customers choose to work with us and then stay with us - it's our commitment to delivering 'more than fast and more than signs'.
Looking to grab attention with signs and visual graphics that attract, inform and influence action? Talk to us today about how signage can help you add to the value and success of your business - every hour of every day.