Christmas! It's that time of year when we rush to the shops to find the best deals on gifts for our friends and family. The most wonderful time of the year! However, having loads of customers flooding stores at once trying to find the best deals for Christmas may not be viable in this new Covid world…...but that doesn't mean businesses have to suffer.
Limiting the amount of people in the store at one time is probably not the best business move, especially if you have a Christmas sale.
FASTSIGNS have solutions to keep your staff and customers safe while still attracting the masses through the doors. From letting customers know you're open, to informing them of Social Distancing measures, signage is your friend. It's one of the most effective methods for communicating to customers, while keeping expensive advertising costs down.
All the Signage below can be fully customised with a Christmas theme! Your design or ours.
1) Roller Banner
You don't need a boring sign to ask your customers to Socially Distance!

A great, cost effective way, yet personalised way to inform customers of your rules as soon as they enter the premises. Best placed inside your main entrance doors. A perfect partner to the A-Frame.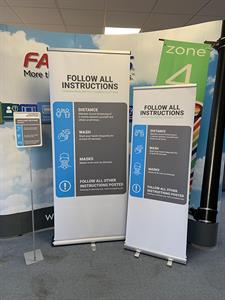 2) Banner (placed outside)
Let customers know you are open for business or place on main roads to help customers find you.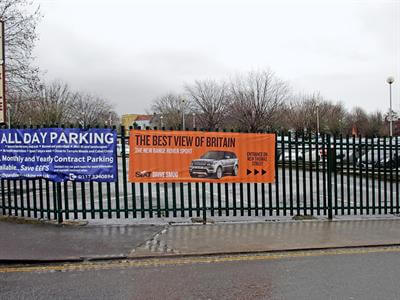 3) A-Frames / Water based Signs.
Inform customers of social distancing rules, help your customers find their way or share any message you like! Best placed outside your main entrance or throughout car parks.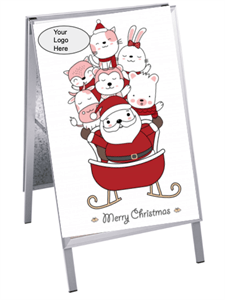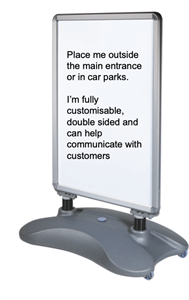 4) Aluminium Composite / Foam PVC / Acrylic signs
A great cost effective yet visually premium sign. They are much lighter than you'd think can be screwed into walls.

Don't want to use screws? No problem, our Foam PVC is light enough to be stuck with double sided tape (it's a really strong tape!) or even hung from the ceiling like the below image.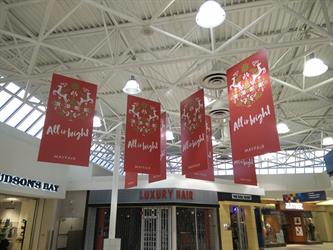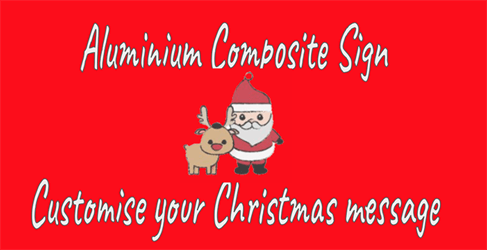 5) Window Vinyl
The ultimate way to get into the Christmas spirit. Our Vinyl is fully customisable and is a great way to add some Christmas spirit to your business. Christmas themed Vinyl decorations help gain the customers attention and get them through the door.

With the way 2020 has gone so far a Christmas themed decorated Shop Front can start to give customers the feeling of normalcy again.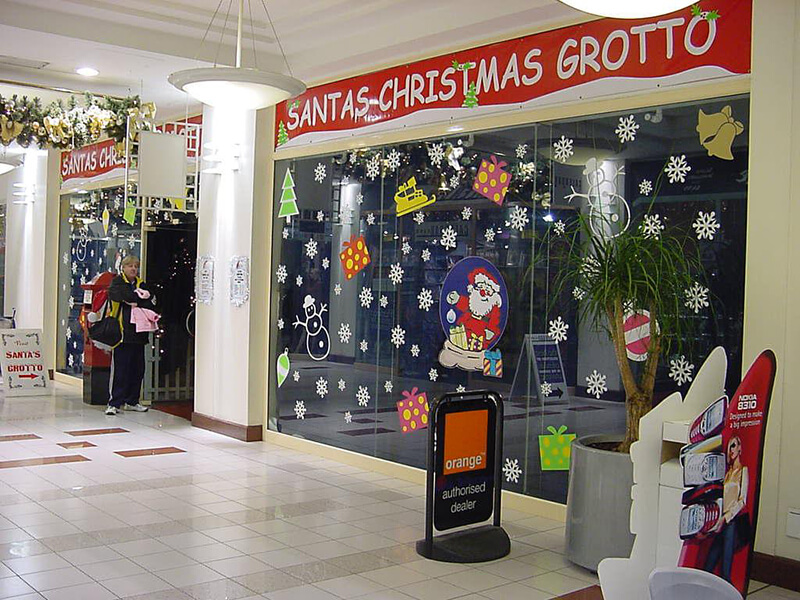 6) Van/Vehicle Graphics
Help spread the Christmas spirit with Van Graphics. Customise your vans with Christmas signage… It's a great, cost effective marketing tool which can be used to alert customers of any new opening times, offers, new social distancing rules or events taking place over the Christmas period. In an elegant and professional way.