FASTSIGNS® Kingston Upon Thames is committed to maintaining high standards of health and safety. We believe achieving SafeContractor accreditation proves this.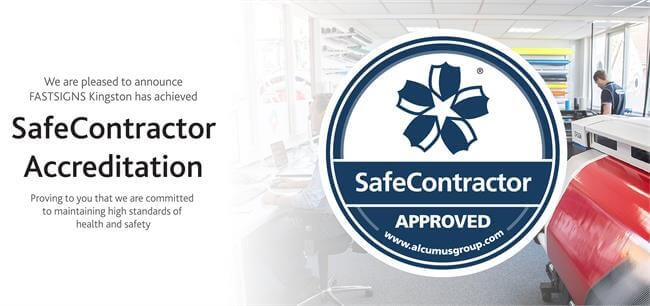 What is safe contractor accreditation?
Alcumus SafeContractor is a SSIP approved health and safety assessment scheme. This third party accreditation scheme assesses the health and safety competence of contractors and service providers. Under the Alcumus SafeContractor system, businesses undergo a vetting process which examines health and safety procedures and their track record for safe practice.
To achieve this accreditation, we updated our health and safety procedures and documentation. We also underwent an independent health and safety inspection to ensure that these procedures were understood and being followed by our team.
Companies which meet the high standard set by Alcumus are included on a database of approved contractors, accessible to registered users via the website www.safecontractor.com.
Why should it be important to you?
Due to the machinery within our facility and the hazards of installing signage it is important that we keep up to date with the latest health and safety best practice. It is also imperative that our team are fully trained in all aspects of the work we do. This ensures that all risks are identified and mitigated through good working methods. Following correct health and safety procedure guarantees that we can deliver you high quality products quickly and efficiently and safely. We are also able to provide RAMS on any project as required by our customers.
Mark Phelps, Director of FASTSIGNS® Kingston Upon Thames said "I am really pleased to have achieved Safe Contractor accreditation. We have always operated with Safety as a key priority in the business and this accreditation will help us to communicate with our clients that we have safe practices for our operation in house and out in the field when undertaking installation projects for our clients."
If you would like to know more about the safe contractor scheme please feel free to give us a ring on (020) 383-5331 x9 or send us an email at Kingston@fastsigns.com.