​
Titu Restaurant
Making the Most of Your Shop Front
When Titu approached us they already had their shop beautifully painted in a striking teal. They wanted signage to enhance the colour, not to cover it!
Titu is a contemporary restaurant serving a range of Japanese small plates and creative cocktails. Getting the branding right was of the utmost importance as they are an up and coming business in Mayfair with many competing local restaurants. They wanted their shopfront to attract new clientele and reflect the atmosphere inside.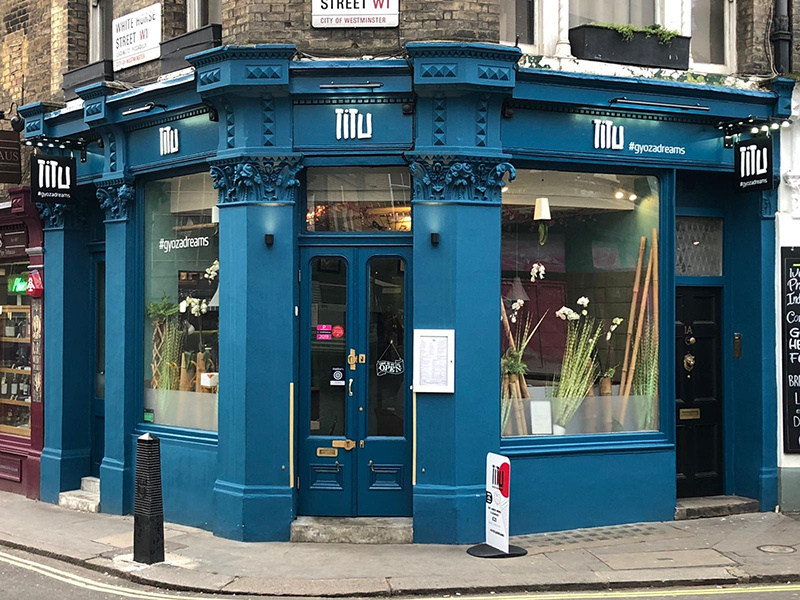 We installed white flat cut acrylic letters to the fascia with stand off locators. The acrylic has a clean glossy finish. The white lettering really jumps off the teal colour of fascia. Stand off locator fixings are a great option as they are hidden and can't be seen from the font. They also lift the lettering of the facia to give a bold, eye catching finish.
To add an element of illumination we included slimline trough lights. We love these lights as they have a slim profile and don't dominate the facia. The illumination complements the acrylic lettering and ensures the branding is easily seen day and night. This is an excellent option for restaurants and bars as they are usually open late into the night.

We also provided projecting swinger signs and a pavement sign. The projecting swinger signs are illuminated and swings in the wind to draw the eye up and attract attention. As the restaurant is on a corner one of these was installed on each side of the restaurant so at least one could be seen by potential customers approaching from any direction.
The Ecoflex pavement sign is provided with vinyl graphics that can be updated with seasonal requirements such as menus and offers. This is a great way to entice passing trade. It also has an easily removable base and becomes very compact for storage when not in use.
The project was a success, achieving a premium finish to advertise a premium dining experience.