Here at FASTSIGNS® Sheffield and Chesterfield Centre, we fully understand the importance of engaging people and making them feel a sense of excitement about their environment.
We are the Future.
The primary objective of any educational organisation is to aspire to turn out well rounded, well informed young people who have, with their help, achieved their full potential. Places of study and education are no longer regarded as dull, uninspiring vacuums where individuality is frowned upon and achieving discipline is the main aim.
They are now a platform that allows educators to bring out the best in students, reward achievements and create a sense of belonging, which promotes self-confidence and personal worth.
Bringing Lessons to Life!
Here at FASTSIGNS® Sheffield and Chesterfield Centre, we fully understand the importance of engaging people and making them feel a sense of excitement about their environment. Bringing lessons to life in the form of eye catching wall graphics is a great way to visually appeal to students and encourage an initial interest in their subjects.
Take a look at how these schools brought History to life by visually representing famous names from History, added a fun aspect to Geography with this colourful wall map, gave inspiration to Music Students and even created a Design timeline, combining facts and figures with images.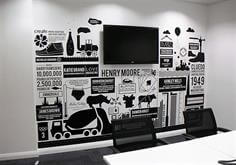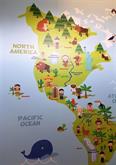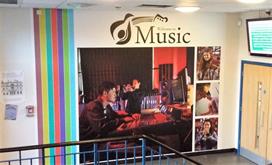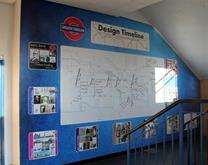 Inspire to Learn.
The biggest challenge facing any educator is persuading their students that learning can be interesting, enjoyable and ultimately beneficial to them not only now, but in the future too.
They need to promote a desire to learn and encourage curiosity. Libraries have a reputation for being dull and restrictive but as adults we know they hold a wealth of knowledge and books which inspire imagination that can create a range of emotional responses. See here how this school promoted different learning methods and also provided a vibrant visual making their library an attractive and inviting place to learn.
There are many lessons that can be learned from educational facilities, but again these can be reinforced in a fun, innovative way by displaying inspiring quotes and codes of conduct on the walls. Messages that encourage students to think about the future of the planet can also be used, a subject that is currently dominating young peoples thoughts, as the recent demonstration on Climate Change that many of our Sheffield students took part in, outside the Town Hall, shows.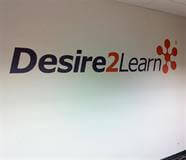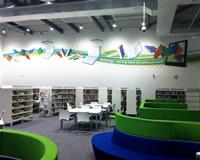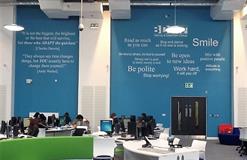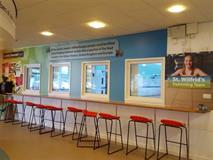 Creating Community.
Creating a sense of community and belonging is essential for all educational organisations. Students should feel welcomed, valued and part of a bigger team. As individuals they are finding their way in life and having a unified brand that represents your school, college or university, helps to create a feeling of security and trust. Presenting your premises well, shows your pride in your environment and in turn inspires them to feel pride in the place where they learn.
Clear, consistent signage, has a visual impact that can make positive impressions on their minds. You are, in fact, communicating the message that you are a united support network for your students. This is who we are and this is what we represent.
External and internal signage, vehicle graphics, uniforms that reflect the schools etc, logo, colours and ethos, all contribute to this. Notice boards with incorporated posters cases, can also help to make sure that the parents of students are kept in the loop with the latest news, events and developments and further extends this network of support.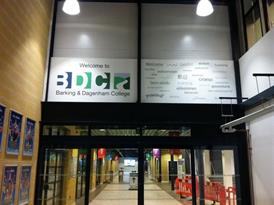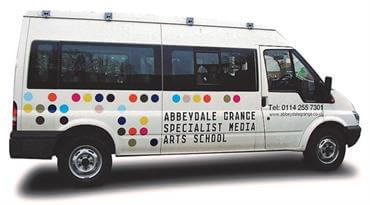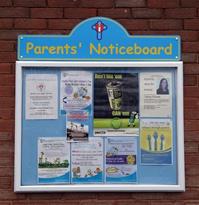 Celebrate Success and Support Creativity.
As a society, we are always quick to tell people what they are doing wrong, but educators have the perfect opportunity to praise what their students are getting right and encourage this behaviour by rewarding good deeds and academic achievements. Wall signs that promote and celebrate your classes sporting successes are a great way to encourage other students to get involved and make the ones that took part feel valued, boosting their self- worth and confidence.
Many schools now use Honour Boards as a way of paying tribute to their students achievements or Reward Systems, such as Class Dojo, a digital app that allows parents and students to follow academic progress and good conduct by using fun cartoon avatars and pie charts. FASTSIGNS can provide both Honour Boards and Digital Signage, to help your establishment celebrate those academic, sporting and moral successes.
We can also offer solutions for displaying your students creative offerings, be it writing, beautiful artwork or photographic images, we have range of options to help you present their hard work in all its glory. These are just a few examples of how we can work with you to make your premises an attractive, inspiring, supportive environment that students will be proud to be a part of.