​
Switalski's Solicitors
Interior Decor That Transforms Two Different Spaces with the Same Brand.
The Challenge
Switalski's Solicitors approached FASTSIGNS® Sheffield and Chesterfield Centre and Chesterfield with an interesting challenge. To help brand the interior and exterior of two of their facilities, housed in two very different buildings, whilst keeping their branding current and consistent.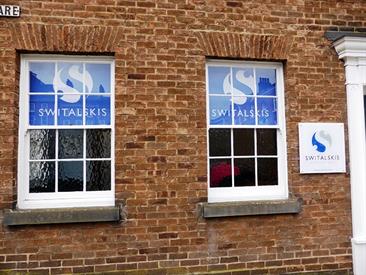 The first site was located in an 18th century Georgian building, where any branding had to be sympathetic to the existing architectural features of the building. The second site, a modern, contemporary building, located within a business park.
The Solution
Using the brand's existing colour pallet of blue and grey and their company logo FASTSIGNS worked with the brand to develop a number of interior signage solutions that provided privacy and effectively branded the facilities.
In the Georgian office, the ability to use signage on the exterior of the building was limited, so to create a brand presence for the firm from the outside, printed window blinds were used with a dual purpose. From the exterior of the building the Switalski brand could be seen clearly by passing footfall and the added bonus was that the staff were protected from direct sunlight, when inside the office. A small and tasteful stand-off acrylic plaque was installed as a site identification sign.
At the business park facility, a large aluminum sign tray was installed to the exterior of the building, to help raise awareness of the business and the service it provides.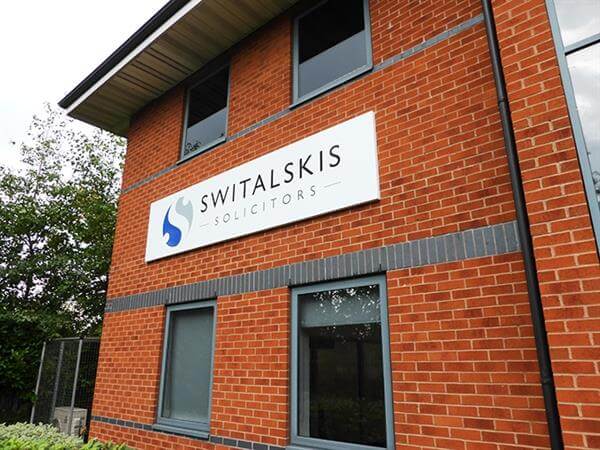 In both buildings, the interior decor focused on the use of imaged glass which incorporated the brands logo to create privacy in the offices and meeting rooms for both the solicitors and their clients. Acrylic signs were also employed as wayfinding solutions, helping people to find their way around both facilities.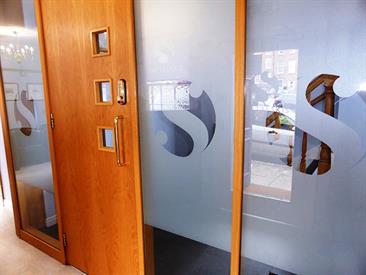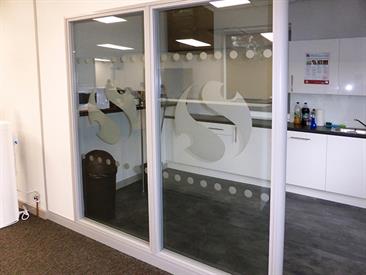 The Result
FASTSIGNS® Sheffield and Chesterfield Centre and Chesterfield used interior decor signage applications to brand both buildings, using similar signage materials to reinforce Switalski's brand and yet remain sympathetic to the overall appearances of these two strikingly different sites. The purchase of these two facilities took Switalski's Solicitors portfolio of buildings to thirteen, with the same consistent branding throughout, ensuring that the workforce at each facility experienced the same stylish and professional looking working environment.
Switalski's Marketing Manager gave FASTSIGNS® Sheffield and Chesterfield Centre a 5 star Google Review and commented, "A pleasure to work with, the team at FASTSIGNS® Sheffield and Chesterfield Centre were responsive, efficient and provided a great quality service and products. Looking forward to working with them again in the future."