​
The Yorkshire Cake House
From Concept to Completion, FASTSIGNS Does It All!
The Challenge
Back in January, FASTSIGNS® Sheffield and Chesterfield Centre and Chesterfield launched a Valentine Promotion to offer a FREE 3000x1000mm Proposal Banner to one lucky winner chosen from entrants who liked our Facebook Page, commented YES PLEASE on our post and tagged in 3 friends. On Monday 4th Feb we picked our winner, Chris Needham, Regional Manager at Low Cost Parcels. As Chris was already married to his lovely wife Kim, he presented us with a new challenge, to help promote Kim's new business, The Yorkshire Cake House.
We were happy to take up the gauntlet and discussed with Kim what she'd like to achieve with her Marketing Banner. Kim told us she was Rebranding her original business KST Cupcakes and that she was hoping to use the Banner to promote her new business at Wedding Fairs and other similar events. She wanted her contact details including and new logo, to make it easier for people to get in touch to discuss their requirements and to recognise her new Brand. She also wanted the tag line, 'Made with Love' to feature prominently on the Banner.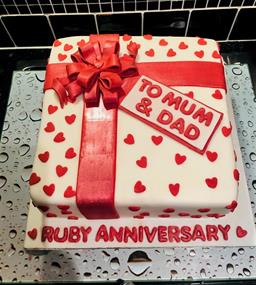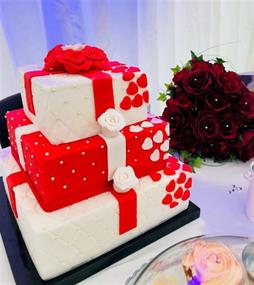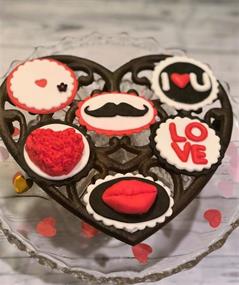 The Solution
Our creative Designer, Jonny, got straight on the case and using photos of Kim's culinary works of art, put together an initial proof for Kim to take a look at. FASTSIGNS® Sheffield and Chesterfield Centre and Chesterfield offer a full Design Service, should you require it and like to work closely with their customers to make sure the end result reflects the original brief and will even offer alternative suggestions if they see an opportunity to enhance their impact.
Kim was delighted with the first proof but requested a couple of amendments. The first, to change the tag line to 'Baked with Love' then for the images to be displayed as heart shapes to reflect the 'Baked with Love' tag line and lastly, to incorporate her newly designed logo to reinforce the new Branding. A few clicks of the mouse later the changes had been made and Kim was satisfied that the final image was ready to go.
FASTSIGNS offer a Proofing Service to ensure that you are 100% happy before we put your product into Production.


The Result
Our Production Staff set to work getting Kim's Banner, printed, trimmed, hemmed and eyeletted and I think you'll agree, the finished Banner looked effective, colourful and eye-catching. Here you can see one of our Directors, Paul Allison, presenting the Banner to Chris and Kim at our Sheffield Centre.
After collecting her finished Banner, Kim commented;
"Fab!!! Thank you so much for all your help it's been invaluable and can't wait to use our banner. I can't wait for people to see it."
Since this picture was taken, The Yorkshire Cake House has been awarded the title of Business of the Month on Hallam FM with Plusnet and had a Radio Ad running with them, advertising their Products and Services and now Kim has the perfect Advertising tool to boost her sales and increase interest at those Wedding Fairs.
A big thank you to Chris and Kim for their participation in our competition and we wish you every success with your new venture.