Printed banners offer an easy way to advertise news, events and seasonal messages to the local area.
Banners are inexpensive and come in a range of materials to suit different purposes. This makes them ideal for all kinds of businesses, from retail outlets and offices, through to schools, construction sites and event venues.
What type of printed banners are available?
Banners fall into two categories: permanent and temporary – and by 'temporary,' we don't necessarily mean single-use or disposable, we simply mean that the banner isn't designed to be on display all year round.
Indeed, temporary banners are ideal for seasonal events and can be used multiple times. Here at FASTSIGNS® York, 90% of the banners we produce are temporary. These are used for promotional purposes and events. Fixed to the outside of a building or entranceway, an eye-catching banner instantly informs passers-by of an event or promotion.
Freestanding roll-up banner stands are another common type of temporary banner we produce. They are typically designed for exhibitions and events, but customers do also use them to share information in entranceways and reception areas.
Permanent banners are often installed indoors but they can be used outdoors in certain circumstances, like this banner attached to an exterior brick wall.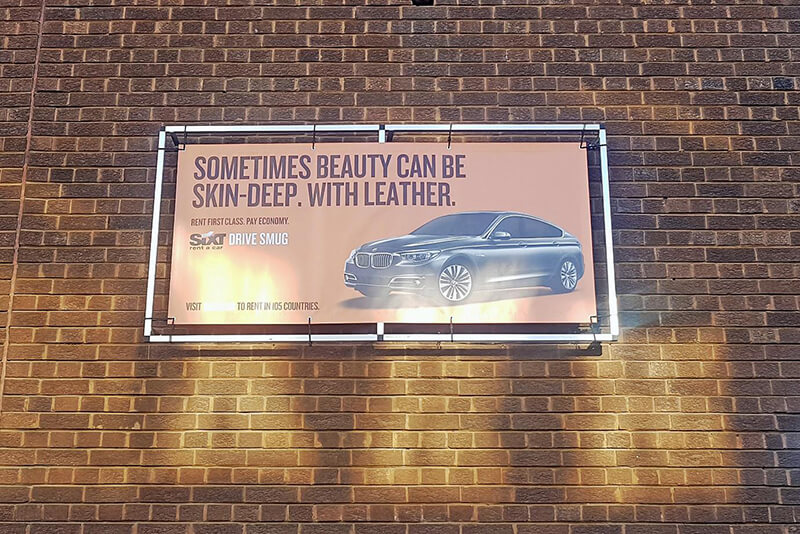 What are they made from?
Printed banners come in a range of materials that make them durable, hard-wearing and reusable.
We can print onto a full range of substrates at FASTSIGNS and our production team regularly print full-colour designs onto PVC, mesh and fabric. Roll-up banner stands are printed onto polyester material. Mesh and PVC banners are suitable for use outdoors, making them useful for advertising local events.
All banners can be reused if they're taken down and stored properly. This is handy for reoccurring events or promotions, as well as recruitment ads and general brand awareness. Once you've invested in a printed banner, you have the option to bring it out whenever you require.
How are they produced and installed?
Banners are inexpensive, but vary depending on the brief. Talking to the team here at FASTSIGNS® York about what you want to advertise – and where – should give you some indication of the price region you're looking at.
The banners we produce take between 3-5 days to create, depending on the size and materials used. They can be fitted in minutes using cable ties, bungee cord and rope. Some permanent banners may need to be screwed to walls but roll-up banner stands are free-standing, so don't require any installation.
On the whole, it's relatively easy for people to fit banners themselves - although we would recommend that they are professionally installed if they are high up or very large.
Got an idea for a banner? Contact FASTSIGNS® York today to learn more about the options we have available.
Call (019) 049-3594 x6 or visit www.fastsigns.co.uk/york/.