Already in the holiday mood? If you've not already taken your annual leave then you'll certainly be counting down the days till you can switch on your Out of Office, sit back and relax.
Stumble Inn? Increase Your Findability.
For those of you that own businesses within the Hotel/Hospitality Industries, this can be your busiest time of year and no doubt you are already implementing carefully thought out strategies to maximise your returns.
But you could also be using this time to take stock, note what has worked and which areas need improvement. You may even consider taking advantage of the quieter autumn months, to start thinking about ways to increase the impact of your branding and to make your premises stand out even more from the competition.
This Hotel in London made sure they presented consistent branding and made their premises impossible to miss with this clear, stylish, signage. Their use of projecting signs and acrylic panels made their premises easy to find but also emphasized their high-class reputation and it gives you a positive impression of their business before you've even stepped through the door.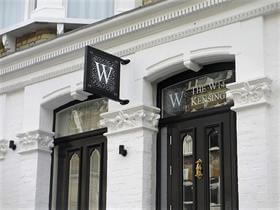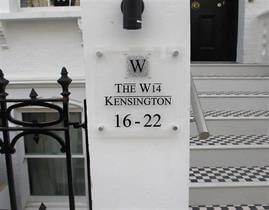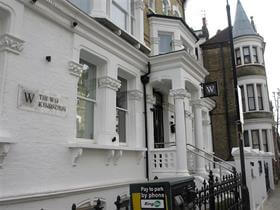 Light Up My Life.
But why stop there? Most clientele, whether their stay at a Hotel is for business or pleasure, are looking for a touch of luxury and giving them a room, which gives the right mixture of opulence and functionality, is a recipe for success. A business can live or die by word of mouth, so make sure your guests have nothing but good things to say. Add personality to your rooms with scenic window graphics, colourful canvas prints and printed stand-off boards. You can even add a touch of romance to the situation, with light bulb illuminated letters, designed to stimulate the visual senses and any other senses that may need a gentle nudge!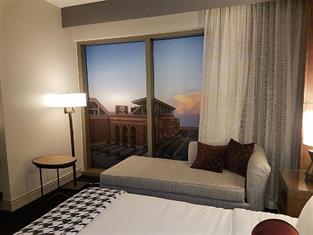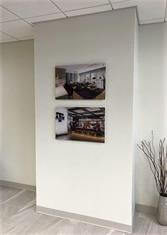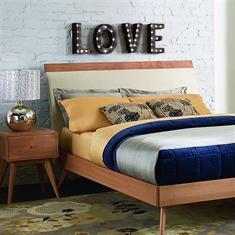 Eyes Wide Open.
Reports have shown that the average person registers between 11,000 – 15,000 visual images every day! Every image we see builds an overall impression, which influences our opinions and can even alter our moods, before we are physically aware of it. This is why it makes perfect sense to make use of every area of your premises to enhance your visitors experiences, making use of accent wall graphics in your reception areas, giving corridors a light, bright, airy feel with eye-catching wall signs and lift vinyls that give the illusion of the outdoors, indoors.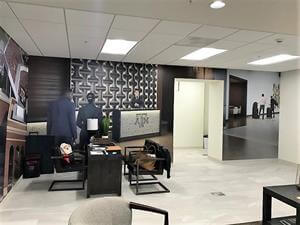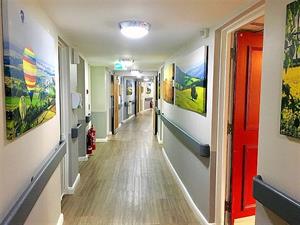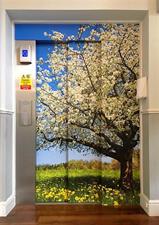 Tea for Two.
Showcasing your fine dining experiences can be a great way to attract new business and show your existing clientele that their loyalty is important to you. Whether you offer high end, self-service buffets or canteen style cuisine, this is an opportunity to show what your business has to offer. Your guests may be looking for a quiet, secluded space for a romantic lunch or serious business brunch, they may require freshly prepared food with a large selection of choices or they may be looking for good homemade fair. Whatever their preference, we can help you to achieve the right look for your brand, with classic etched vinyls to provide a feeling of privacy, multiple menu boards to reflect your range of options or wall graphics that point people in the right direction and give the dining room that homely feel.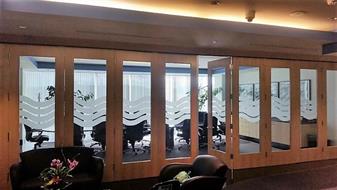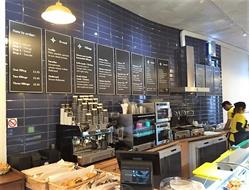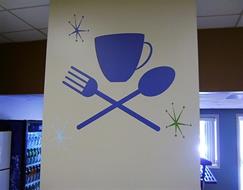 Feel the Burn!
As well as promoting your fine dining services, it's also essential to promote your other on-site facilities. Offering health and beauty facilities, like treatments, massages, hair styling, gym, sauna and pool facilities, can all influence the choice people make when they are looking for a place to stay. Strong, effective and atmospheric wall and door signs, will make your guests aware that these facilities are available to them on-site and where to find them.
The same is true of your hosted events. If you have the facilities to provide a Wedding Venue, Receptions or to hold Conference Meetings on your premises, then you need to be shouting about it, as these services could be your USP and they could offer your business a very lucrative avenue of income.
FASTSIGNS® Sheffield and Chesterfield Centre can help you with all these events by providing personalised table coverings, banners, seating plans, invites and table numbers to make your Receptions beautiful with bells on and wall signs, name badges, charts and table vinyls to reinforce your branding to all your Conference attendees.