Educational Organisations are always a hive of activity and keeping the premises well organised and safe for students is always at the forefront of Governors, Heads of Department, Deans and
Say it with Signs.
Educational Organisations are always a hive of activity and keeping the premises well organised and safe for students is always at the forefront of Governors, Heads of Department, Deans and Staff's minds.
This is where FASTSIGNS® Sheffield and Chesterfield Centre can help. With over twenty years experience of collaborating with nurseries, schools, colleges and universities, to tackle everyday problems, we understand the challenges you face and have a range of solutions to help you to meet them.
Go with the Flow.
Clear and effective signage can guide your students to the correct rooms or departments, keep the flow of pedestrian traffic going in the right direction and make sure that timetables and schedules can be adhered to. They can even lead you to the smallest room. Well placed door signs ensure that toilet facilities can be found with ease and help you to avoid those little accidents!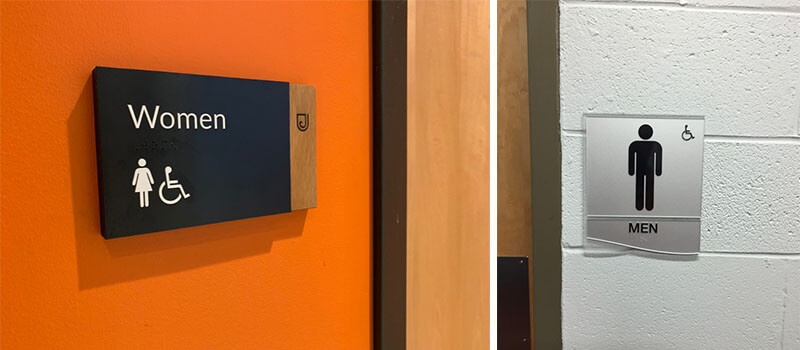 All Inclusive.
tudents all have unique personalities and different requirements, so your signs and graphics need to reflect this. Tactile signs with raised lettering and braille make it possible for visually impaired students to navigate their way around the building safely, identifying rooms and areas.
Signs for disabled students such as toilet signs and disabled parking signs, again improve safety and ensure that everyone has access to the facilities they need. Making the signs bright, bold and glare free can also help to draw people's eyes and make finding their way around, a simple and pleasant experience.
Colour coding your signage throughout the building, as well as being visually appealing, can also make finding your destination easier and enable you to differentiate between different departments and classes, e.g. Maths Department in Green, Art Department in Red and so on.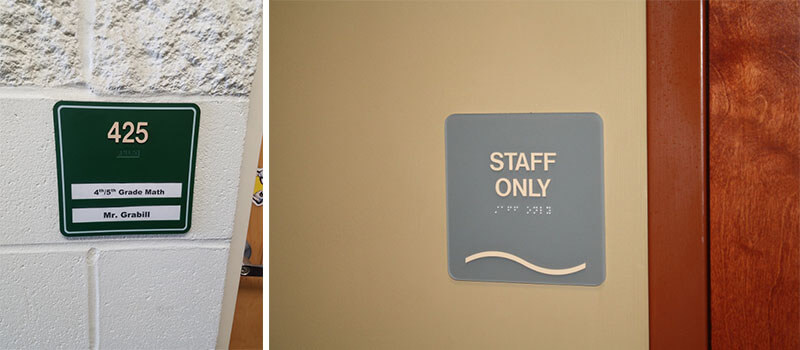 You're in Safe Hands.
When parents send their children off to school, college etc they are entrusting their precious cargo to those establishments, so effective and compliant Health and Safety Signage is an essential step towards making those buildings safe.
In the event of a fire, people need to know how to act, how to get out safely and where to gather once they are away from danger. Fire Action, Fire Exit and Fire Assembly Point vinyls are all excellent for making these actions and locations clear and easy to understand. During moments of crisis, keeping people calm and organised can be the difference between life and death.
Similarly, subjects that use equipment that may cause danger for the people using them, also benefit from using instructive signage, warning of dangerous chemicals, for example, or sharp tools and again clear indicators of where Fire Extinguishers and Fire Alarms can be located are necessary to reduce the risk of danger to individuals and property.
Of course there are also hidden dangers for individuals in the form of special dietary requirements. Lactose intolerance, Gluten intolerance, Nut allergies, are just a few of the issues that some students may face and the effects of giving the wrong food to the wrong person can range from mild reactions and discomfort to severe reactions that must be prevented.
ry Wipe Notice Boards that can be positioned in food preparations areas, or just outside classrooms and canteens, can enable catering staff to indicate any students that may have special dietary requirements. Magnetic signs, which are interchangeable as requirements change, can be used to show students meal choices for the day or indicate personal preferences such as Vegan or Vegetarian choices.
Protect Your Bubble.
Safety doesn't end when you walk out of the door. Keeping your students and premises safe on the outside is also an important consideration. Road Safety Banners positioned in prominent places on your external walls and fences, can reduce the risk of students being injured in or near your premises and alert people to the dangers of careless driving and parking. Clear speed restrictions, indicated by post signs, will again reinforce this message.
Permanent or temporary signs that alert students to restricted areas or areas where there is a risk of injury due to construction work, are all essential to aiding Health and Safety whilst on or visiting your site. Although most organisations will try to schedule work for when students are not around, sometimes important maintenance has to be carried out without delay, especially if not carrying out the maintenance poses a risk to individuals. In this case again it is vital to warn people of any possible dangers. Fence or Scaffolding signs can convey the potential risks effectively.
FASTSIGNS can also offer some protection from Vandalism and so protect your outdoor signage from permanent damage by providing external signage with Anti-Graffiti Laminate. It protects your print or graphics from both the elements and attempts to deface it. Although it can't prevent the Graffiti from taking place, it does mean that any damage done is limited and can be corrected or replaced with ease. Protect your signs and protect your budget too!


If you'd like to learn more about how we can help with all your Health and Safety Signage and Graphics then give us a call on FASTSIGNS® Sheffield and Chesterfield Centre.