As the Covid-19 vaccine roll-out begins, signage will be particularly important to direct and inform patients of your procedures and act as a reminder to follow social distancing, whilst on your premises.
Below is a selection of signage products, that as signage experts, we recommend when helping assist patients to find parking, access routes and navigate your site.
The designs below can be easily updated and used alongside other products in our range to create a bespoke solution, using your choice of colours and text. - Just let us know what you need and we will create the designs for your approval. We can also incorporate signage that affixes to walls, floors, doors and windows for optimum use of space and message penetration.
SIGN FRAMES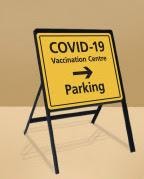 Freestanding signs frames are and excellent way of directing traffic. The sign panel is interchangeable to allow different messages to be displayed at any time.
PVC BANNERS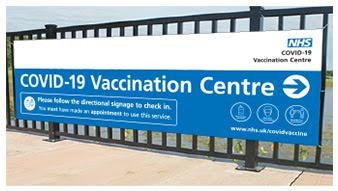 PVC banners are custom made to any size and are easily fixed to walls and fences. PVC banners are a great way of directing patients.
ECOFLEX 2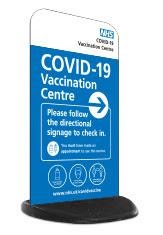 The Ecoflex 2 is one of the most popular pavement signs we supply with a double sided aluminium display panel and recycled PVC base providing great stability. Assembly is easy with no tools required and wind tested for maintenance free use whatever the weather.
OUTDOOR POSTER STAND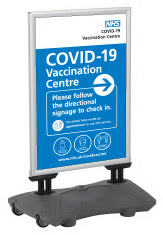 A weighted base and spring-mounted graphics display is perfect for semi-permanent installation in high traffic areas that are exposed to the elements. This can be used as a single or double sided display and graphics are quickly and easily loaded into the dual snap frames while anti-glare covers protect them from the weather. The base can be filled with either sand or water and includes built-in wheels for easy transportation.
PAVEMENT SIGNS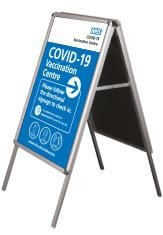 These are both lightweight and strong making this deal for both indoor and outdoor use on busy thoroughfares. Graphics are quickly and easily inserted using the convenient front loading snap frames and complete with anti-glare poster covers protect your posters. The frame folds completely flat for easy transportation and storage.
BANNER STANDS

Banner Stands are designed for indoor locations and can be used to display various messages and are ideal for reception areas, waiting rooms and corridors. Supplied complete with a carry bag and great for displaying directions, instructions and social distancing messages.
We are a complete service provider - consultation, survey, design, manufacture & installation. Contact us now with your requirements for Vaccination Centre Signage or any other signage projects.
Request a Quote or Consultation | (011) 469-7693 x6 | (011) 469-7693 x6