Pate's Grammar School Cheltenham
Solutions to Enhance Pate's Grammar School's New Building
The Challenge
Pate's Grammar School recently built a new Sixth Form block to further enhance their offering to post 16 students. The new building was produced to house a dedicated senior library, group and private study spaces and staff offices, as well as a strength and conditioning suite. They required exterior signage that was modern, but also reflected the school's long history and their prestigious status as one of the best regarded state secondary schools in the country. Having completed various signage projects with the school since 2015, we were a natural fit for the project, as we have developed a good understanding of their brand and ethos.
The Solution
Working in collaboration with Quattro Design Architects, we developed a solution that met the school's vision and was practical to both produce and install.
We created a fret-cut version of the school's intricate crest in 3mm stainless steel, (measuring 1500mm wide and 1750mm high), which was powder-coated satin white in order to create a striking contrast with the dark grey cladding of the building. To ensure a smooth installation, we conducted a detailed site survey.
The sign was delivered on time by our Safe Contractor approved installers, with the assistance of the main contractor (E G Carter).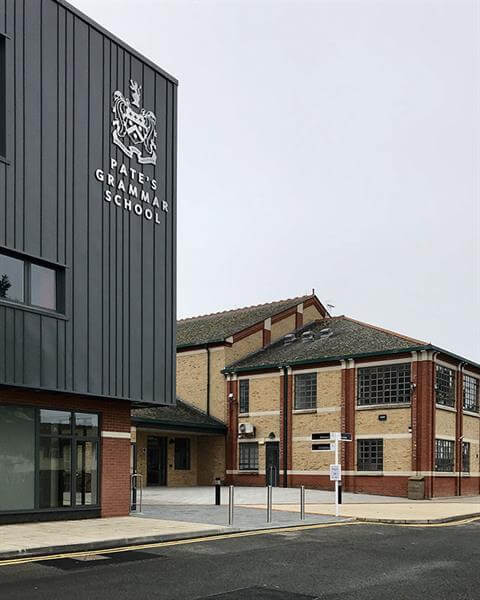 The Result
We created an eye-catching sign to complement the new 6th Form facility. Our high-quality signage was completed and installed on time and to brief, meeting the requirements of all involved stakeholders (Pate's Grammar School, Quattro Design Architects and E G Carter Construction).
We were subsequently asked to produce additional items for the project, including a wayfinding finger post and various internal signs including commemorative/donation plaques, door signage and manifestations.