We caught up with FASTSIGNS® Leeds Director, Andy, to find out about his highlights from this year and see what 2018 has in store for the world of signage and printed graphics.
It's been another busy year at FASTSIGNS® Leeds, with hundreds of new signs and graphics installed at locations across Leeds and beyond.
To take a quick look at the past year, we asked FASTSIGNS Managing Director, Andy Simpson, to take about his signage highlights.
Q: What have been your highlights of this year?
A: Heading to the FASTSIGNS convention in Phoenix, USA was great. It's really useful to meet the US FASTSIGNS owners and we always learn something new from them. At the 100-strong supplier show, we got a chance to check out new technologies on the horizon.
Production specialist, Martin, came along too and we visited a FASTSIGNS centre in Phoenix to see how they were implementing the new FASTSIGNS management information system. Learning firsthand from other centres means we can always stay one step ahead and provide the most efficient service for our customers back in the UK.
Q: You produce hundreds of different types of signs and graphics. Tell us about one of the most standout projects the team has completed this year.
A: We completed a 20 ft high cherry tree wall graphic at Crossley Hall Primary School which looked fantastic. We've done dozens of wall graphics in schools over the years and it's always fantastic to hear the difference it's made.
The wall graphics were a part of a wider refurbishment and the kids, parents, and teachers said how pleased they were with the results now they had an environment they could be proud of! It's great to hear feedback like that.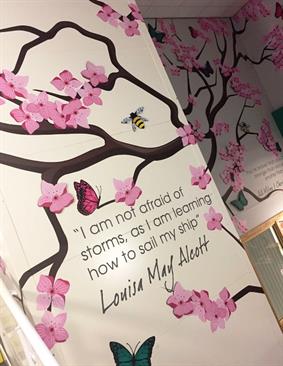 Q: Are there any new techniques you're hoping to explore further next year?
A: We'd like to look into printing on more wood materials using our UV flatbed printer. Wooden signage is not only eco-friendly, but it creates a high-quality finish that is valued by many clients. We're always looking for new ways to create the desired effect for the best possible price!
Q: What's been the most rewarding project you've worked on this year?
A: The huge window graphic at Leeds University was a personal highlight. The project was runner-up at the FASTSIGNS awards in the 'project of the year' category and took a tremendous amount of hard work and planning.
We worked closely with the client to create a design that reflected the department's specialty. The finished graphics look fantastic and Rebecca, Graham, and Vinny did a great job pulling everything together.
Q: How does the team celebrate the Christmas break at the FASTSIGNS® Leeds office?
A: We had a Christmas fuddle on Tuesday and we will have a Christmas do in January. There are lots to be getting on with in the run-up to Christmas so we save our night out until the new year. We're a close-knit team so there's plenty of festive spirits to get us through.
Today we had everyone's favorite lunch - a fuddle! And all in aid of @stgemmashospice's Wear It Festive campaign. #MerryChristmas pic.twitter.com/On2BYZervR
— FASTSIGNS® Leeds (@FASTSIGNS® Leeds) December 19, 2017
Check out the FASTSIGNS® Leeds opening times and get your print ordered for the new year!
In the meantime, sign up for our newsletter and follow us on Facebook, Twitter, and LinkedIn for regular updates from the team.