FASTSIGNS® Leeds are closed between 22nd Dec – 2nd Jan. But order before the 15th December and we'll get your print, signage or graphics delivered before Christmas.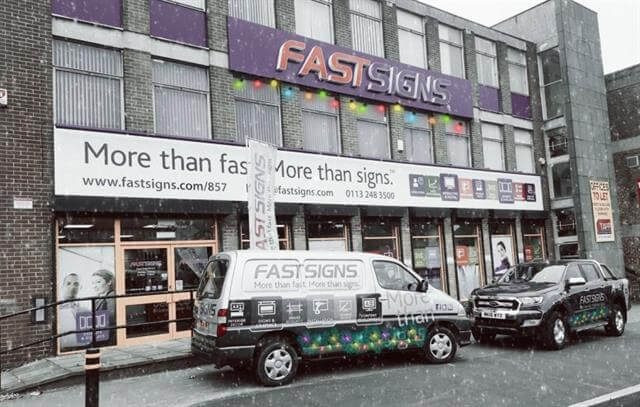 Where has this year gone?!
As we begin to wrap things up here at our Leeds printing facility we can't help but wonder where this year has got to! But don't worry – there's still just enough time left for you to order your signage and printing in time for delivery before the Christmas break.
We're still taking orders in the run up to Christmas
We are closed for Christmas from the 22nd and reopen on January 2nd 2018. We're still taking orders now so if you'd like anything delivered before then, get in touch as quick as possible and we might have the capacity.
January is always a busy time for catching up, chasing up and putting plans in place for the coming months. Let's face it, we can all feel a little flustered following the festive period, so why not take the opportunity to get your January print requirements sorted in advance?
If you've got any messages to share in January – tell us now
Maybe you're holding a January sale. Or welcoming a new group of customers, pupils or visitors. Perhaps you have an important event scheduled for the new year.
Whatever the occasion, planning ahead and getting the wheels in motion ahead of the Christmas break will save added stress on your return.
Your project might even be simple enough that we can get it delivered to you before the 22nd rolls around. Simply ask our friendly team and we'll make the arrangements!
Want to discuss your pre-Christmas or early January printing requirements? Just get in touch with our Leeds office on (011) 351-9462 x8 and we'll give you some clear timeframes.