​
Leeds Teaching Hospitals
The FASTSIGNS® Leeds Team Were Approached to Provide Regular Signs for All Departments Within the Leeds Teaching Hospitals NHS Trust.
The Trust were looking for a company that could be responsive to their needs, was competitively priced in light of recent budget cuts and had the knowledge to be able to translate the requests of multiple departments.
The Challenge
For this particular job, the Trust needed new graphics adding to an existing display system, as well as a series of temporary display signs for a campaign focusing on the Trust's '5 Values.'
The job had a very short lead time but we were able to collect the existing display systems to ensure the new graphic panels fit correctly and make adjustments as necessary to get everything in line.
The Solution
The existing display systems were almost 10 years old so the challenge was ensuring that the new panels attached correctly. The panels initially didn't quite line up but, foreseeing this complication, we were able to react quickly and make the required adjustments.
We also provided a set of 5 new pull-up banners for the NHS '5 Values' campaign.
The end result was a selection of high-quality reusable display stands that the Trust will get many more years of use out of.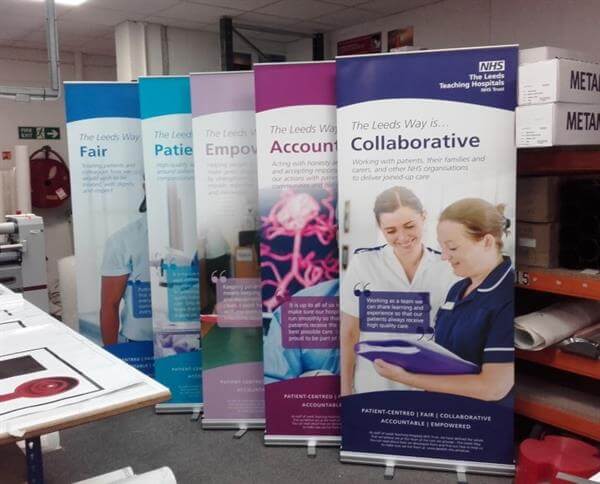 Added Value
Ultimately, it was our ability to react quickly and communicate effectively at every stage of the process that singled FASTSIGNS® Leeds out as a supplier that they could trust with all their sign and graphic requirements.
''We have worked with FASTSIGNS® Leeds on a number of occasions and they have never disappointed; their customer service is second to none. The team are efficient, easy to work with and very flexible. They take care to notice any potential difficulties and rectify them ahead of time, making sure everything goes to plan. We will continue to work with FASTSIGNS® Leeds on an ongoing, need to have basis as they are flexible, easy to work with and always meet our often very tight deadlines. I would strongly recommend them.' Jo Hartigan, Communications Manager, Leeds Teaching Hospitals