Following investment in excess of half a million pounds, Manchester's FASTSIGNS franchise centre has been officially reopened at its new premises in Salford (Media City).
The growth follows year-on-year success for the graphics, signage and visual communications centre that opened in 2010 during the recession. Since then, the team has increased from three to ten, recently promoting an apprentice into a full time position and employing new graphic design, business development and production/installation team members.
To celebrate the new premises, FASTSIGNS global CEO Catherine Monson traveled from the United States to help cut the ribbon on the new site.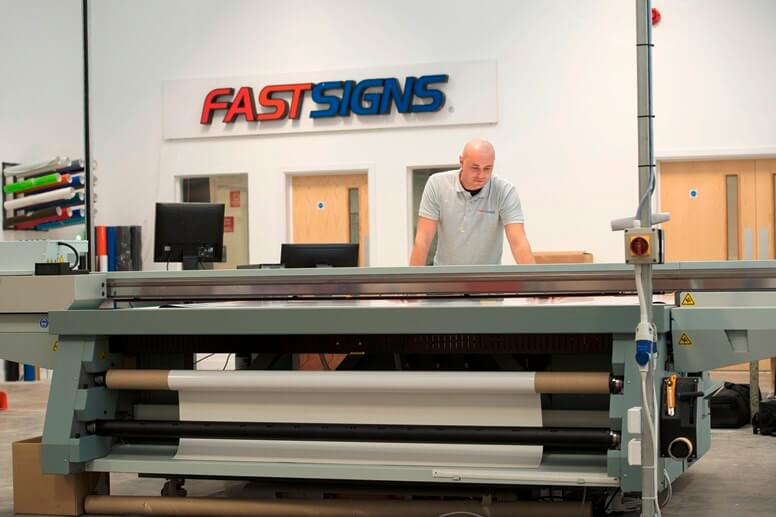 Owner of FASTSIGNS® Manchester, Richard Wedgwood, described his team's success:
"Starting as we did six years ago was a challenge. The recession meant we had to keep costs down and be very strategic in our approach. Now, with a much larger premises and team, we're the fourth largest centre out of a network of over 20 FASTSIGNS UK locations – something I'm incredibly proud of."
"We're halfway through our 36-month investment plan, and with the move to larger premises, we are now able to invest in new machinery to help us create more complex signage 'in-house' and continue to build the team to ensure we're meeting the demand and delivering a fantastic service to our customers.
"To have been joined by our global CEO for the official reopening was fantastic and a real testament to how much has been achieved here."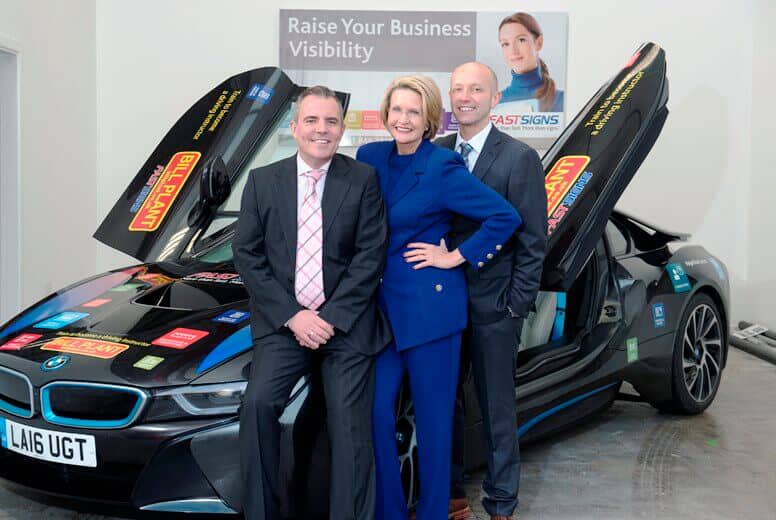 The new FASTSIGNS® Manchester centre located on Dakota South, Salford, measures 5,500 square feet. This is almost five times the size of the previous premises on Chester Road.
"Richard and his team have created a real success story at FASTSIGNS® Manchester," said John Davies, Managing Director of FASTSIGNS UK. "To embark on a career change and set up a franchise centre with zero customers at a time when many people and businesses were tightening their purse strings shows bravery, but also a strong business mind."
"We're delighted that Richard has achieved such great things with FASTSIGNS and look forward to enjoying the rest of the expansion with his centre. Richard is an exemplary franchisee, following the established FASTSIGNS model and is a glowing example to the rest of the network. The results that Richard and his team have achieved are inspirational."
The investment was facilitated by The Royal Bank of Scotland. Anthony McGreevy, senior relationship manager at RBS, said:
"It has been an exciting journey for Richard and the team at FASTSIGNS and we are proud to support the growth and relocation of this rapidly expanding franchise business. Our investment has opened up further opportunities and we wish the team all the very best as they continue their success story from their new premises in Manchester."
For more information on FASTSIGNS , visit www.fastsigns.co.uk/887-manchester.