​
Micheldever Tyre and Auto Services
National Tyre Wholesaler Micheldever Tyre and Auto Services Support Thousands of Businesses Around the UK, Transforming Their Commercial Outlook...
That includes marketing, and pioneering signage – something that FASTSIGNS® Manchester are well-equipped for. One client in particular, AA Silencers, wanted to race ahead of the competition…
Challenge
Micheldever Tyres aren't a franchisor, but they do something similar – supporting other tyre sales ventures with their supplies, uniforms and a business strategy. Their value is designed for high growth in a sector that can be slow to move in a new direction.
AA Silencers is a family business, run by four brothers. Owner Simon Grocott spoke to Micheldever Tyres regarding his marketing plans; a radical change was needed. Simon knew about the emerging field of LCD screens as a promotional tool – the sort that could leave an impression on customers and passing drivers.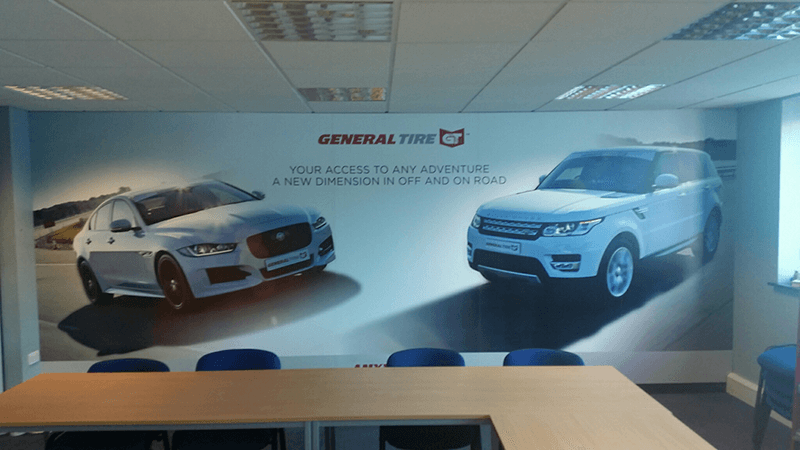 Back then, AA Silencers only had signs on their walls, doors and flyers. This didn't reflect the brand's digital media (such as their website and social channels) very well. Micheldever Tyres agreed, and came to us with a request to deliver something that took into consideration these digital aspects, whilst ensuring their client had a clear promotional platform for the future.
Solution
Simon was right – LCD screens are almost unheard of in this industry, making them a fresh, eye-catching tool to boost their tyre sales. We suggested three 55" units, which would be operated remotely by us.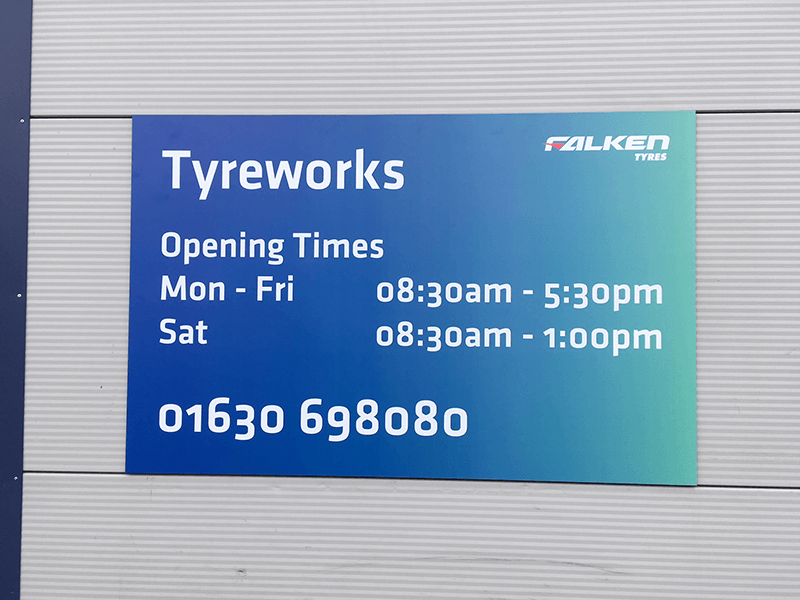 After two phone calls and a single meeting, Micheldever Tyres were on board with the concept. Aaron from the FASTSIGNS® Manchester team visited Simon and his AA colleagues in person, explaining what we had in mind. Many automotive centres are bereft of even 'basic' digital capabilities, such as high-speed internet. Large LCD displays would be the ideal, unique statement of how different they wanted to be by comparison.
Result
We realised that these two parties had only experienced a purely transactional relationship before. Our approach – speaking several times a day about design, practicality and cost – was unheard of. Good communication was so vital, considering that we were acting on behalf of a wholesaler for a small, family-run operation.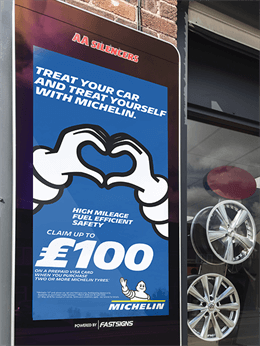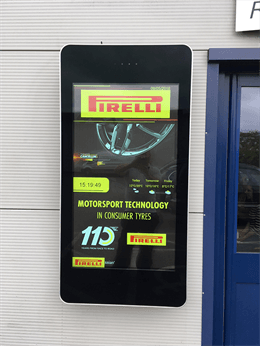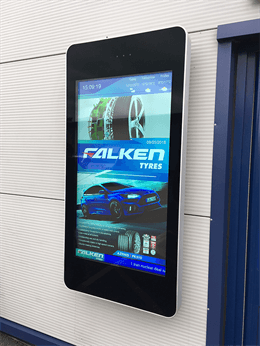 Thanks to constant back-and-forth dialogue, the whole project took a mere four weeks from December to January – encountering no serious problems.
Our support continued past the screen installation too. We were delighted to receive feedback from Micheldever Tyres praising the amount of 'out of hours' time put in by the FASTSIGNS® Manchester team in order to ensure the speedy execution of this project.
Today, the LCD screens look incredible – easy to spot from the nearby road. We've been travelling with Micheldever Tyres ever since, joining them on their branding workshops up and down the country, teaching other brands how to deliver excellent visual messages.