Whilst it's tempting to make do with the equipment you already have, there's a huge variety of signs and graphics that are real crowd pleasers in warm weather.
Exhibitions, sporting events, festivals… there's all sorts of outdoor events happening in the summer. Whilst it's tempting to make do with the equipment you already have, there's a huge variety of signs and graphics that are real crowd pleasers in warm weather.
Here, we explore the signs and graphics that are guaranteed to get attendees talking at outdoor events:
Signs and graphics to shield
Whilst the sun shining is more than welcome, sometimes it can be a little too bright. You wouldn't want any of your guests being exposed to UV rays or blinded by the sunlight – thankfully there's a number of products that can protect from these occurrences.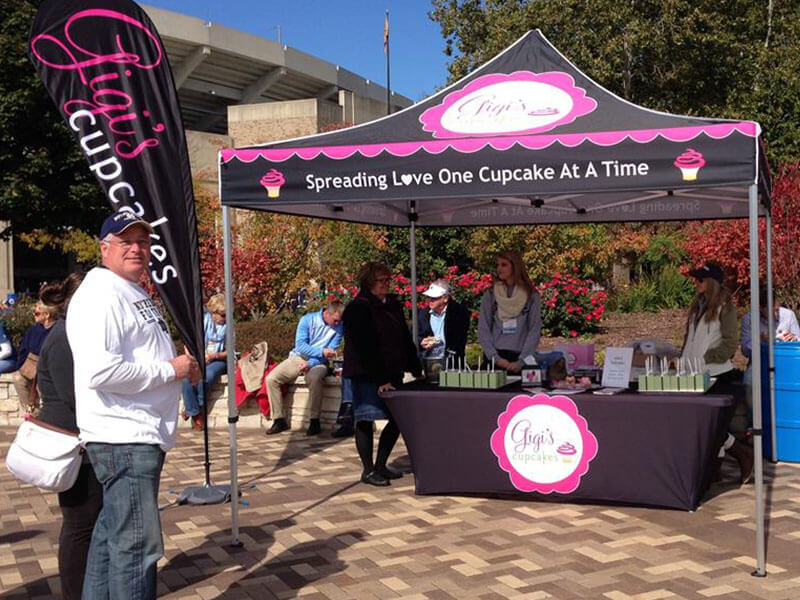 You can opt for tent graphics or custom vendor umbrellas that will provide ample shielding, as well as making your brand stand out from the crowd with their immense size. And, if the typical Manchester weather decides to switch from sunshine to showers, both these event products are perfect for sheltering any people and merchandise from this weather too.
Table graphics to draw guests in
Summer's a great time to provide refreshments and anything else that'll cool attendees. These will be positioned on counters, and the sides of these structures is the perfect place to use customised branding to attract people to your stand. You could also place some of your own merchandise on the table, so guests who pop over for a beverage will be further exposed to your brand.
You may be concerned about light items flying away from your stand if a bit of wind gusts your way. This is where breeze barriers come in handy – protecting objects from escaping, whilst the custom design maximises your brand's impact.
Banners to flag up your brand
Banners are essential for any event because they're excellent at exposing your brand for all event attendees to see. Outdoor event banners will boost your awareness, with their durable properties guaranteeing they won't be affected by any weathers.
There's also expo banner flags, which are fantastic for making you stand out amongst the crowd and creating a wonderful first impression. They have the additional benefit of being a great wayfinding tool, ensuring that guests will be able to navigate themselves towards you.
Customised branding to make you memorable
All these signs and graphics can be customised to your brand so that your personality will stick in the minds of your event's guests. As well as this, our G7-accreditation guarantees that, whether you're printing on paper, vinyl, metal or cloth, the colour consistency is the same.
You can also opt for signs and graphics that have dual usage for both outdoor summer events and inside events later this year, such as business cards. You can't attend any event without one of these in hand – they positively represent your brand, conveying its essence, and serve as a reminder of your key messages and contact details. Or perhaps you could choose some fully customised convention signage in unique arrangements that will showcase your brand to all.
The crowds will be more than pleased with any of these signs and graphics starring at your outdoor event. FASTSIGNS® Manchester provides not just customised signs and graphics, but solutions that are certain to boost your brand's exposure. We'll collaborate with you to ensure that the signage meets the needs of your business. Contact us today to discuss your requirements, and we'll maximise your visibility before the summer's out.