Vehicle wraps are fantastic for improving your presence in the local area. Manchester's traffic may cause headaches for some, but it can deliver great returns if you use your car or van as a marketing tool on the road.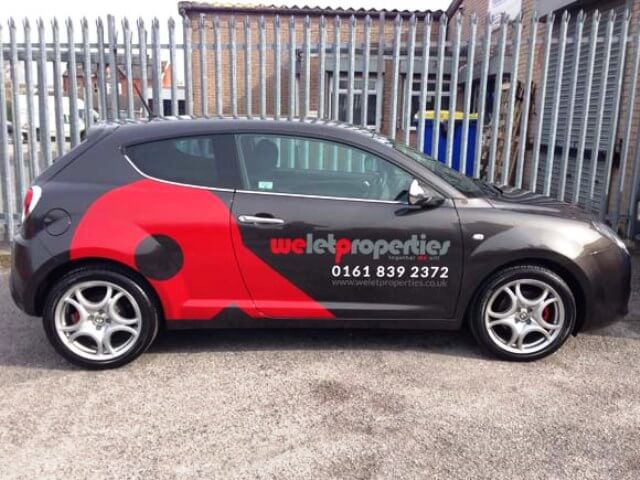 However, it's not as simple as sticking a logo and words on your fleet and expecting sales to soar. To get the best from your investment, there are a number of factors you should contemplate prior to purchasing vehicle wraps.
We've created a handy checklist of considerations to make before you get started.
1. Account for your audience
Think about who will see your vehicles when they're out on the road. Although vehicle wraps attract a broad audience, that doesn't mean you can't segment with your targeting.
If the business vehicles will be driven locally, they should be targeted as such – using regional references familiar to the audience. However, if they take trips all around the UK, the vehicle wraps' content should reflect this. For cars and vans that are driven globally, consider language barriers – perhaps images would be best in this instance.
2. Decide on design
When planning the design, ensure that it portrays your brand effectively. You should decide on what each side will cover, determining whether they will match or say something different. It's important to remember that whilst vehicle drivers are likely to focus on the back, pedestrians will see the vehicle in its entirety.
As design creates the first impression, it will need to be eye-catching – as well as have a clear layout. Fancy graphics in disarray and lots of text will be off-putting, so this should be avoided.
3. Master the messaging
For the messaging, you'll need to decide on the purpose of your campaign. Are you trying to increase brand awareness? Improve engagement? Remind people of your business and its products and services?
The purpose of vehicle wraps is to quickly communicate with the visuals – a car or van passing can take a second. Make the message clear and to-the-point, and use imagery to communicate where possible. Although text should be minimal, a picture can say a thousand words.
4. Remember materials
When picking materials for your vehicle wraps, consider how often you'll need to change the messaging or design. If you're likely to require a refresh as your business evolves, opt for vinyl. This material can be removed if necessary, and a new wrap can be easily applied.
Vinyl also has a product life of 3-5 years, so will stand the test of time. Vehicles that are driven every day on lengthy trips may not last as long, but local driving on occasion could mean your message is seen for many years to come. This material will also protect the paintwork underneath, removing this issue when it comes to selling the vehicle on.
5. Weigh up the costs
Price will inevitably influence your decision, so ensure you're aware of all the costs involved. It's best to research different suppliers and find out exactly what they're offering in their quotes. Do they offer design and application, or just one aspect?
You'll want to get value for money both in terms of the product and service provided. It may be that one supplier is cheaper, but there are additional costs for proofs or changes. Or perhaps their service isn't personable, and they're therefore harder to work with.
It's best to go with a company that can deliver a fast, thorough and cost-effective service for vehicle wraps in Manchester and truly maximise your exposure. FASTSIGNS® Manchester do just that. Contact us to discuss your requirements, and we'll guarantee these mobile billboards will make your brand larger than life.