​
Capital Belting
New Building Signage
The Challenge
Capital Belting was looking for a signage company based in Hertfordshire that could assist with bespoke signage as they had just moved into new premises and required signage on both the outside as well as the inside of their new building. Our client wanted to utilise and make the space his own and needed signage that would enhance his businesses' visibility and that was eye-catching. He entrusted us with this task and working together with the client we discussed what would be the best solution in the different areas.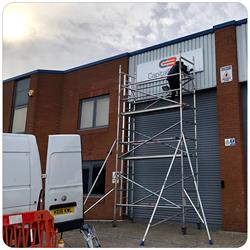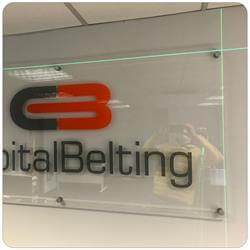 The Solution
For the entrance to the building, we did 10mm flat acrylic cut letters with vinyl applied to the face installed with standoffs to give it that 3D effect as well as an impressive fabricated aluminum tray sign installed above the loading bay. We also added a "Goods In" 3mm foam PVC board as a directional sign for deliveries received.
Inside the building, we produced stunning 10mm acrylic mounted signs to go in and around the offices including the showroom and boardroom areas. We placed a vinyl wall graphic of the Capital Belting logo at the top of the staircase as well as some frosted windows and to end it all off we added vinyl cut out graphics of their logo onto their toolbox.
Our client was quite specific about the colours used in their signage as it needed to match their brand guidelines and Pantone colours perfectly which we were able to match perfectly. This enabled us to keep the same consistency in colour in all aspects of their signage.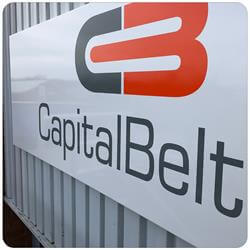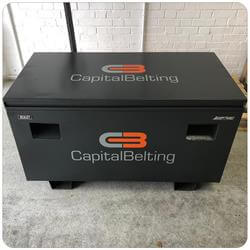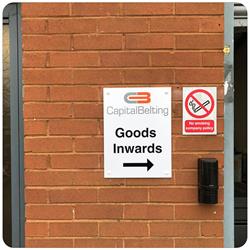 The Result
Overall the new premises have long last signage that is visible and no doubt eye-catching. Each area was utilised to its full potential without overdoing it and the final results were impressive.