Simply put, outdoor signage is any signage that is installed on the exterior of your business, or in another location. This could be stand-alone, placed on a billboard or hoardings as part of an advert or marketing campaign, or used at an event. It could also be attached to your business premises to maximise on free space and alert people to your presence via building wraps, shop signs and architectural signage.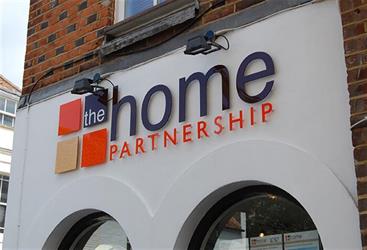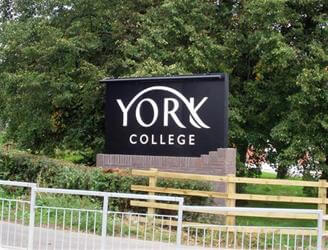 Outdoor signage can help your business grow, drive sales and create potential customers. It makes an immediate impression on passers by who may not otherwise be aware of your company or your brand. This type of signage can also prevent lost business by ensuring that your presence, and the key information about you is known.
There are multiple types and examples that businesses and brands can invest in but finding what works for you can be daunting. There is also important signage that provides a valuable function such as directional and safety signage. Here are some useful suggestions of various types of outdoor signage that can work for your company.
Vehicle graphics
Van and other vehicle signage isn't the first thought when planning external signage, but it can make an effective use of untapped space. It can also provide an excellent and effective way of getting more eyes on your brand.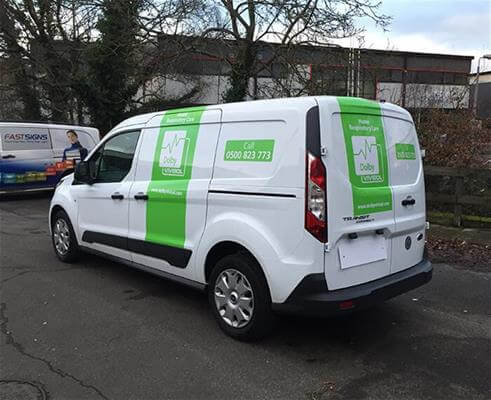 This solution is a powerful marketing tool for your business, whether it be a full vehicle wrap or a simple logo, image or set of wording. Vehicle signage provides the opportunity to promote your goods and services to all areas you travel to and is a highly cost effective way to promote your business.
Site identification signage
Probably the most common form of signage, site identification signage creates awareness of your site. This can alert existing clients to your whereabouts or attract new customers.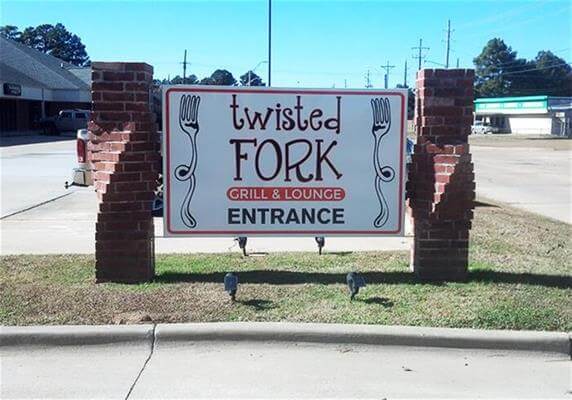 Options include post and panel or post mounted signs, all of which can effectively highlight details about your business and its location. This particular signage helps people to find you and get around your premises. Good signage should be durable and weather resistant with the ability to be illuminated in a variety of ways to ensure maximum impact. Free-standing monolith and totem signs are also popular, as they're designed for maximum impact and greater visibility.
Successful signage draws the attention of the public in a non intrusive way, creates interest and desire in your goods or services and informs potential customers as to what you do and any important information that they may need to know. This could include a call to action or the fact that you are a trusted and popular brand.
Business signs
Every business that wants to succeed, increase trust in its offering and boost growth will have good business signage that helps to heighten its visibility. A combination of brand guidelines, imagery and logos, alongside information on your services and a call to action can highlight your brand in the best possible way.
It is important to use high-tech materials and signage production processes - remember the sign will reflect your business. There are lots of options you can choose from such as dimensional letters, illuminated signage or hoarding panels.
Banners and flags
Providing a versatile approach to advertising, banners and flags are popular and good value for money. They are also a good solution for temporary signage such as event notification or a temporary business sign. Colourful and well designed banners and flags will effectively draw attention to your product using vivid brand colours and relevant messaging.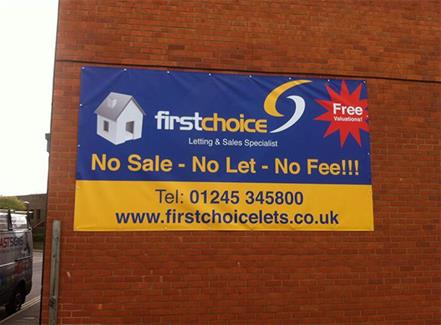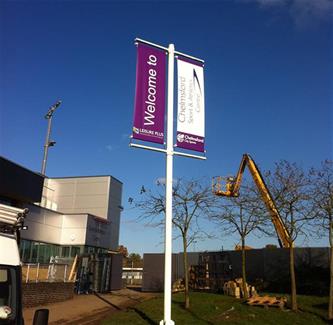 Placement is key and there are plenty of options such as banners that can be hung on the exterior of your office building, pole or teardrop flags that can attract attention from a distance, or pop up banners that can be used inside your facility.
If you would like to find out more about outdoor signage for your business, please feel free to browse the FASTSIGNS product range here and get in touch if you have any questions.