Vehicle graphics are a quick and easy way of getting your branding seen everywhere you go. Find out just how simple they are to install in this blog from printing experts, FASTSIGNS® Leeds.
What exactly are vehicle graphics?
There's no doubt you'll have seen branded vehicle graphics on motorbikes, cars, or vans almost everywhere. Adhesive vinyl graphics can be applied directly onto a vehicle's exterior and are a really quick and easy way of branding your fleet, using logos, images, and text.
The beauty of eye-catching vehicle graphics is that they get your business noticed wherever you travel. Be it parked outside a client property, stuck in traffic, on your local high street, or at motorway services – these are all opportunities to reach potential customers.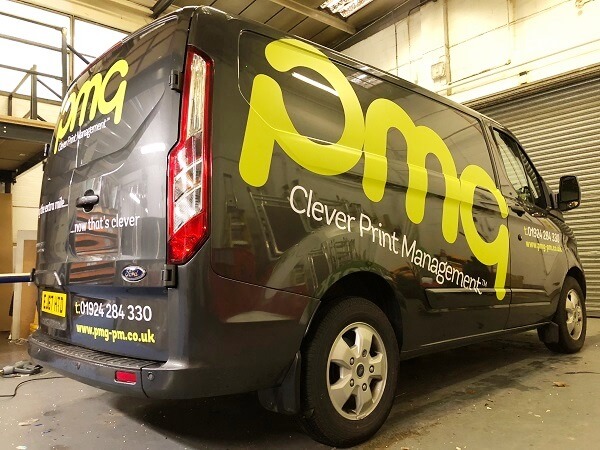 As well as being a valuable marketing opportunity, branded vehicles help demonstrate to customers that they're in safe hands. If you visit customers at home or work, arriving in a smart vehicle that clearly displays your business' name and contact details can be reassuring, as well as look professional.
How are they produced?
The first stage involves selecting the design. Some customers already have a design in mind that's either been produced by an in-house designer or a design agency. In this case, we simply check the design fits, make any recommended amendments and start readying the design for print.
Alternatively, we create artwork in-house based on customer briefs. We chat to our customers about everything they require before producing mock-ups then, once these have been agreed upon, we set to work on printing the vehicle graphics.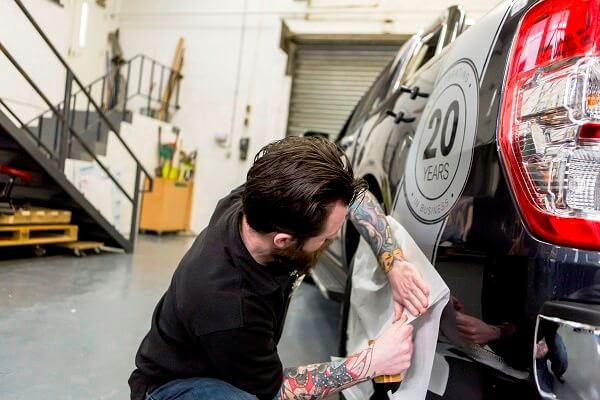 Vehicle graphics are printed onto self-adhesive premium vinyl and then cut to size. The installation process usually takes between 1 and 4 hours, depending on the scale of the design. The graphics are then applied to a clean surface, smoothing out any bubbles.

And here's the obligatory after-shot! 📸
Looking pretty good, don't you think? pic.twitter.com/oMBrfdIPoy
— FASTSIGNS® Leeds (@FASTSIGNS® Leeds) April 18, 2018
What does the process involve?
We have outlined on file for most vehicles, which usually means you don't need to provide us with any measurements or technical information. Photographs may be sufficient to check the location of elements like badges, fuel caps, and handles.
Once your designs have been agreed upon, the graphics take just a few days to produce and install at our on-site garage. You'll simply be asked to drop off your vehicle and we'll let you know when it'll be ready.
The finished graphics will last 3 to 5 years and can be removed before then if necessary. They won't damage the surface of the vehicle and will stand up to all weather conditions, plus regular cleaning. They're one of the simplest, most cost-effective forms of branding, yet so effective!
We hope this has provided you with a good overview of just how easy it is to brand your vehicles. If you have a company car, van, or motorbike you'd like to update with custom graphics, please get in touch to see how we can help you.