The FASTSIGNS® Leeds team is kept busy creating printed graphics for organizations across the region. See if you've come across any of these recent projects.
New printed graphics installed this summer in Leeds
It's been a wet and grey summer so far. But that doesn't mean there haven't been plenty of exciting messages to share. We've still been busy helping Leeds businesses and organizations decorate their space and advertise their events with printed graphics and displays.
Take a look at some of the signs and printed graphics we've recently installed...
We love these frosted glass manifestations we recently created for @UniversityLeeds! What do you think? pic.twitter.com/a3hOj0CKUY
— FASTSIGNS® Leeds (@FASTSIGNS® Leeds) June 25, 2019
Signs and glass manifestations for Leeds University & Union
The students may have all just about finished up and gone home, but the staff is still working hard. We helped the team at Leeds University with these frosted glass manifestations.
The vinyl graphics are printed in a pretty pattern of oak leaves. They provide privacy for the desks behind as well as bring a bit of decorative detail to the reception.
We also created this smart sign for the student union, helping to flag students where they can catch the night bus from. This will come in handy when September's freshers arrive, no doubt!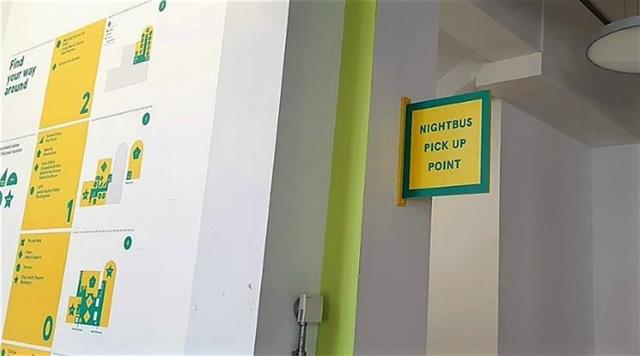 Helping Kippax Welfare Rugby League club get on the big screen
When the Tour de Yorkshire happened in May, the Kippax Welfare Rugby League club was prepared. We'd created some stencils for the groundsman to paint these letters onto the pitch. When the helicopters went overhead, the cameras picked up the message for the television footage.
We also created some stencils for @Kippaxrl Welfare Rugby League club so they could paint the name on the pitch for the @letouryorkshire. 🏉🚴‍♂️
Here's @andysimpson17 helping the groundsman as he painted the letters on the pitch, plus a photo of the TV showing it! #tdy2019 🏆 pic.twitter.com/PtB1Li2UmI
— FASTSIGNS® Leeds Leeds (@FASTSIGNSLeeds) May 9, 2019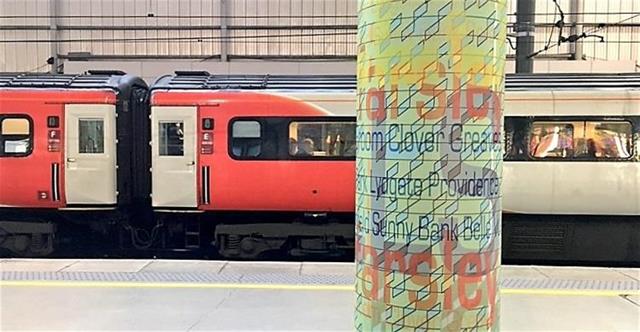 Have you spotted these print-wrapped posts at Leeds Train Station?
They are part of an Arts Council-funded project by artist team Elise and Mary. The project is called "8 Columns" and has been inspired by Sunny Bank Mills and its textile heritage. You can find the colorful columns on platforms 8-16, each covered with a unique design.
In preparation for #EndGame, @FASTSIGNSLeeds produced superhero-themed signs and window graphics for @TrinityLeeds and @Everymancinema to create this #SuperheroSelfie. We're sure this attracted a lot of attention from all of those @Avengers Fans pic.twitter.com/EbR3Iwlr9S
— FASTSIGNS® Leeds UK (@FASTSIGNSofUK) May 9, 2019
The one-stop superhero selfie shop!
In celebration of the release of the last Avengers film, Everyman cinema in the Trinity shopping centre asked us to print these themed signs and window graphics. They sat alongside these fantastic life-size superhero models, so that shoppers could snap a quick selfie.
Here's Andy proving that the fun's not just for the kids!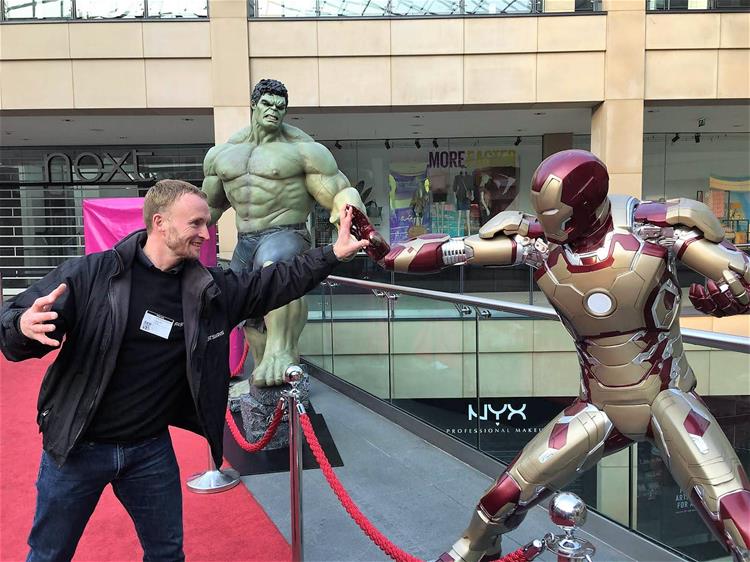 Retail hoardings in local shopping centers
You can use printed graphics for so many purposes. And covering up empty or disused space is one particularly handy practice.
If you have an empty unit in your shopping centre that doesn't mean it has to ~look~ empty!
We often work with local shopping centers @TrinityLeeds and @TheBroadwayBrad to make sure even their empty spaces look awesome! 😎 pic.twitter.com/xbKnNfAly8
— FASTSIGNS® Leeds Leeds (@FASTSIGNSLeeds) May 17, 2019
For large retail spaces like Trinity Leeds or the Broadway Bradford, window hoarding designs are ideal when they have a temporarily empty shop. They help keep the centers looking bright and colorful between tenancies.
Got a project in Leeds? Tell us your idea and we'll help you get noticed by the local community.