Attract more customers with Eat Out to Help Out signs and posters – fast turnaround from FASTSIGNS® Leeds.
Are you a restaurant taking part in the Eat Out to Help Out scheme?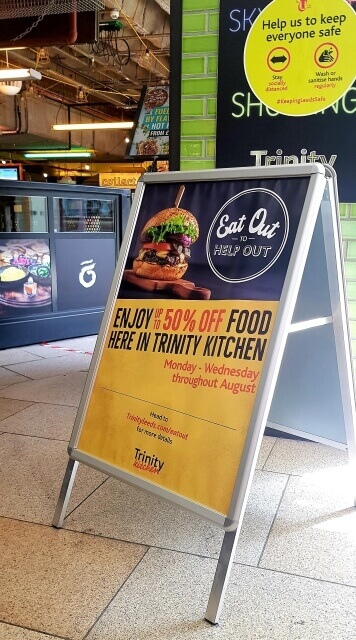 Lots of customers have heard about the scheme, designed to get people dining out in their local areas again. For many restaurants, it will help them boost their income and attract new and returning customers throughout the month of August.
With not every restaurant taking part, customers won't know you are until you tell them. Lots of people will go online to look for places on websites like Leeds List, but it's also useful to draw in passers-by and footfall with Eat Out to Help Out signs and posters.
Remind people you're there – and pull them in with Eat Out to Help Out signs and posters
The UK is just beginning to find its feet again and dining out hasn't been on the radar for many people since early March. The Eat Out to Help Out scheme is a reminder of all the great places on our doorstep. Prompt people to visit your restaurant with eye-catching graphics.
Many of your best local customers pass you by each day. Catching someone's eye on their hungry commute home with a Eat Out to Help Out sign could be the push that gets them to make the call and book a table.
The sign or notice you go for is totally up to you. We have plenty of options that are affordable and easily removable when the month is over. You could choose:
Signs and signboards
Window or door stickers
Banners
Get in touch to discuss your options
Easy to fit – or we'll fit for you
Most of the window vinyls and signs we provide are very simple to fit yourself. However, for more complex signs or if you are short on time, we can deliver and install your Eat Out to Help Out signs and posters, taking the hassle away.
You can reach our Leeds team to discuss any of the above on (011) 351-9462 x8.