Get click and collect signs and posters for an easy to follow order and collection process – fast turnaround from FASTSIGNS® Leeds.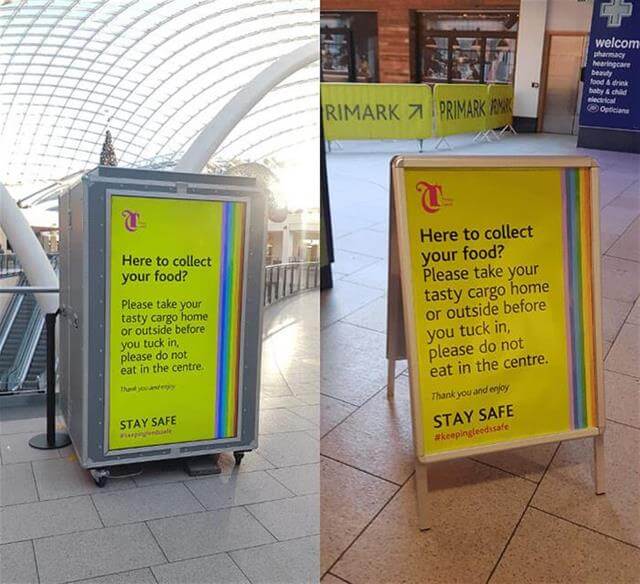 Click and collect signs and posters
Are you running a click and collect service?
Many shops, restaurants, bars, and retailers had to adapt to click and collect services with short notice. Is yours operating smoothly? If not, it might benefit from clearer signposting.
We're all getting used to following oneway systems and distancing measures, but they're not second nature. Making the process clear and obvious means it's easy for customers to follow. It keeps people safe and helps manage queues during busy times.
Remind people to keep their distance
Floor markers are the most straightforward way to direct people the right way. Where people are queuing, floor stickers help them keep a safe distance by visually laying it out.
Tell people which way to go and where to wait
When people arrive to collect items, make it clear which entrance, door, or window you want them to go to. People may head to the main entrance on autopilot. If that's not the right way, tell them in advance to avoid frustrating them.
The signs and notices you need depend on your space. We have plenty of affordable options that are easy to install and remove. You could choose:
Mounted signs and signboards
A-frames and freestanding signs
Window and glass stickers
Posters and banners
Get in touch to discuss your options
Reusable signs and posters
National and local lockdowns will likely come and go for the next few months. Whether your click and collect service keeps going or stops and starts, plan ahead and save time. Get signs that are reusable and easy to take down and put up. Most of the signs and posters we make are reusable if treated with care.
Easy to fit – or we'll fit it for you
Most of the products we provide are very simple to fit yourself. For more complex signs, or if you are short on time, we can deliver and install your click and collect signs and posters.
You can reach our Leeds team to discuss any of the above on (011) 351-9462 x8 or email us.