Send a welcoming message this season and help make shoppers feel safe with in store signage from FASTSIGNS® Leeds.
There was a time when retailers and shop managers struggled to get customers to pay attention to in store signage and promotions.
The pandemic has turned this on its head. Now customers expect to see in store signage advising them of proper social distancing protocols.
In fact, many consumers don't feel safe shopping in person without clear measures in place. And rightly so. The risk of covid-19 is ever present, particularly within busy, enclosed spaces such as supermarkets and shops.
A survey carried out by Censuswise, on behalf of Roland DG UK, found that 85% of shoppers feel safer in shops with clear in store signage and 40% said they no longer visit stores with unclear signage.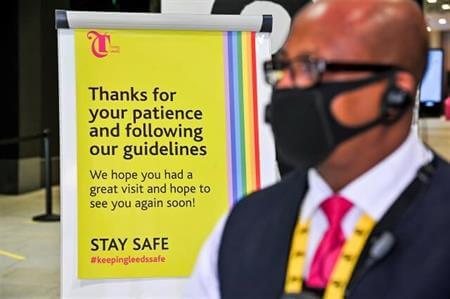 Help make shoppers feel safe
Clear distancing measures should start on the way into a store and continue all the way round. Oneway systems need to be obvious and made easy to follow with floor markers. It helps to block off redundant entrances and exits and tell people where to go for collection.
Measures aren't a one-time fix either. They should be monitored and amended to make them more effective and change anything that's not working.
It helps to get impartial advice. We've been working with supermarkets, shopping centres, and retailers since the first lockdown, helping them fine tune in store signage to promote safe distancing measures. Ask us for a site survey if you'd like some advice.
Did you know that @Primark in @TrinityLeeds is opening at 7am in the morning?
We made sure they had all of the appropriate signage and graphics! 😄 pic.twitter.com/jTciAdmIh6
— FASTSIGNS® Leeds (@FASTSIGNSLeeds) December 1, 2020
Send a welcoming message
Plenty of signs are graphics are needed to create a safe system. But in store signage doesn't need to solely focus on physical distancing. With 75% of consumers paying more attention to signage than before the pandemic, there's more chance to communicate with customers in store.
Your offers and promotions have more chance of being noticed, and you could use display space to welcome customers too. The kindness and support of our local communities has been one of the few positives of the past 9 months. Saying thank you and wishing shoppers well is one small way you can enhance your in-store experience.
Need in store signage for your business? Get in touch to discuss your options
You can reach our Leeds team to discuss any of the above on (011) 351-9462 x8 or email us.