Get the social distancing posters, signs and floor markers you need for when your business reopens from FASTSIGNS® Leeds.
Social distancing posters, signs and floor markers in Leeds
Be prepared with the right social distancing posters, signs and floor markers. As operations restart, we need to maintain safe social distancing wherever we come across people not from our household. For employees and customers, it's important they are provided with guidance.
At @FASTSIGNSLeeds we have been creating a range of signs, posters and floor graphics that can be used to direct staff, customers and visitors and help keep everyone safe!
WATCH the video to find out more... 📽️
Take a look at our brochure: https://t.co/RQSuu0gXZR pic.twitter.com/EoebNLVPEI
— FASTSIGNS® Leeds (@FASTSIGNSLeeds) August 19, 2020
Make social distancing clear and easy to follow
This way of interacting is new and unfamiliar to us all. Make it easy for people to keep the correct distance with clear signposting and floor markers around your business's premises. Social distancing posters and signs are an instant reminder for people to keep safety front of mind.
Having social distancing posters on display tells customers and employees you're taking action to make them safer. Everyone entering your premises can see what's expected of them.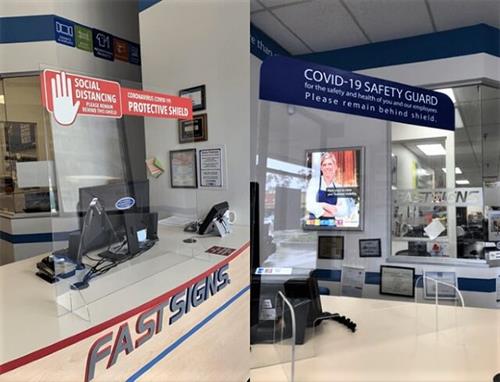 Social distancing posters, signs and floor – the options 
No matter what size your building is, there's a way to safely mark it up. Many businesses are opting for a combination of signs and floor markers across their space. If your business is customer facing, you should consider what precautions to include at the point of sale too.
Things you might consider:
Handwashing and hygiene signs
Social distancing signs and floor markers
Contact free delivery or pick up signs
Safety screens and shields
Sanitisation stations
Take a look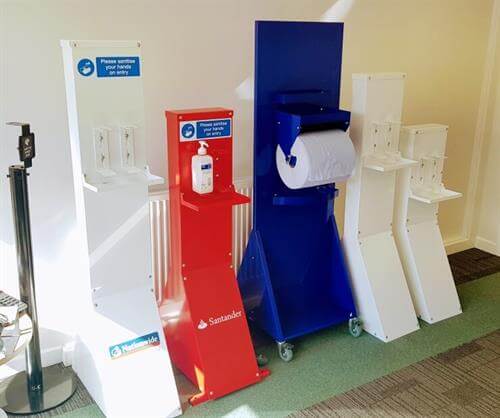 Cleaning stations
You might have already come across cleaning stations in supermarkets and other public places. Stations like these are noticeable and portable, reminding people to sanitise their hands or equipment in key locations, particularly entrances.
In the coming weeks and months, cleaning stations such as these will be used everywhere from factories and warehouses, to shops, restaurants and offices. They provide employees, customers and visitors with the means to keep clean and prevent the spread of germs.
Ask us about cleaning stations
Contactless delivery and installation
For safety, we're arranging to remove human contact during delivery and installation of products. Please get in touch with us to discuss this.
What do you need?
If you're unsure what you need, speak with our team. We'll be able to advise you what other businesses are doing and provide you with an idea of the materials and quantities you might need.
You can reach our Leeds team to discuss any of the above on (011) 351-9462 x8.