See the options for social distancing in shopping centres around Leeds. The team at FASTSIGNS® Leeds have been busy helping shopping centres set up their stores for shoppers.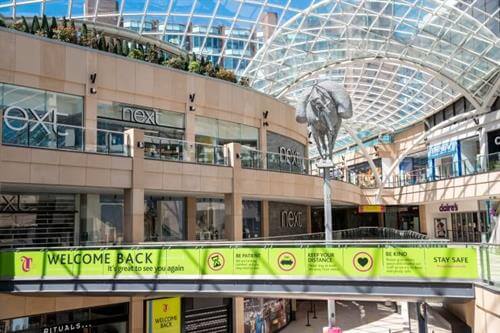 Trinity Shopping Centre in Leeds City Centre
Social distancing in shopping centres
With shopping centres open to the public for shopping, many are choosing to keep some safety measures and installing graphics to make following them straightforward.
So, what does social distancing in shopping centres look like?
While it's currently not mandatory, we don't know that this will remain the case. Many shoppers will feel reassured knowing shopping centres are putting in place systems to control crowds and make shops easy to navigate. Things that are available:
One-way systems
Limited capacity for stores
Queuing for entry
Hand sanitisation stations
Seating restrictions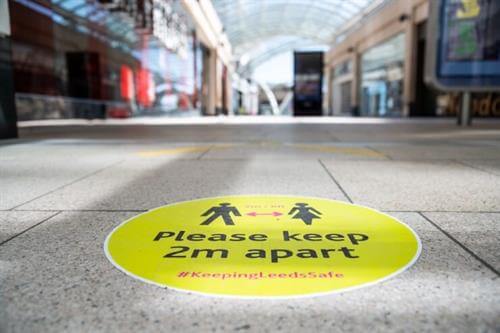 Floor stickers at Trinity
Making it easy as possible to follow the guidance
Whatever the guidance in a store or shopping centre, the process needs to be clear and easy to follow. We need constant, clear visual reminders. It's especially important where people are browsing products and may be less aware of their surroundings.
Since the beginning of the pandemic, we've designed systems to promote social distancing in shopping centres around Yorkshire, including Trinity in Leeds City Centre, the White Rose Shopping Centre and the Broadway, Bradford.
Here's a reminder of what's been installed: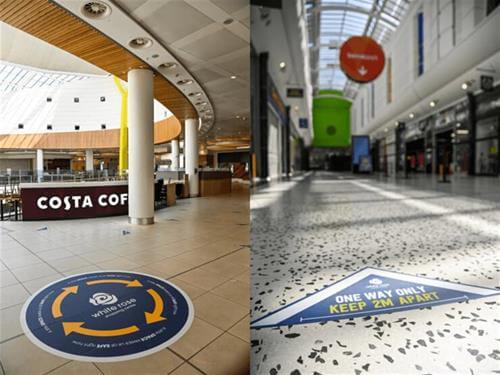 Whiterose oneway system
Floor markings – bright and clear signals underfoot are the most instant and effective way to remind people to keep their distance and follow oneway systems.
Signs and precautions at Trinity
Signs and notices – clearly stating how to remain safe with carefully placed signs and notices is one way shopping centres are communicating social distancing measures.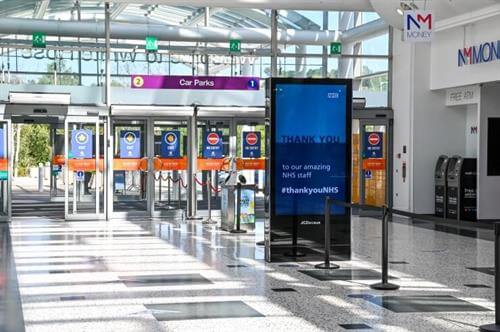 Exit at Whiterose
Entrance and exit signs – with oneway systems in place, doorway signs and graphics make it clear to people which doors they should be using for entering and leaving.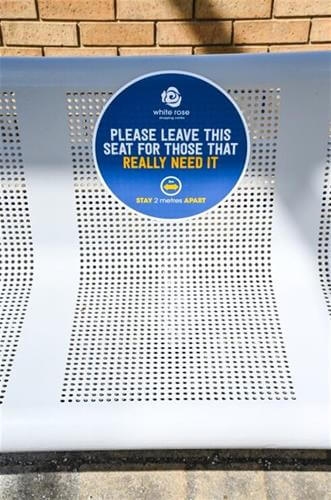 Bench at Whiterose
Seating labels – for static seating and benches, labels are used to remind people to reserve seating for those who need it and keep a two-metre distance while sitting.
Handing washing reminders and stations – reminding people of proper hand washing practices and providing hand gel for people to regularly sanitise their hands is something shopping centres and stores will be doing wherever possible.
Are you a business looking for signs and graphics to make your premises safe? You can reach our Leeds team to discuss any of the above on (011) 351-9462 x8.