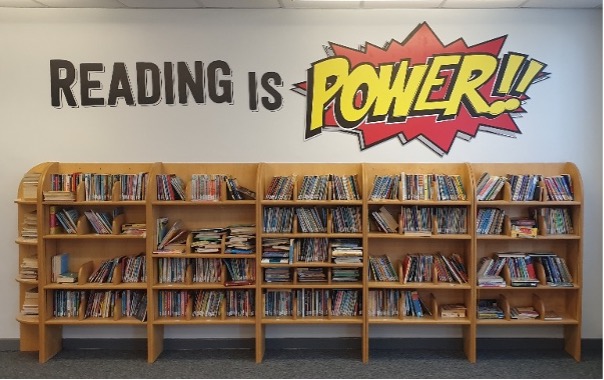 School signage can help create an inspiring and safe learning environment. There's a huge range of signs and graphics we can supply for schools, but some popular examples include:
Site identification signs
A great way to create awareness of a school site, site identification signs include exterior name panels and are a handy wayfinding tool for visiting guests.

• Interior wall graphics
Eye-catching and informative, colourful wall graphics can help aid and inspire students' learning in a way that's both creative and fun.
• Exterior and interior directional signs
Eliminate confusion with signs that allow people to reach their destination efficiently. Wayfinding signs can be used externally or internally as a way of quickly directing students or visitors.
• Banners and flags
If you have a timely message to get across or a school event to advertise, a banner or flag is durable enough to withstand harsh weather but more temporary (and less costly) than a permanent, fixed sign.
• Digital signage
Communicate multiple messages with digital signage. We can provide interactive digital directory displays for wayfinding and information, digital menu boards for canteens, and more.
What we've done
From eye-catching entrance signs to colourful wall graphics, here are some of our favourite Leeds school signs projects.
'Wow factor' for Hawksworth Primary School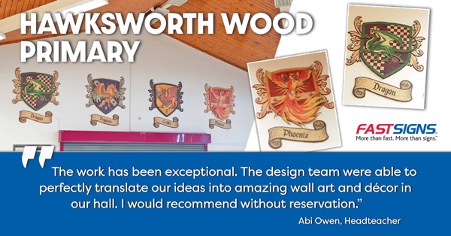 Hawksworth Primary School wanted to create some eye-catching designs for their main hall, with a magical theme. Working to the school's concept and initial designs, we created four 'shields' adorned with mythical creatures, including a Griffin and a Phoenix.
We created the shields out of 18mm plywood, with 12mm plywood creatures on top. We wanted the shields to look aged, so we used a blow torch for a worn finish. The completed signs are creative and unique to the school, adding a touch of fun and personality that the children can enjoy.
Abi Owen, Headteacher at Hawksworth Wood Primary said: "The work FASTSIGNS Leeds has completed at Hawksworth Wood Primary has been exceptional. The design team were able to perfectly translate our ideas into amazing wall art and décor in our hall. The signage outside school is of good quality. All work was completed efficiently. I would recommend without reservation."
An uplifting quiet room for Garforth Academy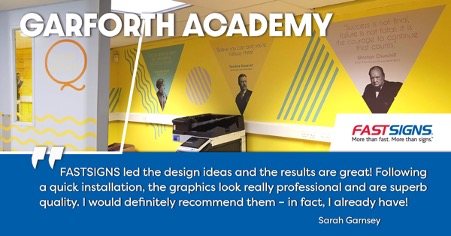 We designed, printed and installed digitally printed vinyl wall graphics for Garforth Academy to help create a quiet and calming space that would help improve the well-being of the students.

We used pastel colours and geometric shapes and patterns alongside inspirational quotes and images. The result is a quiet room that is both relaxing and uplifting, with an effective contrast between the text, images, colour and shape of the graphics.

Sarah Garnsey at Garforth Academy said: "FASTSIGNS Leeds was great to work with. The team were efficient throughout and always quick to respond. They led the design ideas and the results are great! Following a quick installation, the graphics look really professional and are of superb quality. I would definitely recommend FASTSIGNS - in fact, I already have - for their professionalism and generosity of time. The whole process was impressive."
Read the full case study
Fresh branded signs for Fieldhead Carr Primary School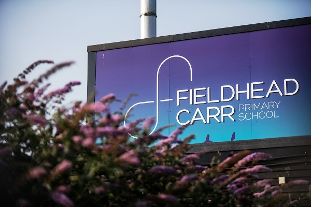 Fieldhead Carr Primary School worked with design agency Allgood to refresh their school branding. With a striking new logo and brand identity designed, we were brought in to help make the vision a reality.
We created and installed a series of signs and graphics. This included free-standing signage, individual lettering for fascia signs, a roof tower wrap, and directional and warning signs.
Thanks to the new signs, the school now looks smart and eye-catching, ensuring a great first impression for all who see it.
Read the full case study
A brightened-up canteen for St Wilfrid's High School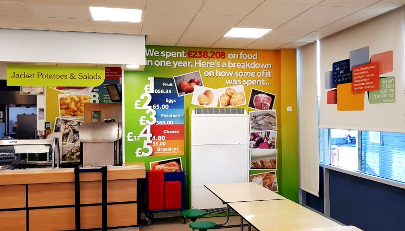 St Wilfrid's is our longest-standing client and we've spent 20 years working with them to create fantastic visual solutions.
The school needed signs and graphics to brighten up their refurbished canteen area. The graphics needed to create a visually appealing backdrop while conveying a series of informative messages about food consumption around the world.
Working from sketches and information provided, we came up with a series of creative and colourful wall graphic designs, which we produced and installed. The result is a smart and engaging canteen where students can enjoy lunch.
Assistant Business Manager at St Wilfrid's Catholic High School, Kevin Walsh, said: "FASTSIGNS Leeds are always professional. They meet deadlines, listen and develop your ideas into something which truly suits your needs. They provide good clean design work and deliver it quickly, if that's what is needed.
'The team are willing to work creatively with you to ensure that an effective message is in place. FASTSIGNS always have a great personal response; a very high level of product quality; and yes, they are true to their word when you need them to provide signs, fast!"
And a couple more recent projects…
We absolutely LOVE these school wall graphics we did for @WestwoodPrimSch! 🎸🖼️ 🌳 pic.twitter.com/02wDhhzKha

— FASTSIGNS Leeds (@FASTSIGNSLeeds) May 18, 2022
We absolutely LOVE these school wall graphics we did for @WestwoodPrimSch! 🎸🖼️ 🌳 pic.twitter.com/02wDhhzKha

— FASTSIGNS Leeds (@FASTSIGNSLeeds) May 18, 2022
Our work in Leeds schools speaks for itself, and we're constantly receiving excellent feedback from the schools we work with. Does your school need refreshing with attention-grabbing signs? Request a quote or a consultation today.