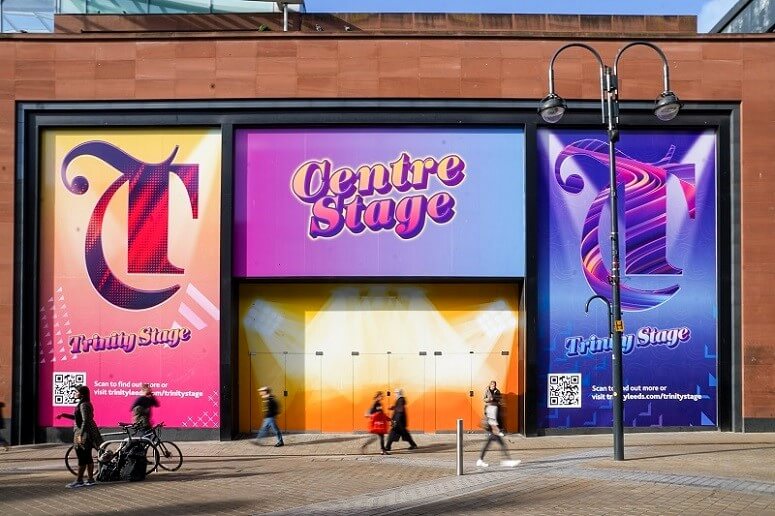 Trinity Leeds is an iconic shopping centre in the heart of Leeds, and this year celebrates 10 years of being a bustling hub of retail and entertainment. As Trinity marks this decade of success, we wanted to look back on how we've helped with eye-catching signage.
We've worked with Trinity Leeds since it first opened its doors in 2013. We had been working with Leeds Shopping Plaza, the predecessor to Trinity, since 1997. When the redevelopment started in 2012 we were introduced to the new construction company, which led to us working with the management team.
Since then, we've been an essential partner to the shopping centre, supplying signage that has helped shape the Trinity Leeds brand and enhance the customer experience. Here's a bit more about the journey.
"We have worked with FASTSIGNS Leeds for 10 years. They deliver even on the shortest of deadlines and always produce top-quality work. A first-class service, design, and company to work with."
Corinne Mycock, Centre Operations Manager, Trinity Leeds
The launch of Trinity Leeds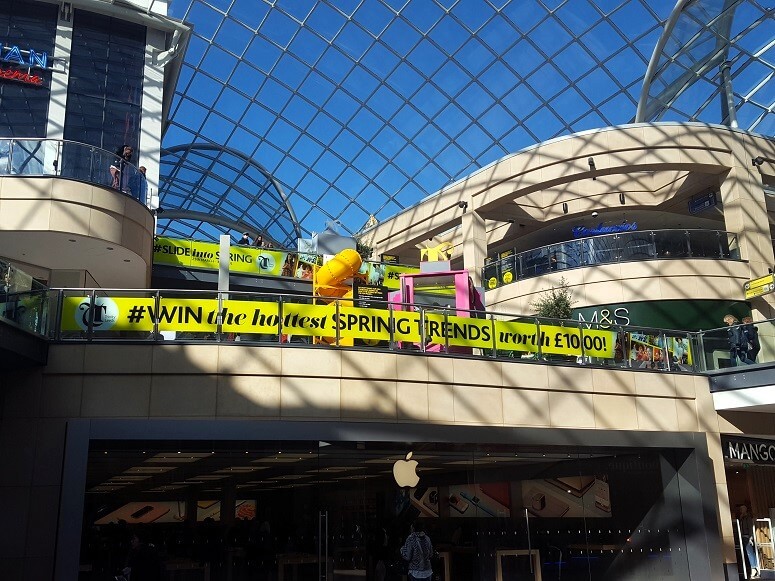 Striking signage brings a retail space to life. Great signs act as powerful tools that guide, inform and entice customers. A well-designed sign not only grabs the attention of passers-by. It also reinforces a brand's identity and communicates its unique personality.
With an understanding of the importance of its visual presence, Trinity Leeds was seeking a partner that could create and install compelling signage solutions for the launch. So, they turned to FASTSIGNS Leeds, a trusted local name known for creating and installing attention-grabbing signs.
Our first job was producing bold hoarding graphics early on in the project. These large visual displays were displayed on the site as it was under construction and were changed several times to ensure they were fresh and interesting to passers-by.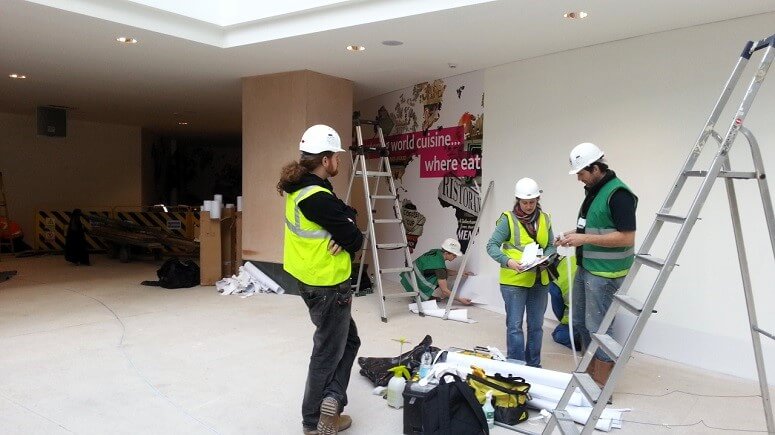 As the development neared its end, we began to look at the graphics needed for the empty shop units. This was a challenge due to the sheer number of graphics and organisation needed to install, especially on a building site overnight. On some nights, we had eight people on site to ensure the work was carried out as needed.
Ultimately, the launch went to plan and was a huge success. With our help, Trinity Leeds was able to showcase its unique brand with flair.
Bringing a brand to life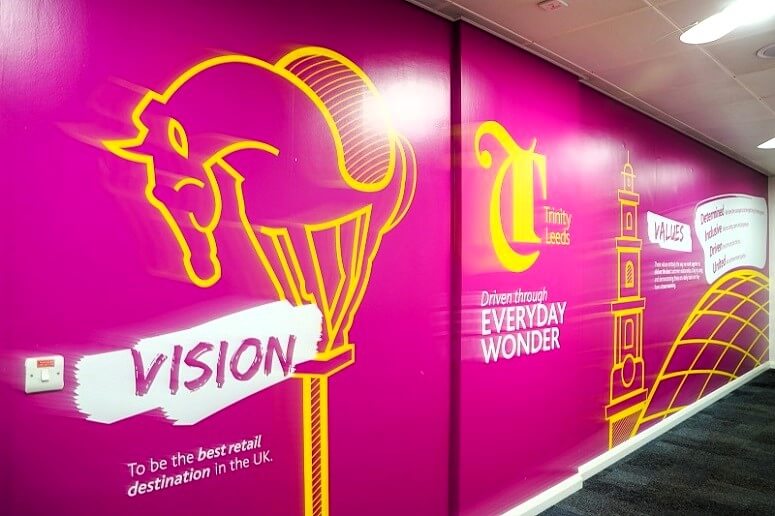 Trinity Leeds is an instantly recognisable brand in Leeds. The shopping centre is vibrant, contemporary and distinctive, with bright, clean branding and playful splashes of colour. Its carefully curated visual identity helps solidify its position as the city's leading retail destination.
Signs are used throughout Trinity Leeds to remarkable effect, particularly when it comes to typography. The Trinity Leeds logo itself is a defining symbol, with the clean lines of the recognisable 'T' often displayed against a colourful background to help it attract attention.
For the rest of the signs throughout Trinity, modern fonts against bright colours are used to draw customers' eyes in. Their striking designs and prominent placements make them impossible to ignore. Following clear brand guidelines like this means that customers become familiar with the Trinity Leeds branding, strengthening brand recognition.
Signage solutions that set Trinity Leeds apart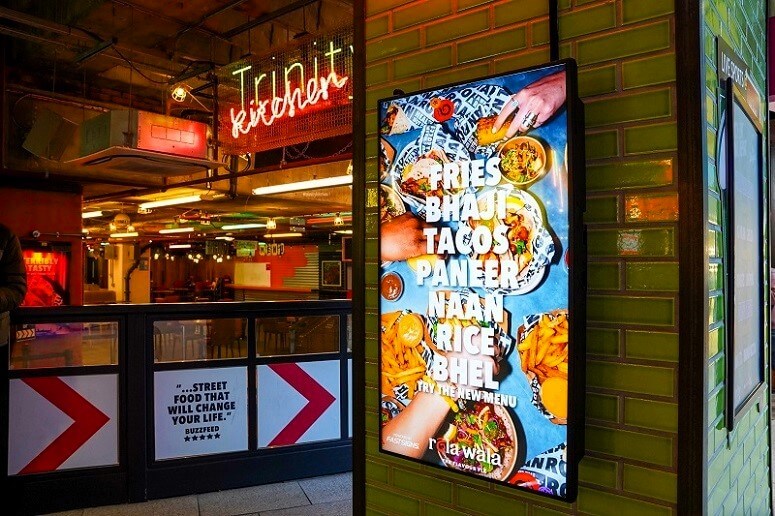 Our work with Trinity Leeds didn't end after the launch. We've been there for every chapter, helping out with signs essential for the shopping centre's success. From shop front vinyls and illuminated logos to posters and event signage, we've helped Trinity Leeds bring its vision to life and draw in visitors.
Having a trusted signage partner is important for several reasons:
Expertise. A trusted partner brings experience in signage design, manufacturing and installation. We understand the challenges of retail spaces and can offer expert recommendations to help boost signs' effectiveness.
Quality. Partnering with a reputable company means all signs are guaranteed to be high quality and professionally executed.
Time and cost-saving. By handling the entire process and looking for cost-effective solutions, we can help businesses save time and money.
Reliability. Establishing a long-term signage partnership that can provide ongoing support and maintenance is a great idea for large retail spaces. It means we can step in at short notice to install, update, or replace signs as needed.
Here's a little more about what we've done for Trinity Leeds over the years…
Playful direction signs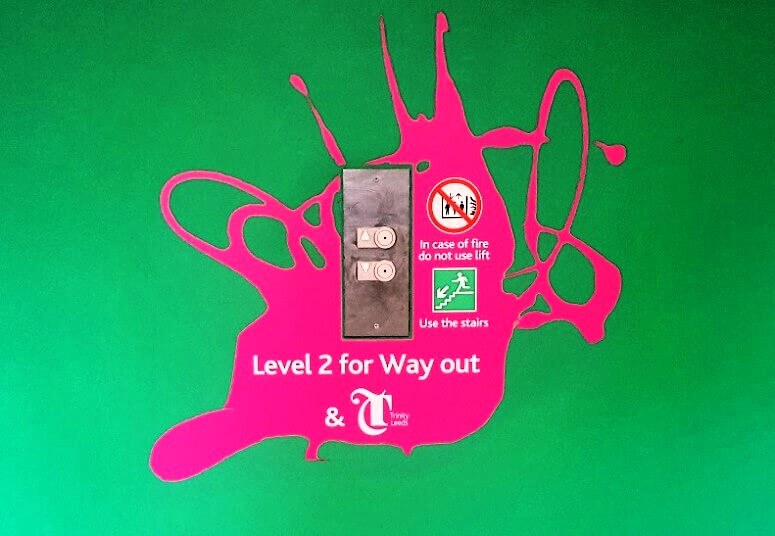 Vinyl stickers for Trinity Kitchen food court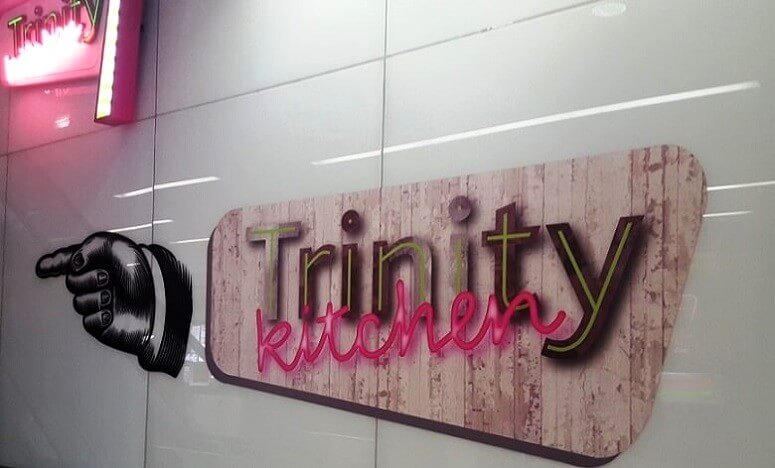 Bold wall graphics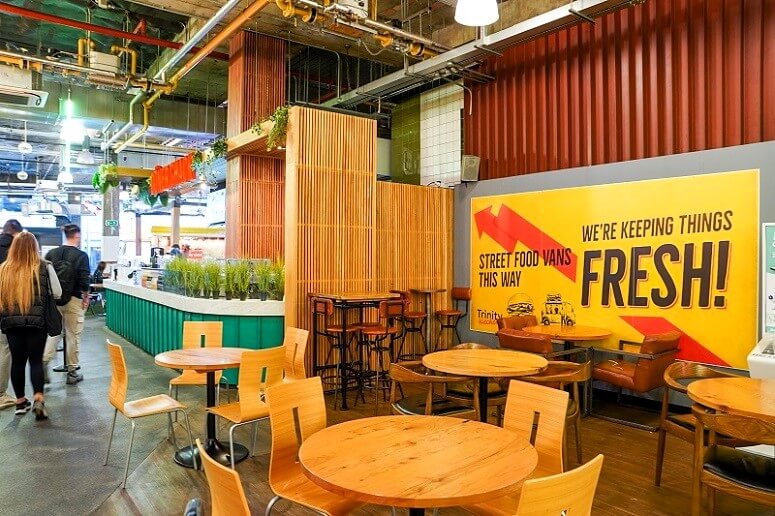 Food truck signage for Trinity Kitchen
New food trucks in @TrinityLeeds' Trinity Kitchen means one thing... brand new signage!

Looking tasty, guys. 🍤🥡🍔🍗🍜 pic.twitter.com/2oPw6ljdfU

— FASTSIGNS Leeds (@FASTSIGNSLeeds) November 28, 2022
A multi-purpose digital sign in Trinity Kitchen
Want to know what's showing at Trinity Kitchen @TrinityLeeds? 🏉⚽️⛳️

We've installed a digital screen showing their live sport schedule so you won't miss the big game! 📺 pic.twitter.com/DMH8GEE3Xt

— FASTSIGNS Leeds (@FASTSIGNSLeeds) April 29, 2022
Over the past decade, we're proud to have played a part in enhancing the experience of the thousands of shoppers who visit Trinity Leeds every day. From the moment Trinity launched, we've been there to provide eye-catching signs that capture attention, reinforce brand identity and guide customers effectively through the space. Our commitment to high-quality signage coupled with Trinity's vision for a vibrant city centre retail destination has resulted in a great success story.
As we celebrate the 10th anniversary of Trinity Leeds, we look forward to continuing working together to produce innovative and captivating signage that ensures Trinity Leeds stays ahead of the retail game.
Ready to enhance your retail space? You're in the right place! With decades of experience, we can design, manufacture and install impactful signs that help your business draw in visitors. Get in touch today to find out more about how we can help you make your statement.