Your signs have the potential to attract more customers. Discover what goes into effective signage design in this blog from Leeds sign-makers, FASTSIGNS® Leeds.
How to get your signage design spot on
68% of people believe a business' sign reflects the quality of its products or services*
That's why it's so crucial to get your signage design right.
But what does it involve exactly? The size and positioning determine whether your signs are seen. But, more importantly, your signage design determines the initial impression people have of your business. It can even determine whether or not someone decides to venture inside.
An excellent signage design means your business is recognized and remembered for the right reasons
Bright, eye-catching signage with a clear message is extremely memorable. Your signs should also reflect who you are as a business and tell passers-by a little about what you offer. For exterior or entrance signs, you may also want your design to include key information, such as your website URL.
So, how do you achieve the best signage design possible?
Well, working with a signage expert is the first step. They guide you through the process, providing you with advice and making sure you don't forget to include important details. They will also be able to recommend the best materials for the task at hand, which fit within your budget too.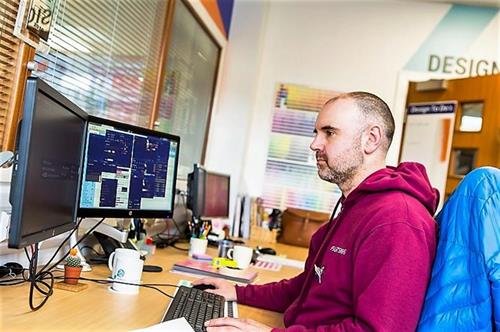 If you're working with an experienced sign maker, getting your design spot-on is simple. Asking yourself these questions is the best place to start:
Q1: What are you trying to achieve with your new signage design?
Are you rebranding or trying to capture the attention of new customers? Do you want up-to-date signs with clear contact information? Maybe you want your signage to tell people about your organizational achievements?
Whatever the purpose, try and pin down the number one message you want to communicate. Think about what you want people to remember about your business when they look at your signs. Having a clear idea of what your signage design should achieve before you start looking at ideas is the best way to generate the greatest impact.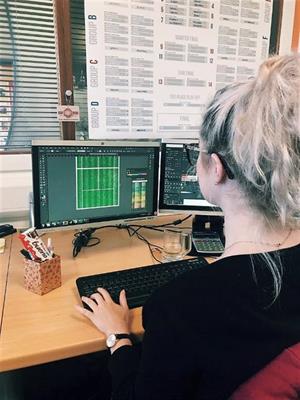 Here's designer Lucy busy at work
Q2: Which styles do you like and dislike?
Before you approach your sign maker, it's useful to have a clear idea of the types of signs you prefer, as well as the looks you're trying to avoid. The easy thing about signs is that there's inspiration everywhere.
Whether you're visiting your local high street or browsing Pinterest boards, take note of the designs that jump out at you. Look at what other people in your industry are doing with their signs and take inspiration from successful examples. Once you start noticing great signage, you won't be able to stop!
Q3: What are the specifics of your project?
Where is your signage going to be located? What size surface area do you have to play with? Are there particular brand elements that have to be included?
Clarify details like dimensions, text, logos, graphic elements, colors, and images ahead of time. That way, when you come to explain your requirements to your sign maker, you'll be prepared with all the relevant information.
Design proofs to bring your ideas to life
Ultimately, the best signage designs are created by professionals. It's important to work with a sign maker that has an in-house graphic design team. This will give you access to the skill and expertise of visual specialists and you're still able to have creative input into the end design.
Before printing and production, you will be provided with visual proofs. These show you exactly what your finished signs will look like and allow you to make any final tweaks to the design. For more information on how the process works, take a look at our infographic 'Signs and graphics in 6 easy steps.'
If you have any questions or would like some help developing an effective signage design, get in touch with our team. We love working with local businesses to create fantastic new signage that gets them noticed.