Get the social distancing posters, signs and floor markers you need, in time for when your school reopens. Find out what's available from FASTSIGNS® Leeds.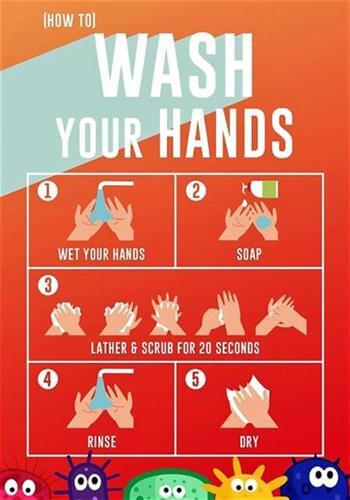 How schools can prepare with social distancing graphics
With schools starting to reopen, it's time to plan how school buildings can be adapted and safely signposted to keep social distancing in place.
Are you prepared for reopening?
Having the right social distancing posters, signs and floor markers is one part of planning how your school will operate in future. While signs and graphics are by no means going to solve all problems, they provide a clear, visual signal to pupils and staff wherever they are seen.
At @FASTSIGNSLeeds we have been creating a range of signs, posters and floor graphics that can be used to direct staff, customers and visitors and help keep everyone safe!
WATCH the video to find out more... 📽️
Take a look at our brochure: https://t.co/RQSuu0gXZR pic.twitter.com/EoebNLVPEI
— FASTSIGNS® Leeds (@FASTSIGNSLeeds) August 19, 2020
Make social distancing clear and easy to follow
Interacting at a distance is new and unfamiliar to us all. Social distancing posters and signs are an instant reminder for people to keep safety front of mind. For children and young people, the clearer and more frequent the signals, the better chance they have of adapting to measures.

What are the options for social distancing signposting in school?
No matter what size your school building is, there's a way to safely mark it up. Most schools are opting for a combination of signs and floor markers across their space. We've run through 5 of the best options that might work for your school building.
Reduce corridor congestion and proximity between lessons with a oneway system. Floor markers are by far the best way to make this clear to everyone. By choosing bright and unique floor makers, kids and staff are more likely to spot them and follow the system.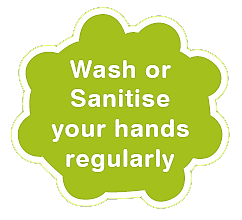 Hand sanitiser and washing stations and signage
Ensure proper hand washing and sanitisation is being carried out by placing reminders in all the relevant places. Hygiene signs, hand washing labels and safety signs are immediately noticeable and can be placed directly next to or above sinks and sensitisation stations.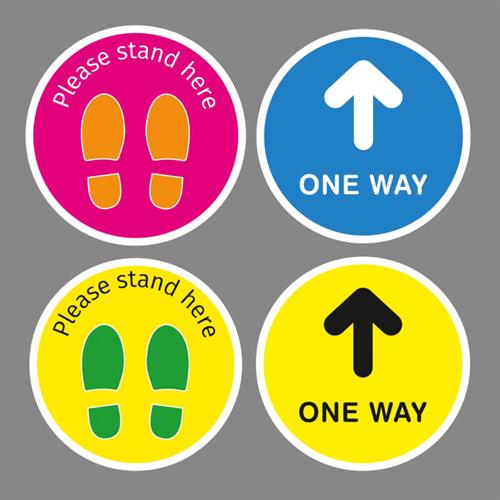 Floor markers and a-frames
Where kids line up during breaks and before lessons, and where parents wait at the end of the school day, floor markers and a-frames are useful reminders of the 2m rule. They don't have to look dull either, you could personalise them by class or with a theme.
You may have seen screens in places like supermarkets. They protect people at points of regular face-to-face interaction, like checkouts or receptions. Protective screens are ideal for lunch service stations, receptions, and administration desks. It's possible to personalise your screens with text, logos, and graphics.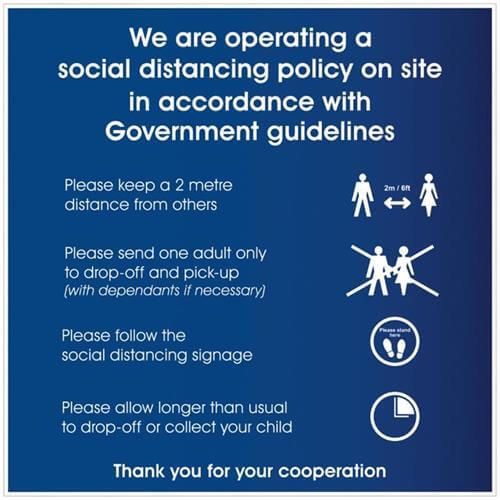 The most common type of social distancing signs you're likely to have come across are safety and warning notices. Ultimately, social distancing is down to us to carry out. We have to remain conscious and aware of coming too close, even when it feels natural to.
This is why safety and warning signs are so important – they alert our peripheral vision to dangers we cannot see or may have forgotten about. For children, this is ever more important. The clearer and more frequent to message is, the more chance we have of adapting to it.
Contactless delivery and installation
For safety, we're arranging to remove human contact during delivery and installation of products. Please get in touch with us to discuss this.
What do you need?
Look at our Schools Social Distancing Brochure to see what's available for your school.
To get started, speak with our team. We'll be able to advise you what other businesses are doing and provide you with an idea of the materials and quantities you might need.
You can reach our Leeds team to discuss any of the above on (011) 351-9462 x8 or email us.