Have a look behind the scenes at FASTSIGNS® Leeds. Find out how our team spend their days creating eye-catching signage for the businesses of Leeds and West Yorkshire.
Take a look behind the scenes at FASTSIGNS® Leeds and find out how we spend our days. As your trusted, local signwriter and manufacturer, it's our priority to get each job completed as quickly and efficiently as possible. Whether it's colourful wall graphics for a school or an eye-catching, illuminated sign for outside a restaurant, our goal is to make sure you're getting your message out there.
We have a team of experienced experts on hand who know everything there is to know about signs and graphics. From our account managers to designers, we're a well-oiled machine committed to providing businesses in Leeds and West Yorkshire with industry-leading visual communications.
Read on to find out more about how we work here at FASTSIGNS® Leeds.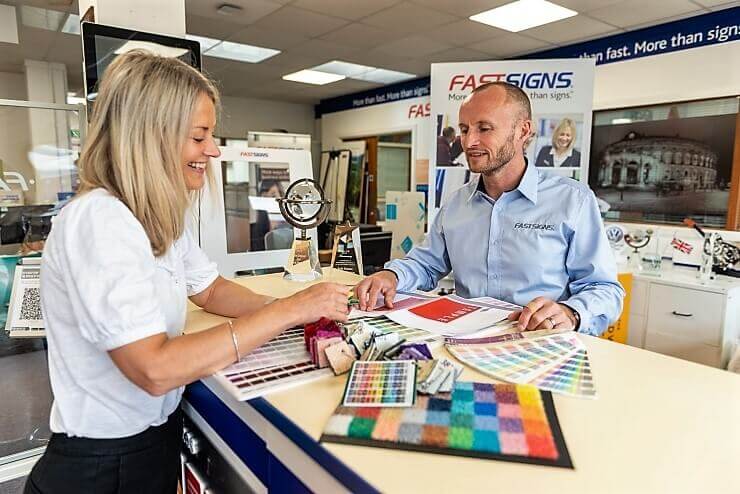 What we do
Simply put, we've been helping local people share their messages for over 30 years. We're an established, family-run business with an extensive knowledge of all things signs and graphics, as well as a vast range of products and services. We can work with you to create impressive visual communications that suit your brand, facility, message and budget.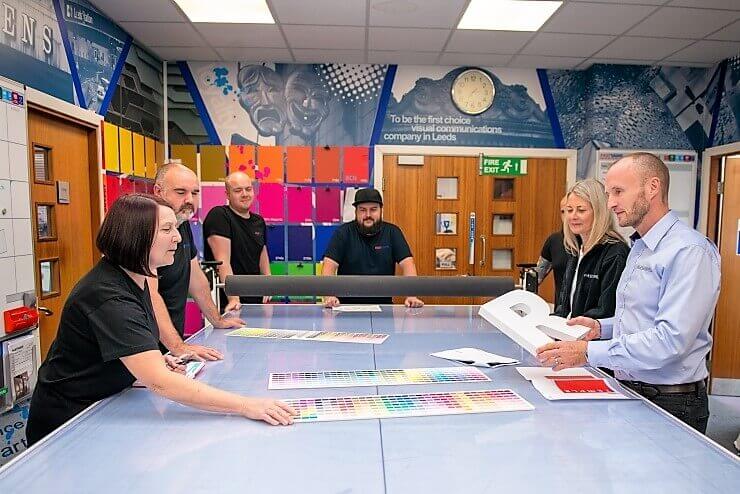 An award-winning team
At the heart of FASTSIGNS® Leeds is our team. Many of our staff have been with us for years, so you know you'll be working with the most experienced professionals in the industry when you trust your project to us. We even have the awards to prove it.
Recently, we secured the Sales Achievement of the Year award at the FASTSIGNS annual convention, beating off competition from 25 other businesses in the FASTSIGNS UK network. Rebecca, our senior account manager, came second in the race for the Sales Person with Highest Revenue category. Not only that, Cliff, our production specialist, was runner up for the Employee of the Year award and received high praise for his dedication to the network and proactive approach.
How we work
Account managers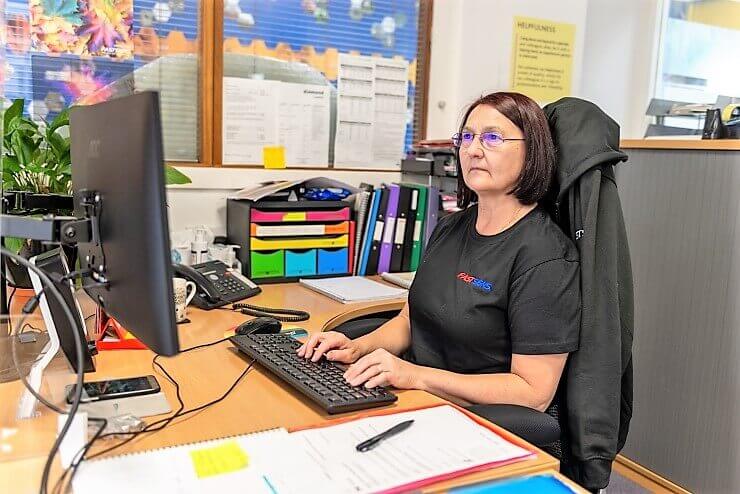 Our account managers are your main point of contact, there to make sure you're happy and provided with the best possible signs and graphics for your business. Experts in communication, they're involved in the whole process from start to finish.
Our account managers' roles are varied, and a typical day can involve anything from offering solutions and quotes for projects to ordering materials and liaising with customers.
Designers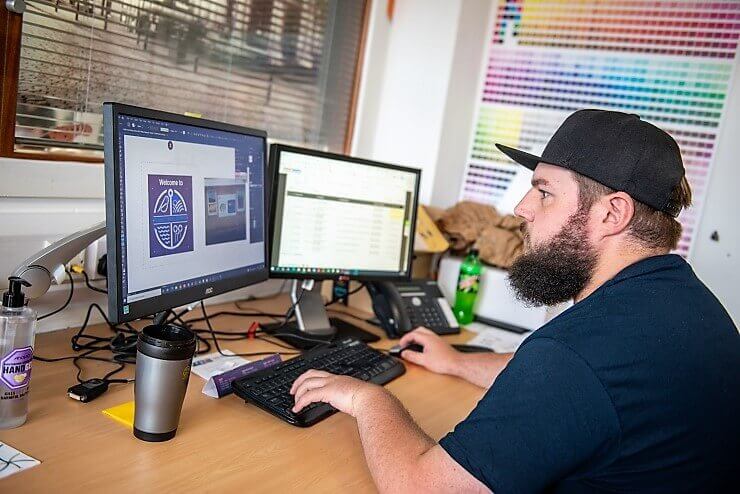 More than your average signwriter and manufacturer, we have our own design team. Our experienced in-house designers specialise in creating graphics for signs and are one of our biggest assets. They see graphics through from start to finish, from drafting out the idea on paper to seeing it installed.
Creative and talented, our designers are happiest when exceeding your expectations. They take your brief, no matter how simple or complex, and use their design experience to transform it into eye-catching signs and graphics.
Production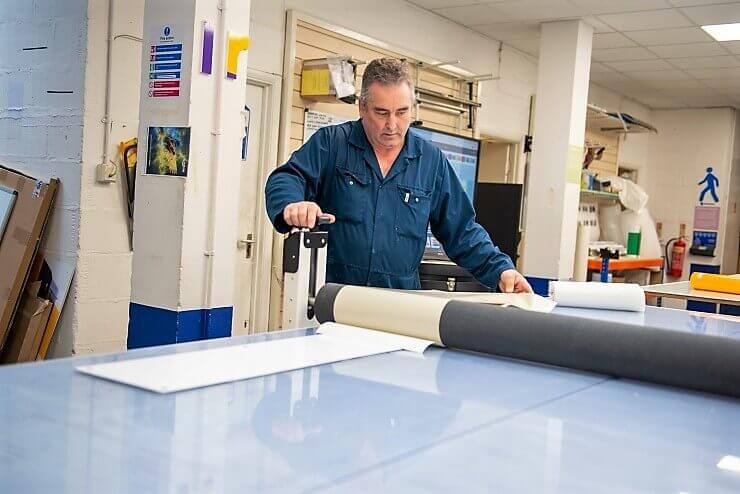 Our production team have been creating signs and graphics for the businesses of Leeds for decades. We can turn around hundreds of projects a month at our Leeds signage and printing facility, which could be anything from a small sign or banner to a full interior fit out.
Having our own production facility means we can keep stock on site. This results in a much faster turnaround; with less time waiting for materials to be delivered, we're able to be more efficient and work quickly to tight deadlines. Find out more about our Leeds production facility and how our production team work.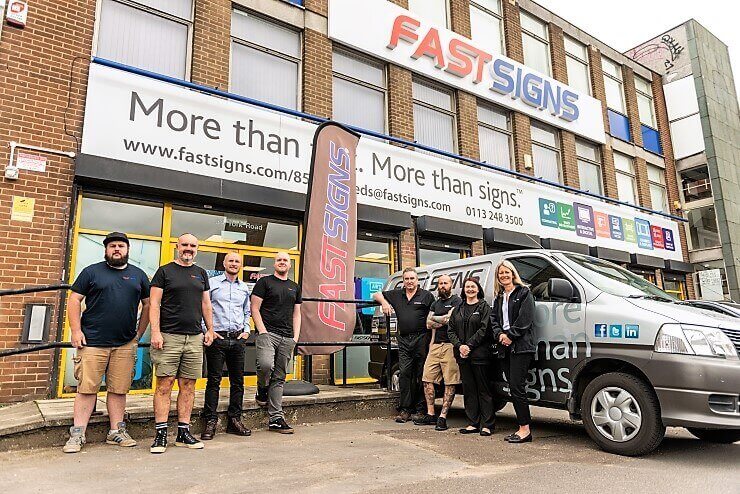 That's just a small insight into the FASTSIGNS® Leeds team. Meet the rest of the team here.
The results
After a lot of hard work behind the scenes, the process ends with our team of fitters installing your finished signs or graphics. Over the last 25 years, we've had many returning happy customers and helped hundreds of businesses, large and small, establish their brands. Here are some of our favourite jobs from 2021.
We can't get enough of these beautiful playful hoarding graphics over at @KirkstallForge.

Have you spotted them yet? 😍 pic.twitter.com/fJMq6X7VEo
— FASTSIGNS® Leeds (@FASTSIGNSLeeds) May 5, 2021
We supplied and installed graphics for the new @LUFC superstore in @TrinityLeeds!

What do you think to that new third kit? 🔥 #LUFC #leedsunited pic.twitter.com/33QcFuQp4z
— FASTSIGNS® Leeds (@FASTSIGNSLeeds) September 9, 2021
We're obsessed with this picture of the @BottegaMilanese sign we installed in 2020 lit up last night!

The nights getting darker earlier does have a few benefits... 😍 pic.twitter.com/k6J7cbV3w9
— FASTSIGNS® Leeds (@FASTSIGNSLeeds) November 1, 2021
We've just replaced this red banner on top of The Alhambra with this new #SchoolofRock banner - exactly a year to the day since we installed the red one!🤘

Looking pretty smart, @BradfordTheatre! pic.twitter.com/oMOhUEj650
— FASTSIGNS® Leeds (@FASTSIGNSLeeds) July 22, 2021
We hope you enjoyed this insight into what it's like behind the scenes of your local signwriter and manufacturer. If you want to find out more about how we can help your message get seen with branded signs and graphics, get in touch with our team for a consultation or quote.